6N analysis: Converting chances will be key
Updated: Thursday, 15 Mar 2012 14:47
By Conor O'Shea
In tight matches, the difference between winning and losing can be finishing when you create linebreaks.
If you looked at France v England last week, England got a few broken-field chances and they were able to convert that into points almost every time.
<notforsyndication>Watch England v Ireland (ko 5.00pm) live on RTÉ Two and RTÉ.ie (Ireland only). Coverage starts at 12.00 with Italy v Scotland followed by Wales v France. Live coverage on RTÉ Radio 1 and RTÉ.ie (Worldwide) from 1.30pm. </notforsyndication>
For both teams, attacking well will start with handling the linespeed the other side brings, but the scramble defence will also be key. There are likely to be only limited opportunities on offer, and the team can shut the other's chances down after a break will have a huge advantage.
Going on the last few weeks, both teams will defend aggressively. You still have to wonder why Ireland did not defend against Wales the same way they have done in the last three matches, because if that had happened, we could be looking at a Championship. That is still a real disappointment.
On the team selection front, I am not surprised to see Declan Kidney bring Sean O'Brien back into the team ahead of Peter O'Mahony.
O'Mahony had an outstanding game and showed that he can step up to the level needed against Scotland but the simple fact is that Sean O'Brien is ahead of him at the moment. I don't want to do any game a dis-service, but the level that was required this week against England will be totally different to Scotland.
Sean O'Brien: right decision to bring him back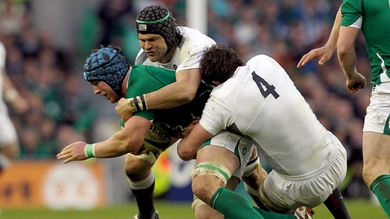 England have youth, energy, and great squad unity at the moment. There is a really good vibe surrounding the team despite the loss to Wales and while they are not yet the finished article, their performance level has increased from week to week.
Overall, this English team is miles way from where it was a few months ago in terms of commitment to their badge and that should help to make this a cracking Test match.
Individual developments like the re-introduction of Manu Tuilagi have made a huge difference. He gives them a real attacking threat with his ability to create momentum in the backline.
In the forwards, Chris Robshaw – captain at our club Harlequins – topped the tackle count again with 24 against Wales. He has done that in all four games and will lead by example again. Tom Croft's clash with Stephen Ferris is one to really keep a close eye on.
Ferris and Croft clash is one to savour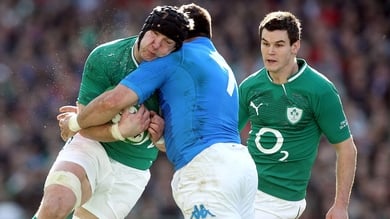 The Leicester man is a very different type of blindside to his Ulster counterpart. He can wreak havoc at the front of a lineout and along with Geoff Parling – a specialist – it means England have a really athletic lineout defence. Croft's pace and ability to beat players or run them down is also a huge asset.
Stephen Ferris is a different athlete: a defensive wrecking ball capable of doing virtually whatever he wants anywhere on the pitch. He uses a step but can back his power to break tackles as well. They are the two contenders for the Lions spot and at the moment, Ferris is ahead to be the starter.
The scrum is another important clash. Greg Feek has done great work with Ireland and the scrum was the best it has ever been against Scotland last week, while Wales targetted England with great success in Twickenham.

The crowd will also be a factor. It is a St Patrick's Day match, and that will be fantastic for all the Irish people at the game but there has been a re-connection between the English fans and the team and people have told me the atmosphere at Twickenham is the best it has been for years.
England are favourites but Ireland have a massive chance of causing an upset.