Analysis: Ireland must maintain their intensity
Updated: Thursday, 08 Mar 2012 18:16
By Conor O'Shea
The loss of key personnel, the gruelling schedule and the fact that Scotland may be about to hit their best form are among the challenges for Declan Kidney and Ireland this week.
Ireland have to get over Paris and the loss of three players to injury. On the fatigue front, it is one thing to cope with a short break if you have just played a mediocre side but getting over a match played at the level of intensity we saw in Paris is a huge challenge.
Hopefully, the challenge will galvanise them for this match and again seven days later at Twickenham but it is a brutal period for them.
The injuries will also play a major role. The loss of Paul O'Connell is huge: he is the key lineout man, the captain and the pack leader. In one sense, it should be a good motivating tool for the rest of the pack.
Declan Kidney has said that in training that other players have been speaking in the group and how that plays out will be important. People like Jamie Heaslip and Donncha O'Callaghan need to step up and support Rory Best.
At scrum-half, I am glad to hear that the injury to Conor Murray is not as bad as we thought it was at first.
Ireland's selection policy in the position should pay dividends down the line: they could easily have made a change after the early games and they would have known exactly what Eoin Reddan would have delivered, but they stuck with the younger guy. The faith that Kidney showed in Murray up until he got that injury will stand to both the player and the coach in future.
But Reddan is in great form and has made a positive contribution when he has featured so far and that is a positive for Ireland.
The late loss off Sean O'Brien is another blow. It it is always going to be hard to lose a European Player of the Year and coming after what has already happened, it is a lot to take in a week. It is also a great opportunity for Peter O'Mahony.
Ireland are favourites and they deserve to be but they need to bring the intensity they had last week into this match, but Scotland are a dangerous opponent.
Ireland must recover from Paris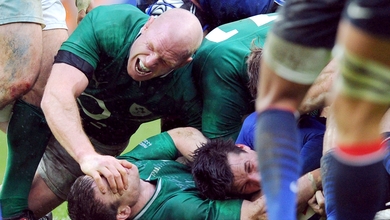 The problem was always that Scotland would get stronger and more dangerous as the Championship evolved.
They have had strengths from day one - the Scottish lineout is the best in the Championship for example, and they have also tried to have an attacking threat.
They are leading the stats on the number of passes attempted, and people have noticed that they have made a lot of errors. That is something you have to accept that when you are trying to develop, though I still think the really frustrating thing about their first game was that they picked Dan Parks when you wanted them to go for Greig Laidlaw and Mike Blair.
That Scotland have had their hand forced could spell trouble for Ireland because they have the makings of a very tidy team based on a good pack, a strong blend of carriers and scavengers in the back row and a little bit of sparkle out wide.

Scotland came over to Dublin two years ago without a win in the Championship and put one over on Ireland and they have played some good rugby his year.
It will be a tough game.
Elsewhere in the Championship, I was surprised to see Phillipe Saint-Andre pick a team to counter what he thinks England will do by going for Lionel Beauxis and Julien Dupuy at half-back. Beauxis is a very good player but his game is based around a massive boot, and Saint-Andre has come out and said they intend to try to pin England back by kicking.
At home, I would have expected them to play their own game as they did in the second half against Ireland, when they started to put numbers into rucks and really hit hard.
England showed good ambition against Wales and also had great linespeed, which France will not like and I expect a pretty tight match, while Wales should also get a very comfortable win against Italy.
<notforsyndication>Watch Ireland v Scotland live on RTÉ Two and RTÉ.ie (Ireland only) from 2.30pm on Saturday, 10 March. Live coverage on RTÉ Radio 1 and RTÉ.ie (Worldwide) from 2.30pm. Ireland U20s v Scotland U20s on Friday, 9 March on RTÉ Two and on RTÉ.ie (Ireland only) from 7pm</notforsyndication>