As it Didn't Happen: France v Ireland
Updated: Sunday, 12 Feb 2012 10:42
By Brendan Cole
RTÉ Rugby: Facebook
Twitter: #rterugby
E-mail: sportonline@rte.ie
2115 Clare McNamara reports on RTÉ News:
- Irish players were lined up and ready to go when they were informed match was off
- Dave Pearson had inspected the pitch two hours before kick-off and he was "quite happy" but temperatures dipped further after that and he found that parts of the pitch were frozen
- Declan Kidney tells RTÉ News that just after 9pm (French time) the referee came in and said the match was off. He says that the referee is in an "invidious position" as the decision is on his shoulders
- No confirmation on when the game will be re-fixed. Next week and 2 March are both possibilities. A decision will be announced on Monday
2030 We will have the latest updates on the 9 News (RTÉ 1). Clare McNamara will report direct from the ground and we also expect to have Ireland manager Declan Kidney on.
2025 Some comments:
Richard (via e-mail): "All this talk of "terrible news" and "a dark day" etc. Terrible news is 28 people killed in Aleppo. Postponing a rugby match is inconvenient and unfortunate. Bit of perspective from broadcasters and fans would go a long way, don't you think?
Sean Campbell (Facebook): "Well player welfare had to be accounted for but in fairness it should have been called off on Thursday morning! IRB should reimburse traveling fans for flights and match tickets."

2020 My colleague Justin Treacy has spoken to Christine Connolly - Communications Manager, RBS 6 Nations. The 2 March date has not been confirmed and as yet, no decisions have been taken on when this match might be played.
2015 That 2 March date is not 100% certain to be re-fixed match Ryle Nugent tells us. The discussion continues in studio.
George Hook: "Lansdowne Road now resembles a pop-concert"
Two people have come on to the pitch to make an announcement to the people in the stadium - who are justifiably furious.
A woman from the RBS 6 Nations organisation says: "Unfortunately, the referee has deemed the pitch unplayable. It is dangerous to play on it. Can you please keep your tickets, they will be valid......thank you very much, good night."
The French and Irish players are coming out on to the pitch, O'Connell, D'Arcy, Heaslip, Kearney, Harinorduquy and Clerc among those on the pitch.
The broadcast is over on RTÉ 2 - back again tomorrow at 2.30pm.
Tom McGurk: "Sorry about that".
2010 Some of your e-mails:
Joe Quaid: "Pretty shocking nonsense guys ! The only reason we play a match this late is to pander to French TV and the FFR ... ! How on earth does it get to here when the whole of Europe knew the weather that was in store!"
George Hook basically agrees Joe.
As was stated earlier, it looks like the match will now take place on 2 March - a Friday night.

2005 There are de-icing machines still working away out on the pitch. Quite incredible that it has come to this.
"It is a dark day in the history of the Six Nations" says Ryle Nugent in the commentary box.
Tom McGurk in studio asks: "What are we doing in a rugby stadium at 9pm on a Saturday night in February?"
Conor O'Shea adds that this will mean a very demanding schedule for Ireland with four matches to be played in a row.
The crowd are whistling in the stands.
2000 During the week it was suggested that the game would take place on March 2 if the match was called off.
But there is plenty more to come from this. Tony Ward describbes it as "a farce" and can't believe it has happened with
1956 Terrible news from Stade De France there is late concern over the pitch.
Ryle Nugent in the RTÉ commentary box: "There is a doubt over this match".
No sign of players on the pitch. Tony Ward on co-comm asks how did we get to this stage.
1952 Still some issues with the pitch and one possibility is a later than advertised kick-off but for now, it looks like we will start as expected (8pm).
Some e-mails from around the world:
Derek: "Hopefully Ireland get off to a great start in the first 20 minutes vital to the game that they do disappointed that o gara isn't starting sexton better have his kicking boots on."

Patrick Lynch from Ballymore: "Let's hope we get the good "Kiss" from the back row. It's snowing here in lake Tahoe so I don't feel too left out, big shout out to Santa Rosa ruggers, best in D2 western division US."
Zach Wallace: "Watching the game from Mauritius...it's gonna be an absolute cracker, staying up till 2am hopefully to watch Ireland win..COME ON IRELAND!!!"

On Facebook:
Eddie Burke: "They have a plan, its just a bad one. O'Gara should start! Kicking will win the match and O'Gara is better than Sexton."
On Twitter #rterugby:
@Maoingal: "Just go out and do the job Ireland!"
@Cnep80: "The team that wins will be the one that doesn't die from hypothermia"
1940 There is a bit of a conversation down on the pitch happening between head coaches Phillipe Saint-André and Declan Kidney, and a group of officials. Ground is being kicked and stamped on.
The de-icing machines are still on the pitch but the covers came off two hours ago.
By the way, the rule would be that if the match started but was then abandoned after 60 minutes, the result would stand.
1935 And we are live on RTÉ 2 - George Hook, Brent Pope and Conor O'Shea on the panel.
Conor O'Shea: Ireland can't afford to be passive and must go toe-to-toe in the set-piece. Ireland need to ride their luck and get in their face. If we stand off we will die.
Brent Pope: Ireland need to kick well to take advantage of their good lineout. Kick for territory and take your chances.
George Hook: To win you have to plan and it is questionable whether this team has one. France won last week and made changes, Ireland lost and make none. That is a worry. The French have better mobility and our problem could be kicking. If you kick badly, you cannot win.
1921 Garret Maher: Watching on Jazeera sports in Kuwait and looking forward to hearing Ryle and Donal, keeping fingers crossed for an Irish win and that Jazeera sports don't make a mess of the coverage like they did for the Wales game last week.
1917 Hey. William Rock here watching the match from sunny Los Angeles! I really hope I can get a shoutout during the match that would be deadly! thanks very much and come on Ireland!
1856 Sexton will start at 10 - named on official teamsheet and will warm-up as normal. O'Gara on bench.
1850 Some of your e-mails:
Kevin Devaney: "Hi, I can confirm Paddy Wallace flew this morning to Paris. Spotted him in Dublin airport at 5am in the morning! Not food preparation. Off to watch the match in Bradley bar Warsaw.It's -17!"
But will he play! Still waiting.....
Fergal in Rotterdam: "'It's not the disappointment, it's the hope I can't cope with'. Come on you boys in green! Nothing to lose (kind of...)"

1845 Still no news on Jonathan Sexton's injury.
1830 The pitch at Stade De France - there are one or two icy looking patches around the edges. It is -7 at the moment in Paris, but a dry night is expected Jean Byrne tells us on the 6.1 news.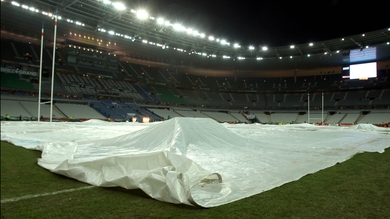 1820 The pitch is 'quite soft' at the moment according to match co-commentator Donal Lenihan on RTÉ's 6.1 news (but he is not confident about the result). It could get harder as the temperature drops.
On the result, he says: "I don't see anything other than a French win".
1815 News on Jonathan Sexton's thigh injury expected soon.
If O'Gara plays tonight, he will become Ireland's most-capped player, overtaking Brian O'Driscoll and reaching 118. However, O'Driscoll will still have more Test caps as he has six for the Lions and a total of 123.
O'Gara has two Lions Test caps.
1810 Match definitely goes ahead.
1755 There is no snow on the pitch in France - latest shots from the ground show the covers coming off to reveal a nice green surface. The pitch inspection takes place in 15 minutes but it looks like the game will go ahead.
Shane Horgan is on the RTÉ panel and he expects a very difficult game against France - the history is an important factor and Ireland need to play to their complete potential against the French if they are to have a chance.
1745 Kick-off is at 8pm in Paris - we'll have updates on the weather, teams and from the RTÉ panel before live text updates during the match.
You can keep up with Italy v England here. England are ahead by four with minutes to go.
In Paris, the latest news from RTÉ's Clare McNamara at the ground is that the match is expected to go ahead. A pitch inspection will take place at 6.15pm Irish time.
Johnny Sexton's fitness (thigh muscle) is still a concern after he tweaked it at kicking practice last night. A final decision on whether or not he plays will take place when team reach ground 90 mins before kick-off - around 6.30pm.
Paddy Wallace flew to France last night to act as back up, and will come in on the bench with Ronan O'Gara starting if Sexton can't start.
Earlier, the Ireland Under-20s won a famous victory in Grenoble, beating their French counterparts 12-13.
The Ireland women also put in a superb performance against France, losing 7-8 in Pau against opponents considered much bigger hitters in the game.