In Profile: Philippe Saint-André
Updated: Thursday, 09 Feb 2012 09:55
By Tadhg Peavoy
Email: Tadhg.Peavoy@rte.ie
Journalists and fans alike have been writing and speaking hymns of praise for the new France head coach Philippe Saint-André - likening him to French rugby's Second Coming and the man who can finally secure Les Bleus the World Cup crown they so desperately crave.
But who is Saint-André and what is he going to do to turn France into the best of the best?
The 44-year-old former winger and centre had a sparkling career playing for France, US Romanaise et Péageoise, AS Montferrand (now ASM Clermont-Auvergne) and Gloucester.
His France career spanned 69 appearances, during which time he scored 32 tries – the joint-second highest try-scorer for the national side – Vincent Clerc also has 32 and Serge Blanco leads the way with 38.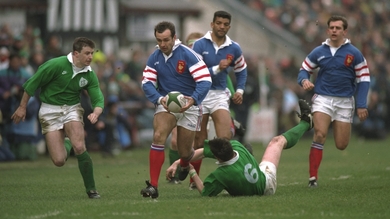 He captained Les Bleus 34 times, including both Tests of France's victorious tour of New Zealand in 1994. The second win of that tour came as a result of The Try From the End of the World, which Saint-André started. It is rightly regarded as one of the greatest tries ever scored. You can view that stunning try here: http://www.youtube.com/watch?v=jTwTi-UeQ7s
Saint-André was also part of the Montferrand side that reached the final of the 1994 French Championship.
The Piglet – as Saint-André was known in his playing days – crossed the English Channel, or La Manche, in 1997 to play for West Country giants Gloucester.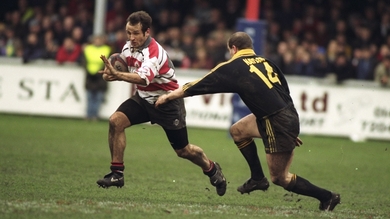 The Frenchman clearly enjoyed the cider and rolling hills of that most bucolic area of England and extended his stay in the region, becoming director of rugby of the club from 1999 until 2002.
From there, he went on to coach a trio of clubs, CS Bourgoin-Jailieu, Sale Sharks and Toulon, before getting the call from the FFR to take over from Marc Lièvremont as Les Tricolores supremo.
The press widely reported at the time that the job would go to one of two people, either Saint-André or Toulouse head coach Guy Novès – generally regarded as the greatest ever European club rugby coach. The FFR opted for The Piglet and Novès committed to remain with Toulouse.
OLIVIER ROUMAT – FORMER FRANCE INTERNATIONAL
Olivier Roumat, the former France second row who played many times for Les Bleus with Saint-André, has high expectations for the national side under the new coach.
He said: "I played with Saint-André in the victories over the All Blacks in 1994 when he was captain and I was playing. I remember touring South Africa in 1993, and I was captain and he was playing on my team, we won twice in South Africa.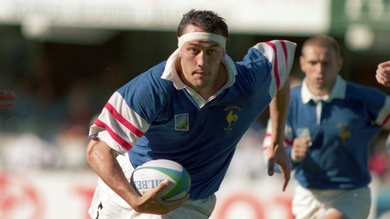 "I have great memories of him as a player and also as a friend.
"Philippe will bring a long career of coaching to France. He's [been] coaching since 1998 and has lots of experience and lots of international experience as a captain. He's also helped by his experience [coaching] in England. The British coaching setup is very important to him, which is why he brought in two assistants in Patrice Lagisquet and Yannick Bru.
"He believes in building a group of experienced staff, differently to Lièvremont. He's more a manager, or a director of rugby, than a coach. That's the big difference between Saint-André and Bernard Laporte or Pierre Berbizier for example."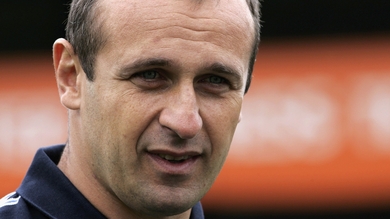 Roumat expects - and also thinks France expects - Les Tricolores to win this year's RBS 6 Nations. Beyond that, he also feels Saint-André will target the next Rugby World Cup as his priority, "I hope he wins the 6 Nations. He's a winner, when he was coach he was a winner, when he was captain he was a winner, when he was coach of Gloucester he was a winner and when he was at Toulon he was very motivated by the winning.
"For Philippe, confidence comes from winning. He knows that at international level the press and public are going to judge you for your results and not how you play. He knows his real mission is the World Cup in four years' time.
"Of course all the media and public want France to win and play well, but victory matters more to him than style. Maybe in a few years he will evolve the structure, but first off he wants to win."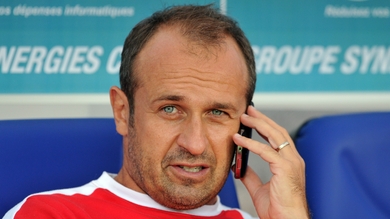 Roumat has praised Ireland's efforts against Wales last week and feels France will be well tested by Declan Kidney's charges in Paris, "Wales won, but Ireland should have won. Ireland are a very good team, especially in the forwards and the back row. It's going to be a bigger challenge than [against] Italy.
"I think the scrum will be better than against Italy with [Jean-Baptiste] Poux on the left and the line-outs will be better with [Imanol] Harinordoquy in the team. Position from scrums and lineouts is important against Ireland and I'm sure our backs will be able to score one or two tries.
"We don't have many problems with the backs, but Saint-Andre needs to improve the pack after the Italy performance."
The Former France lock has also backed the decision to retain Francois Trinh-Duc ahead of Lionel Beauxis in the France starting team, "When you play at ten, it's very important to play with the same number nine. Dimitri [Yachvili] and Trinh-Duc know each other well. Maybe he will use Beauxis in the last 20 minutes or on the summer tour of Argentina.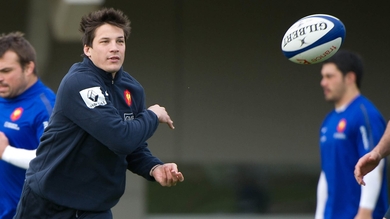 "But I think Yachvili and Trinh-Duc will play the whole 6 Nations, unless France lose to Ireland on Saturday by ten points, then there will be lots of changes. In every game with Montpellier, Trinh-Duc is the best.
"A guy like Beauxis is like Ronan O'Gara. When you have the lead with 20 minutes to go, his kicking can win a game."
CHRISTOPHE BURON – LA MONTAGNE SPORTS WRITER
Christophe Buron - rugby writer with La Montagne, a newspaper in Clermont-Ferrand where Saint-André played – has followed The Piglet's career for many years and fondly remembers his playing days, "Saint-André was an usual player, with a particular profile. He never had a great impact physically, but his speed and understanding of the game allowed him to score plenty of tries, often crucial ones.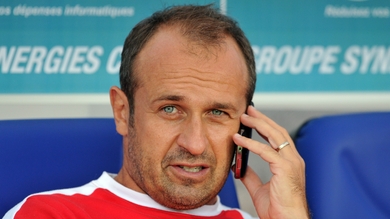 "He was a match winner, a real competitor and had a horror of being defeated."
Buron feels Saint-André has already had an effect on the France team in his short time as coach, "Already, he's surrounded himself with competence with Yannick Bru and Patrice Lagisquet. Contrary to Marc Lièvremont, he has experience as a manager of people. He's a great communicator and he'll protect his players, which Lièvremont failed to do."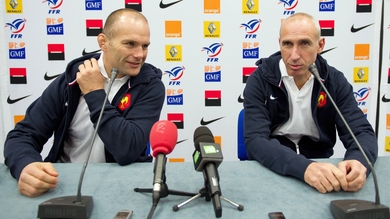 Buron echoes Roumat in thinking that Saint-André's main goal will be the Rugby World Cup in England in 2015, but says this year's 6 Nations will be high on his priorities, "2012 is a favourable year for France, with England and Ireland at home. The Grand Slam will be the goal, with the 'final' against Wales the main focus.
"As for the future, Saint-André will dream of doing what no French coach has achieved – becoming world champion."
Against Ireland, Buron sights the breakdown as the key area of battle, "Like all games against Ireland, the key will be the combat areas, notably the rucks.
"If France can free up quick ruck ball, they can turn the screw. They must also slow down the Irish game and secure territory with their kicking game – like against Italy."
As for the outhalf slot, Buron is glad to see Trinh-Duc start at ten, "Trinh-Duc seems the right option to me. He's a player who likes the ball, attacks the opposite line and animates the game. However, I feel he would be better paired with Morgan Parra at scrum-half."
BRUNO VIGOUREUX - L'EQUIPE RUGBY WRITER
Like Buron, Bruno Vigoureux, rugby writer for French sports newspaper l'Equipe, has vivid memories of Saint-André as a player, " He was one of France's greatest captains, with notable victories against the All Blacks. He wasn't an elegant player, but he always set an example for his team-mates. He never let anything go."
As for what the The Piglet will bring to his new role, Vigoureux remains unsure, "It's difficult to say, in my opinion he'll be a better communicator between the players and the staff.
"Not necessarily between the players and the media though – in France we say he has 'la langue du bois' [or in English, he's a waffler], meaning he doesn't ever say anything too interesting; he is clever not to reveal too much, just like when he was a player."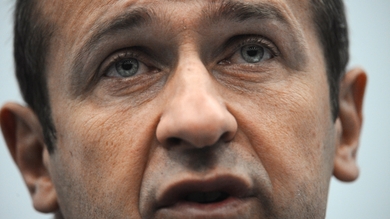 Again, Vigoureux feels home advantage is key for France in this year's 6 Nations, "It's a good year for France because they have three home games. Having Ireland and England at home makes it easier to win a Grand Slam. Dublin and Twickenham are difficult places to go.
"As for the next World Cup, it's hard to say how well he will do. I think for the moment he will stick with the team from the last World Cup – [Thierry] Dusautoir, [Pascal] Papé for example, although, he's brought in Wesley Fofana and Yoann Maestri."
Regarding the upcoming clash with Ireland, the l'Equipe writer feels that the weather could be a strong factor, "At kick-off in Paris the temperature will be -7c degrees and colder in the second half. It will be very difficult for both teams to play in those conditions."
Tadhg Peavoy was in conversation with Olivier Roumat, Christophe Buron and Bruno Vigoureux over 7-8 February 2012. Comments and feedback welcome to Tadhg.Peavoy@rte.ie.