by Brent Pope
England have been the most consistent side in the RBS 6 Nations and they have been quite impressive in some matches, particularly against France and Italy.
But they are beatable and I think Ireland can win this game.
Why? First, all the pressure is on England. They have a lot of young guys in the team, they are chasing a Grand Slam having not won one since 2003, and they are playing away from home and for the first time at the Aviva Stadium. They will be nervous and I think Ireland can exploit one Achilles heel in particular: their difficulty coping with a defence that comes at them quickly.
Overall, I have to say the general standard of rugby has been lacklustre. France are in crisis. Having traditionally been the flag-bearers for European rugby and the team that New Zealand and the other Southern Hemisphere nations feared the most. I can't believe Marc Lievremont is still in a job.
But England have done enough to be on top. Their good points are the solid scrum, and the threat of Ben Youngs and Toby Flood at half-back while Chris Ashton, who has been the pick of the outside backs in the tournament.
Up front, I think they are still looking for a bit, although Tom Palmer has come good in the second row. I am not that convinced about their back row. Chris Wood has been a good find and James Haskell has had a good tournament but Nick Easter is old-fashioned and his game is not similar at all to what they are trying to do in the Southern Hemisphere.
England: hard up defence can cause them problems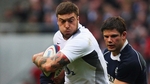 The Achilles heel Ireland can exploit is in the centre. Mike Tindall had a good game against France because of the way they defended: France held back and slid across instead of coming up hard. Last week, Scotland came up much faster and showed that when you put England under pressure they don't have a lot of ideas.
They have a 'crash bash' pairing in the centres: straight runners rather than creative players. Shontayne Hape is an ex-New Zealand Rugby League international who runs straight and hard while Matt Banahan – who has replaced Tindall - is an ex-second row who they are trying to turn into a Jonah Lomu-type player, though he does not have the same explosive power. He is big and will run hard at Ireland but he is slow to accelerate.
Gordon D'Arcy and Brian O'Driscoll need to sit on him and not give him time to get a head of steam up. Banahan is usually a winger and his distribution is not one of his strengths. That will also make things easier for Ireland.
Ireland have picked Jonny Sexton but it is hard to read much into that in terms of what the gameplan will be. They may try to kick long and put England in positions where they are not comfortable.
But this match is about tapping into the great days: I don't like to bring up the likes of Simon Geoghegan and Mick Galwey but that type of attitude is really what Ireland need. It needs to be an old-fashioned approach, at least for the first 20 minutes. Defence will win this match and if Ireland can put England off their stride, they have a great chance.
Bryce Lawrence is refereeing, the game should be fast and loose. The trend among the Southern Hemisphere refs is to play on and to play advantage – instead of blowing up for minor things – and they are favouring the attacking side. That should also suit Ireland.
Big picture is not pretty for Ireland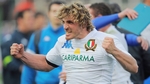 But I am concerned with the overall picture. Ireland play Italy in the World Cup in a few months and there has been a real contrast between those two teams in this Championship.
Nick Mallett was able to make major changes to his team last week and still get a win against France. They are showing themselves to be an adaptable team, have been the form side of the competition aside from their match against England and are developing different players and options.
On the other hand, Ireland seem to lack confidence and we have not learned a lot since November. I would like to have seen younger players on the bench and to start getting a sense for what Ireland's Plan B is.
But I still think Ireland can beat England and deny them that Slam.