Here are the rules I follow when picking my team, and my suggested XV. Use them as a guide to pick your own winning L'Oreal Fantasy Rugby team, and you could be in with a chance of winning the fantastic prize of following Ireland to every game at next year's RBS 6 Nations.
Rule One: Make Your Predictions
When aiming for Fantasy Rugby success, rule one (in my book anyway) is to make your match predictions first, and then pick your team. That means you will be building your team around an idea of what you expect to happen that week, rather than the other way round.
Rule Two: Check Those Teams
Don't forget to take a look at the latest team news. You may think Lee Byrne is the best full-back in the competition, but Warren Gatland and his fellow Welsh selectors have gone for James Hook instead this week. Sebastian Chabal isn't playing either folks....
Rule Three: Know The Rules
Seems obvious, but it is always worth getting an idea of how you got about scoring points. Essentially, tries are the simplest way to score points (5), but don't forget about 'Man of the Match' awards, and pick the kickers you expect to keep the scoreboard ticking over.
For the full rules rundown: go here.
Also, watch out for the quiet ones. Finding forwards who will quietly play away for 80 minutes every week is a good way is vital.
Rule Four: Give Key Picks To Stronger Countries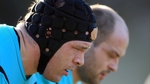 When it comes to countries, use your picks wisely. Remember, you can only have four players from any one country so don't waste valuable top-team selections on players in positions that won't yield points. You may like French front-rowers like William Servat and Tomas Domingo.
But remember the old adage that forwards win matches and backs decide by how much: chances are the French backs will take advantage of the sterling work of these guys up front and run in the easy scores.
Suggested L'Oreal Fantasy Rugby XV:
First of all, predictions: I expect decent wins for Ireland and France, and I also reckon that England could beat Wales, primarily by beating them up in the tight five.
On that basis, I will be trying to fill my team with Irish and French outside backs. In the back-row, I will be looking for potential superstars from either winning or losing teams – as these players can score points regardless.
Half-back: Sexton and Parra
If Ireland do beat Italy in Rome, they can expect to score plenty of points through the boot of Jonathan Sexton. Sexton's ability to take the ball at first receiver, but also wrap around his backline and get involved on the other side of moves also means he is a good bet to get tries or assists at some stage.
The other contender is Francois Trinh-Duc, as France will almost certainly also win their opener against Scotland and possibly by a big score. But bear in mind that their out-half Francois Trinh-Duc does not usually take the goal kicks before sticking him in your team.
So I will make Sexton my first pick.
At scrum-half, for sheer attacking quality it would be between Ben Youngs and Mike Phillips, but the likelihood that Morgan Parra will take the kicks for France and the fact they have a relatively easy opening fixture against Scotland just about gives him the edge.
Centre: O'Driscoll and Mermoz
Moving out to the centres, it is impossible to ignore Brian O'Driscoll and his history of scoring, setting up tries and winning man of the match awards. Gordon D'Arcy is another candidate but his lesser try-scoring record means he can be left out.
After that, alongside the Irish captain, it is a tough call.
The English centre options – Shontayne Hape and Mike Tindall – are not top class though Tindall has plenty of experience in this tournament and is probably the better of the two.
The French pair of Maxime Mermoz and Aurelian Rougerie are obvious candidates and other strong options include Jamie Roberts and Jonathan Davies of Wales, though if Wales are starved of the ball by England, their centres will struggle to make an impression too.
Also, Rougerie is listed as a winger, even though he has been picked at 13 by France. By default, Mermoz could be the man to go for against a weak looking Scottish midfield.
Back Three: McFadden, Ashton, Medard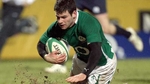 In the back three, Luke Fitzgerald's recent form for Leinster raises some doubts about his ability to do well against Italy, though he has done very well in Rome in the past. Fitzgerald could easily hit a good spell soon but given he is still playing his way back into form after injury, it might be best to allow a few weeks for him to recover his form.
At provincial level, it is Fergus McFadden of the Irish trio who is actually having the best season and his raw pace makes him a good bet to score.
Going on previous years, it almost always pays to have a French winger though Marc Lievremont's men have had a poor run in Tests of late. Of the two options, Toulouse flyer Maxime Medard is probably the one with the most class.
With the back-row still to come, you may need one outside back not from France or Ireland. England's Chris Ashton may be the best option as he is another man who can burn any defence with his speed – witness his length of the field score against Australia.
After picking a backline I have three Irish players, three French, and one Englishman.
Back-Row: O'Brien, Harinorduquy, Parisse
Don't be afraid to go for the big names in the back row as from year to year, as they have tended to keep on producing the goods from year to year.
One new face for this tournament is Ireland's Seán O'Brien and he rates as 'must pick' thanks to his scintillating form for Leinster over the last two months – especially now that he should see plenty of ball playing at number eight. I would make him my fourth and final Irish pick.
In the other two back-row slots, Parisse is usually good for a try or two and at least one 'man of the match' award over the course of the tournament. If Italy do score against Ireland – and history suggests they could get around 15 points or so – he will be at the heart of it.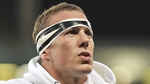 Harinorduquy, last year's player of the tournament, is another extravagantly talented back-rower with a knack for getting involved on the wings. As the best attacker of the French back-row, I will make him my fourth and final Frenchman.
Tight Five: Gray, Davies, Hartley, Sheridan, Cole
At this stage, you may have to turn to the nations more likely to struggle this weekend.
It is possible to get a fourth back-rower in your team if you go for Nathan Hines – who will play at six for Scotland in Paris but is listed as a lock. But Hines' team-mate Richie Gray is tipped to have a big tournament and may be worth a pick as a second rower who could score points from under the radar.
Another who could do well over the course of the competition is Wales' Bradley Davies – a good ball carrier who is able to cross the gainline and could score a try or two.
I will call him an insurance pick as my expectation is that England will get on top of the Welsh in the tight, especially in the front row. Dylan Hartley is not a popular player but he could rumble into a try scoring situation at some point. And just in case England do manage to inflict a real pasting up front, it's worth sticking likely tighthead/loosehead combo Dan Cole and Andrew Sheridan in your XV as well.
L'Oreal Men Expert Fantasy Rugby: Suggested Team
15. Maxime Medard
14. Fergus McFadden
13. Brian O'Driscoll
12. Maxime Mermoz
11. Chris Ashton
10. Jonathan Sexton
9. Morgan Parra
1. Andrew Sheridan
2. Dylan Hartley
3. Dan Cole
4. Bradley Davies
5. Richie Gray
6. Imanol Harinorduquy
7. Seán O'Brien
8. Sergio Parisse