by Kurt McQuilkin
To read that the International Rugby Board is fining France for stepping over the halfway line while accepting the Maori challenge during the Haka before the RWC final on Sunday is unbelievable to say the least.
I respect the Haka 110%, but if the New Zealand team are allowed to make throat slitting like gestures as they do during the new "Kapa o Pango" Haka then surely an opposition team can be cut some slack for stepping over a given line while accepting that challenge?
If not, then let's scrap the Haka altogether and get on with the game straight after the national anthems.
That aside, Rugby World Cup 2011 was seen as an amazing success down here and like the Lions Tour in 2005 the visiting supporters have shown New Zealanders how to support their respective teams before, during and after matches.
This in turn brought out the best in most New Zealand fans. I say 'most' because I thought the treatment of Quade Cooper by certain sectors of the New Zealand public and media was disgraceful and totally uncalled for.
On the field, the RWC final 2011 was a true test match from the purist's point of view with the French stepping up to the mark and pushing the New Zealanders all the way.
Woodcock try - soft set-piece concession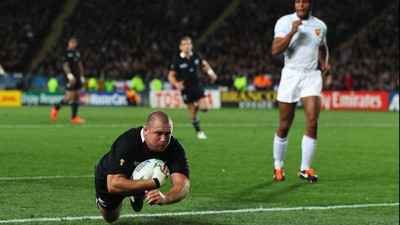 Apart from the soft try conceeded from the set piece lineout deep into French territory - Tony Woodcock strolling between the split pod move to score unopposed early in the first half - the French defence was very solid but with an aggressive edge to it.
They did not over commit to the defensive ruck area and at times did not commit any defenders at all after the intial tackle was made. This created a strong defensive screen during New Zealand phase attack situations. Add to this the superb up and out lines on the inside channels and there was never any chance of the New Zealanders making easy yards from late switches or cuts.
It forced Aaron Cruden to either kick for territory or to take it too close to line in order to bring Nonu and Smith into the attack and more often than not, he was smashed in one and two man hits.
When the ball went wide the French defence didn't panic, kept their shape and ushered the New Zealand attackers out towards the touchlines. Stand outs in defence were Maxime Mermoz, Aurelien Rougerie and the back-row trio of Thierry Dusatoir, Julien Bonnaire and Imanol Harinordoquy. Their workrate and quality of tackling were top drawer.
The French set piece was solid with their lineout in particular a great source of possession and secure ball especially when they were being put under the pump by the New Zealanders deep in the French half.
Patience of French attack stood out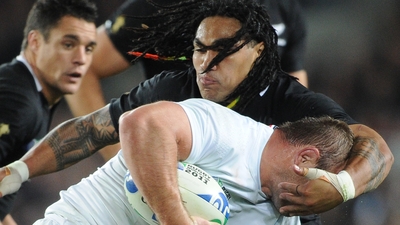 Patience was the hallmark of the French attack. There was a definite focus on ball retention and they were prepared to lose a few metres in one attack in order to make some two or three plays down the line.
When forced into the kicking option, the New Zealanders were made to look fairly ordinary in their kick chase line with mis-matches ocurring - the breaks from Francois Trinh-Duc and Vincent Clerc coming to mind.
Referee Craig Joubert generally let the game flow, but it would have been very interesting indeed if he had acted on a couple of blatant cases of New Zealand forwards playing the ball off their feet and slowing ball down at ruck situations with 10 minutes to go deep inside New Zealand territory.
The New Zealanders themselves showed a lot of courage under fire and will take a lot out of that victory.
New Zealand 'got agricultural' to secure victory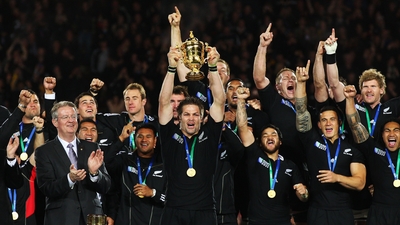 Every player to a man stood up and put their individual and collective bodies on the line to win their first Webb Ellis trophy in twenty four years. I thought peformance-wise, the French shaded this encounter on the night and showed that if you believe in your gameplan and stick to it diligently you can put teams like New Zealand under immense pressure.
But the men in Black did what they needed to do and got agricultural on it, basically they "gutsed" it out to a derserved victory.
From an Ireland perspective to win their respective pool and then go out to a fired up Welsh outfit in the quarter-final is definitely a case of what could've been.
But they will learn from that experience and come out the better for it for future campaigns. Looking forward to the next tournament, Ireland have a good core of players in Cian Healy, Stephen Ferris, Sean O'Brien, Jamie Heaslip, Conor Murray, Jonny Sexton and Keith Earls and they should form a strong backbone for a genuine challenge come 2015 in England.
For what it's worth here's my team of the tournament.
RWC 2011 XV :
15. Israwl Dagg (New Zealand)
14. Cory Jane (New Zealand)
13. Aurelien Rougerie (France)
12. Jamie Roberts (Wales)
11. Alesana Tuliagi (Samoa)
10. Dan Carter (New Zealand)
9. Kahn Fotuali'i (Samoa)
8. Imanol Harinorduquy (France)
7. Thierry Dusautoir (France)
6. Jerome Kaino (New Zealand)
5. Victory Matfield (South Africa)
4. James Horwill (Australia)
3. Owen Franks (New Zealand)
2. Bismarck Du Plessis (South Africa)
1. Tony Woodcock (New Zealand)