In his last RWC Blog, Tadhg Peavoy looks at the final round of Rugby World Cup matches from a Six Nations angle.
FRANCE
Ruling out France is a crazy thing to do at any time and they showed why in the Rugby World Cup final against New Zealand. Les Bleus finally turned up and did everything right except win.
Marc Lievremont's side applied a rush defence and exerted a line speed they had not displayed since the Six Nations 2011. These two tactic changes left the All Blacks little space to expose in attack and forced the hosts to kick much of their possession away.
One could point to missed kicks costing France, but if New Zealand had also landed their missed punts at goal, the score would have actually been poised at 16-16. One can only guess who would have had the fortitude to step up and win it with the tie level in the dying minutes.
It was in other areas France lost the final. The New Zealand try came from one of France's major weaknesses at this RWC. Earlier in the tournament Les Bleus were weak at ruck defence - leaving soft centres.
In this tie it was not at a ruck, but at a lineout, where France had a soft centre, allowing Tony Woodcock to plough through to the line. This basic defensive error proved ever so costly in the end.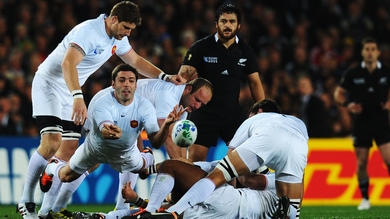 Francois Trinh-Duc's introduction was key as he got France's backline running far better than Morgan Parra could. Trinh-Duc's ball-in-hand skills and size got France trucking and they were in charge for the most of the match thereafter.
France's wonderful defensive pressure led to their try, with Piri Weepu's error gifting France possession deep in the All Blacks half. Quick spread and distribution by France ensured they were right back in the game through a converted try.
But in truth, while New Zealand froze in so many ways in Auckland on Sunday, and abandoned their tournament style of grinding out phases, they maintained a rigid defensive structure. No matter what France threw at them it was met with excellent cover defence.
And France lacked the quality to create something special to win the game. Looking back at the tournament this describes France well. They were a competent scrummaging team, with an excellent defence; a defence so excellent it won them a semi-final they should have lost.
But throughout the tournament their backline stuttered and always looked as though it might come up short - sooner or later.
WALES
Wales' Rugby World Cup will be remembered as a success, despite losing a semi-final clash with France that they should have won.
In the bronze final against Australia they played like a team with little left to give and drained from the exertions of the last six weeks. This led to Warren Gatland's team lacking momentum in the first half and had them 7-3 down at the break.
A horrendously forward pass gave Wales the lead early in the second half. While this particular try was forward, it highlighted where Wales are strong, with Hook making a break around the ten channel and managing to offload early.
These skills brought Wales to the semis and they will be looking to replicate this style of rugby at the Six Nations in 2012. The final try of the match also came from Leigh Halfpenny, through a similar style of play, and was after nearly 30 phases of retention.
Cymru's excellent rucking and retention is a feature of their game that the other Six Nations teams will attempt to replicate next February.
Wales' missed kicks proved very costly, as they did in the semi-final, and it again highlighted the need to ensure that they have two highly-efficient place kickers come next season.
Wales skills coach Neil Jenkins will be working closely with Rhys Priestland, James Hook and Leigh Halfpenny to ensure that missed kicks are not the reason Wales fail to win the Six Nations 2012.
The downside of Wales' defeat to the Wallabies is that it highlights their failure to beat Tri Nations opposition at this World Cup.
Narrow defeats to South Africa and Australia point to a lack of self-belief and composure in the heat of battle. This mental toughness is an area they will now surely target to improve, as this young team looks to learn from the RWC and mature off the back of it.