by Brendan Cole
Is this the easiest game to predict of Rugby World Cup 2011, or the hardest?
<notforsyndication>Watch live coverage of the Rugby World Cup Final on Sunday from 8.30am on RTÉ Two and www.RTÉ.ie (RoI)</notforsyndication>
History suggests France always have a chance in this fixture and it must be remembered that they were 20/1 longshots when they turned New Zealand over in 1999, and produced the shock of RWC 2007 by beating them four years ago.
Combine the French tendency to produce the extraordinary off a run of terrible form, and New Zealand's to set high standards for long periods but dip when it matters most, and we might just get a match.
But.
On the face of it, France have virtually no chance having played badly throughout this competition. They failed to bring their best players and several, the likes of Florian Fritz, Yannick Jauzion, Matthieu Bastareaud, Sylvain Marconnet and Thomas Domingo, will watch this on TV back in France (or not at all).
The players who did travel have become deeply split from the coach – particularly since the FFR's decision to announce Marc Lievremont's successor in the months prior to RWC 2011 (Phillipe Saint-Andre takes over immediately after this tournament).
Even the veneer of normal relations between the players and the head coach has fallen away. Lievremont's performance ranks somewhere alongside Nick Faldo's disastrous Ryder Cup captaincy for sheer bumptious incompetence.
But he and France are winning. Somehow.
By rights, they should have been dumped out in the pool, having lost to New Zealand, struggled against Japan and Canada and gotten totally outplayed by Tonga, an island with a total population of just over 100,000.
Only Tonga's loss to Canada meant they slinked through.
England's plodding attack - not enough to test France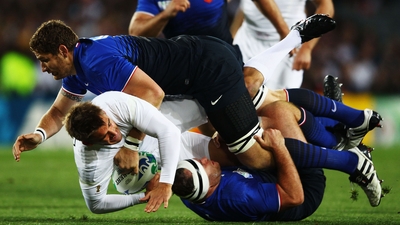 The knockout games were only ever so slightly better - with winning Six Nations habits helping them along. England are a team France will always give a game to, particularly when they turn up as plodding and predictable as Martin Johnson's version did. Some reasonable rugby in the first half sufficed.
They were then incredibly fortunate to beat Wales by a single point in a match-up that only came about because of Ireland's win over Australia in the Pool.
In total, France have won a single match against full-strength opposition - England - and managed about 30 minutes of reasonable rugby in total over six matches.
They have been at least as poor as Ireland were in 2007, but somehow find themselves in the final.
Can they find form this week?
Improvements and rethinks are needed all over the place, but especially in defence.
The folly of kicking ball to the back three was demonstrated by Australia and New Zealand must be upset up front.
France have missed dozens of tackles in this tournament, and the passivity of their defensive line - Thierry Dusautoir aside - and the defensive ruck has allowed the opposition swathes of easy ground and quick ball. A massive improvement, with the back rowers to the fore, is needed.
The scrum and lineout are the sole areas to have performed even close to par so far. If the setpiece, along with a massively improved ruck and defence, give New Zealand difficulty up front, the pressure may just leak through to New Zealand's weakest point: Piri Weepu and Aaron Cruden at half-back.
That might just make this final interesting, but there is a serious doubt over whether this France team can create that kind of pressure over a long period in this match.
New Zealand took pressure off the half-backs at every turn against Australia last week. Ma'a Nonu's quality at number 12 means Cruden always have a safety valve alongside, and he and the other outside backs routinely came in to take ball at first receiver in front of the out-half.
At the ruck, Weepu's moderate passing was determinedly turned into forward momentum by the pack, and that along with the powerful clearout at the ruck almost made him look the IRB Player of the Year nominee he (ludicrously) is.
New Zealand - try targeting a strength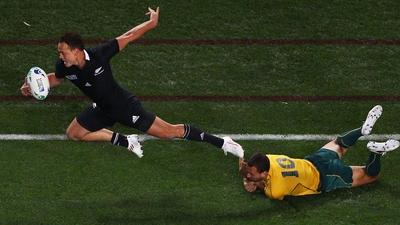 As well as dominating the ruck, New Zealand have been the best by far at engineering line breaches off first and second phase ball. They are also incredibly efficient at converting those opportunities into tries – which they deliberately and aggressively target as a team instead of seeing them as a gift for good behaviour.
The outside backs are a credit to the rugby culture that produced them. Cory Jane has been targeted and shown he can take it and more, Richard Kahui and Conrad Smith are powerful, classy and efficient, and the contest for Player of the Tournament is probably between the superb Nonu and Israel Dagg.
Nonu's defence and the fact he seems to step up with a play any time there is the mildest slowdown may see him shade it.
Overall, New Zealand have been undeniably impressive - though it must be said that the exit of South Africa, and the fact New Zealand met a game but comparatively limited Argentina in the quarter has meant they have yet to be truly tested so far.
Almost everybody would like to see France tear into New Zealand for the entire match in the same way they did for the first seven minutes of the pool clash.
But there are surely too many weaknesses in this team for even the very best performance to derail the All Blacks, who may just end up running away with this one.
RWC Prediction: France 6-29 New Zealand
Teams for France versus New Zealand, Rugby World Cup final, Eden Park, Auckland, Sunday, 9am:
France: M Medard; V Clerc, A Rougerie, M Mermoz, A Palisson; M Parra, D Yachvili; J-B Poux, W Servat, N Mas, P Pape, L Nallet, T Dusautoir (capt), J Bonnaire, I Harinordoquy. Replacements: D Szarzewski, F Barcella, J Pierre, P Ouedraogo, J-M Doussain, F Trinh-Duc, D Traille.
New Zealand: I Dagg; C Jane, C Smith, M Nonu, R Kahui; A Cruden, P Weepu; T Woodcock, K Mealamu, O Franks, B Thorn, S Whitelock, J Kaino, R McCaw (capt), K Read. Replacements: A Hore, B Franks, A Williams, A Thomson, A Ellis, S Donald, S B Williams
Referee: Craig Joubert (South Africa). Assistant referees: Alain Rolland (Ireland) and Nigel Owens (Wales).