by Kurt McQuilkin
New Zealand come into this final in red hot form and if you go by the New Zealand bookies and the media, they are pretty much unbackable favourites
On the French side, the wheels look to be falling off the wagon. There still seems to be a fair bit of friction in the camp. Marc Lievremont berated his players in public again – this time for going out and celebrating their win against Wales into the early hours of the morning at some of Auckland's bars and night clubs.
But they are still a dangerous prospect and the New Zealanders are well aware of what they are capable of if they hit their straps.
You can build a gameplan to compete with New Zealand using defence as your foundation and one part of the French game that has looked strong in their last couple of outings has been their set piece and phase defence.
New Zealand must shut out France in the centres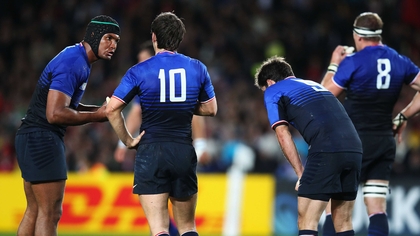 France will have learned from the only try New Zealand scored against Australia in the semi-final that you cannot afford to let their attackers breach you anywhere from 1st to 4th reciever in phase attack. When they do get those breaches, New Zealand support runners flood those channels either side of the ball carrier and create try scoring opportunities every time.
So the French defence must stay solid and keep a good alignment and shape on those inside channels off the ruck, forcing the New Zealand attack to try to go around them. Then, they rely on a combination of the pace of Alexis Palisson and Vincent Clerc out wide and good use of the touchline as an extra defender.
When they do make contact, France must deny New Zealand momentum. Good technique and tackle selection will play a major role in stopping the New Zealand attackers quickly and effectively.
You can't go for the big impact shot every time a New Zealand attacker engages you as a defender: you must pick your battles. When the attacker has size and momentum, your bread and butter "chop" tackle attacking the legs comes into to play, with the inside defender working hard to slow down the ruck area.
The impact tackle comes into play in specific situations where the attacker has, for example, mistimed a run, taken the ball static or looked in at the pass.
Once you have indentified this situation the defender can then lift his linespeed and raise the sights of his tackle to attacking the chest and ball area, looking for that big collision.
Those tackles create opportunities for turnovers and possible counter attacks for the dangerous French back three.
It is amazing what effect an impact tackle can have on a teams defensive and attacking confidence and they be a real catalyst for a game changing moment during big matches.
France must keep ball in hand in attack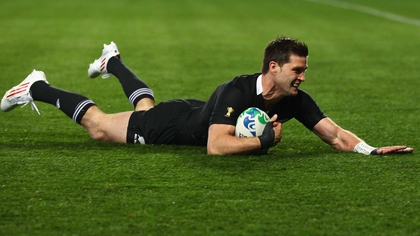 In attack, keeping ball all in hand on attack is a must for the French even if at times they may not be making much head way. When you have the ball you can dictate the pace of the game.
Australia made the mistake of kicking away too much possession and the New Zealand back three of Cory Jane, Israel Dagg and Richard Kahui controlled the airspace. They totally diffused the aerial attack of the Australians, and more often than not they were able to set up phase attack scenarios that gained large chunks of territory back and brought New Zealand deep in the Australian half.
Up front, I expect the French pack to tear into the New Zealnders and have a real cut off them at the scrum and lineout.
Their back row in particular have all of the skills both individually and collectively to give their New Zealand counterparts a torrid day at the office. They are capable of offering a bigger alround threat to Richie McCaw, Jerome Kaino and Kieran Read than the disappointing Australian backrowers did.
Aaron Cruden, who has stepped into the No.10 jersey and performed unbelieveably well, will still be a target for the French backrowers from both set-piece and phase attack. Also look for Maxime Mermoz and Aurelien Rougerie to target the young New Zealand out-half on hard cut back lines from switches off Morgan Parra.
If the French can get a lot of width between Dmitri Yachvilli and Parra at scrum-half and out-half on set piece attack, that will prevent McCaw giving Cruden the back up coverage he would like to.
On form it is New Zealand's game to lose and for France to win they will need everything to go to plan, along with a few stars aligning up in the Auckland night sky above them.
But if it does it should produce a tight match and a great spectacle in what would be a fitting end to a magnificent Rugby World Cup.
The Warburton red?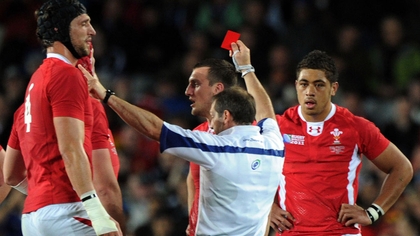 Was it a red or was it a yellow? It was definitely a dangerous tackle but in my humble opinion it was a yellow card offence rather than a red card. That would apply whether it was a RWC semi-final, a Heineken Cup semi-final , a Rabodirect Pro 12 semi-final or an AIL semi-final.
The decision to give Warburton a red finished the match as a contest as it removed the Welsh team's best fetcher and defender and, most importantly, their skipper. Having said that the Welsh could have snuck it if one of their attempts at goal had hit the mark.