By Tadhg Peavoy
Wales were so much the better team in their Rugby World Cup semi-final clash with France – that was what made it such a tragedy that they lost their last-four battle.
Watch live coverage of the Rugby World Cup Bronze Final from 8.00am on Friday on RTÉ Two and www.RTÉ.ie (RoI)
One of the great sporting clichés is that sport at this level comes down to the little things, but in this case it was big things that cost Warren Gatland's exciting young team victory.
James Hook, starting at outhalf instead of injured Rhys Priestland, missed two penalties and generally had a poor game. The fact that Hook is so versatile has led to his being switched about the Wales and Ospreys backline throughout his career; it has also led to him failing to cement one position as his best. That was evident on Saturday, when he lacked the composure and confidence to play the assured outhalf game Priestland had displayed in the quarter-finals of this competition.
Stephen Jones can make no such claims to inexperience at outhalf and when he came on to shore things up I am sure the Welsh public as a whole breathed a collective sigh of relief. Strangely – and unlike his usual self – Stephen Jones played a meek game and failed to take the scoring chances presented to him. He hit the post with a conversion and did not take two drop-goal opportunities when they arose. The first chance was directly in front of the posts, in the France 22. The second chance was also in front of the posts but nearer the France 10-metre line.
Hook and Stephen Jones have had less gametime than Priestland of late and therefore less opportunity to adapt to the unusual flight of the ball at this RWC, this could explain their missed place kicks. But Wales will look back on Jones' failure to take those two drops at goal as perhaps the biggest missed chances of the match.
Stephen Jones could not win it for Wales
Of course, captain Sam Warburton's sending-off was the real game-changer in Auckland. The rugby world debated Alain Rolland's decision to send Warburton off for spear tackling Vincent Clerc for the rest of the weekend and, in fact, it has been one of the main talking points since the tournament started.
The exact wording of the IRB Law on the matter is as follows:
Law 10.4: "Lifting a player from the ground and dropping or driving that player into the ground whilst that player's feet are still off the ground such that the player's head and/or upper body come into contact with the ground is dangerous play."
The BBC's Tom Fordyce pointed out in his blog: "On 8 June 2009, the IRB's Paddy O'Brien sent out a memorandum to his referees with the subject line 'Dangerous Tackles'.
"In 2007, the IRB Council approved a ruling," it read, "which essentially made it clear that tackles involving a player being lifted off the ground and tipped horizontally and were then either forced or dropped to the ground are illegal and constitute dangerous play.
"At a subsequent IRB high performance seminar referees were advised that for these types of tackles they were to start at red card as a sanction and work backwards. Unfortunately these types of tackles are still being made and the purpose of this memorandum is to emphasise that they must be dealt with severely by referees."
The photo evidence does Sam Warburton no favours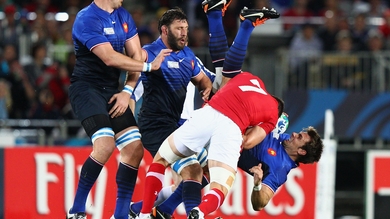 On reading Law 10.4 it is fair to say that spear tackles must be punished in one form or another. However, it does not strictly say that the card must be red or yellow. This is where the ambiguity starts. If O'Brien's memorandum is adhered to red cards should start 'as a sanction'. Does this mean that red cards should be given for all offences, or, does that mean red cards should be given for severe cases of the spear tackle?
The case can be argued that all spear tackles are dangerous and every player who makes one should be shown red.
Or, the case could be argued that offences should be red if intent is deemed to have been present; if intent is not deemed to be present then a yellow card should be issued.
The third viewpoint is that spear tackles can often be the product of a player executing a good tackle, at which point the tackled player is taken off his feet through momentum. Indeed, this is what Sam Warburton claimed happened in his tackle on Clerc. In this case one has to look at how the player was brought to ground: was he placed on his back, ensuring his head is not the first point of contact with the ground, or was his head directed at the ground? If he is placed down then there should be no card issued.
It is a complex issue and one that Warburton's sending-off will hopefully clarify through more a descriptive law from the IRB – notably deciding on the specific colour of cards for the specific offence.
Without Warburton one can only guess what would have occurred in this match. Coupled with Adam Jones' injury and substitution on ten minutes, Wales went from being totally dominant in the scrum and general play to being pushed around the field. Paul James could not match Adam Jones in the scrum and Jamie Roberts was called in from first centre to play flanker on attacking scrums – thus taking Wales' most effective ball carrier out of first-phase backline moves.
Adam Jones' calf injury was crucial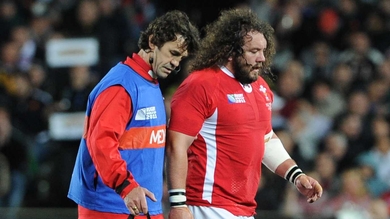 Add up the missed kicks; the red card; the Adam Jones injury; and Roberts playing at flanker: it was these big things that cost Wales a place in the final.
The Wales pack was bullied around the pitch by France for an hour and as a result France got their lead. Les Bleus kept the ball in the pack and forced Welsh tiredness to show – at 9-3 ahead on 50 minutes, France were almost out of sight.
However, Wales were let back in as the result of France changes: Jean-Baptiste Poux and William Servat came off, while Fabien Barcella and Dimitri Szarzewski came on. The France scrum was weakened and Wales began to dominate set-pieces and the collisions.
With Wales on that front foot, Mike Phillips got his try: again proving he is the best sniping scrum half in the competition. He spotted a mismatch with Lionel Nallet and Pascal Pape standing at D1 and D2 at the ruck. He got between them and made his pace count.
Mike Phillips scored a superb sniping try - again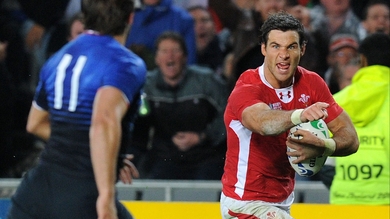 France were on the back foot for almost the rest of the match. Maxime Médard had an awful game and Wales should have kicked down his throat all day and forced error upon error. But they didn't and instead ran at will. And this was where the match was saved for France: their defence. Marc Lievremont's team have been patchy in attack and at the set-piece in New Zealand, but their defence in the last two matches has been superb. They simply refused to let Wales through and as a result undeservedly won this game and took their place in the final.
It would be most ironic to see France, a team revered worldwide for their creative rugby, win this World Cup with arguably their most boring team ever. Most ironic and most French - Graham Henry will be determined not to let that happen.