by Brendan Cole
FULL-TIME: New Zeaand 20-6 Australia
79 mins The ball is won by New Zealand but a good ruck by Australia sees them given a put in to a scrum. Kaino goes off for Vito with 30 seconds left.
The scrum series takes an age to complete - numerous collapses and so on.Ends with a penalty to Australia. Tapped and moved it wide to Ioane, but he is caught and the ball goes to deck. Kahui hoofs it downfield and chases after it. Cooper just gets there first and he tries to stand up and play but is powered into touch.
Fittting end? Cooper has played very well to be fair to him.
New Zealand v France is the final.
78 mins The ball is won by Australia but at some point as they try pick and goes and short passes, the match ends. Two converted tries - and the clock ticks up to 78. A penalty is given for Franks not rolling away - as Simmonds is just held up. It is then moved wide to Ashley-Cooper, who slips.
The All Blacks fly in at that and win a counter-ruck - McCaw leading them in. Cruden gets it and he is tackled and Australia try to do the same, but Joubert spots an illegal hand from Pocock.
Penalty New Zealand under their own posts. That is kicked to touch up on the 10m line.
76 mins The restart is tapped back towards Genia but he spills it forward. Scrum New Zealand on halway. The first one goes down as Ellis comes back in for Weepu.
The next scrum is moved by Read to Ellis and he chips down the wing. Australia control that and try to attack down the wing but another strong ruck sees New Zealand kick the ball to touch.
The lineout is won well but the attack is again stalled in the middle and Barnes kicks. It is returned - and Ioane has a run.
Cooper then gets going again down the right wing, until an illegal hit by Williams sees him given a yellow card. No arms in the tackle and he is off.
The penalty is kicked to touch 5m from the NZ line.
72 mins And Weepu sticks it - game over. Sonny Bill Williams is on for Nonu.
New Zealand 20-6 Australia (Weepu pen)
71 mins And the Australia scrum is again popped up - Polota-Nau again being drilled by Hore in the middle. Penalty New Zealand. Weepu will take it.
70 mins The lineout is won and Cooper again kicks clear. This time, New Zealand run it back from their own half but a risky offload by Thorn is spilled forward by Nonu. Scrum Australia near their own 10m line.
69 mins The scrum is won by NZ and immediately chipped for Jane but it just beats him and runs into touch 5m from the Aussie line.
STAT: New Zealand have now missed four penalty attempts, one conversion attempt and a drop-goal. Could this prove costly?

68 mins The Aussies win the 22 but as Ioane tries a run, he is wrapped up and the ruck is hotly contested and the New Zealand pack again force a call in their favour, scrum to them as the ball never went to ground.
But Ellis will go off with blood streaming from his nose. Weepu is back in for him to a big roar.
67 mins And - predictably - the scrum sees Polota-Nau pop up and then disintegrate at the back. Penalty to New Zealand as Elsom and Pocock got involved with Hore after. Cruden will have a kick at the posts from just inside the half-way line.
But he misses to the right.
65 mins Australia lineout on their own 22 and it is won off the top and McCalmon has a run up the middle before Cooper kicks long. An exchange of kicks ends with one that goes straight up by Jane and then Australia get a scrum in their favour in midfield as a catcher is held up. Hooker Polota-Nau is to come on for Moore.
63 mins Rob Horne is on for Fainga'aa while Kaino is getting his strapped right shoulder looked at.
The lineout is a mess and the ball ping pongs about on the deck before Read dives on it 10m from the Aussie line. And the All Blacks go to a pick and go game, but off Thorn's carry Franks is penalised for sealing the ball off. Thorn seemed to try to score a try on the 5m line there. Hore is in for Mealamu.
62 mins Australia's attempted move at the front of the lineout is not slick and is kicked on top of Jane. He is then turned over by Pocock but McCaw then grabs Genia and immediately leads a tackle/counter-ruck turnover of his own. That ball is kicked to the wing and Cooper catches and feeds O'Connor who is half charged - touch and lineout Australia 5m from their own line.
The Aussies win that and Cooper finds touch off Genia's pass on their own 22m line.
59 mins The scrum is won and Kahui gets it and gives it to Nonu, who charges forward. Some drives around the ruck get New Zealand into the Aussie 22. But a Dagg drop goal is poorly struck and Cooper catches it and shows his talent - beating several men as he ran from tryline to outside the 22. Barnes then kicks long but Dagg had covered back and from the corner of the pitch, touch 10m from the Aussie 22.
McCalman in for Samo and Simmonds for Vickerman.
58 mins The dropout is long but New Zealand are soon back in the Australia half until a ruck ends with Slipper trapped in the ruck - scrum NZ on the New Zealand 10m line.
57 mins Weepu thumps it hard but it is short and wide. 22m dropout to the Aussies. And that is his last act - Andy Ellis is on. Whitelock goes off for Ali Williams.
56 mins The pace is unreal - the lineout to NZ is won and they set up a maul and then they get a call in their favour for side entry to the maul on halfway - foolish by Moore. Weepu will have a shot from just inside the Aussie half and out near the touchline.
53 mins Actually it was an Australia scrum there but it is not stable despite a decent shove from them and Kaino gets it and he is shoved to touch. Pocock takes a quick lineout and the ball is moved to O'Connor who kicks long to Dagg. That is returned quickly to touch though - lineout Aussies.
Some Cooper magic almost sees Australia break through in the middle off that but they are turned over then and the ball is kicked long to Barnes and he punts it back to touch near half-way.
52 mins New Zealand win that scrum and go to a pick and go through the pack. They move it wide then and Conrad Smith has a run and makes ground before going to ground. But a poor pass by Dagg ends the move as the ball goes to touch from his poor pass. Samo was floored by a clash of heads with Read there - as Read dipped his head for a carry in the middle, but he will be OK.
50 mins And they win the scrum, Read picking. And it is moved to Cruden and he kicks on top of Cooper, who takes it well. The ball goes to the turf from a dodgy offload then but Barnes collects. Off the next ruck, Ioane drops the ball though. Scrum New Zealand on the halfway line.
Looks like Ellis set to come in - for Cruden or Weepu?
48 mins The New Zealanders win that lineout but Cruden's high kick is not great and O'Connor counters off it, beating Dagg before being wrapped up. But Ioane runs into Horwill at the next ruck and it is an accidental offside call against him. Scrum NZ just outside their own 22.
46 mins And the ball is won by Australia and moved wide to Ashley-Cooper, who makes good territory down that wide channel but New Zealand hooker Mealamu arrives and gets over it and forces the penalty against call. New Zealand kick that one up to touch - still in their half.
McCabe is a hard nut but he is going off with blood on his face. Barnes in again.
43 mins The restart is kicked to Whitelock and this time Weepu makes an error, kicking straight to touch just outside his own 22m line.
Samo wins it at the front and McCabe has a charge, but the attack has no momentum, and is stalled on the 22 until Elsom creates some momentum and suddenly they are up to 15m from the New Zealand line.
But then they go wide and deep and Cooper is caught in the backfield. He manages a lovely offload but the next attack fails as well - Ashley-Cooper isolated and turned over by a counter ruck and the ball is then kicked clear to touch 8m outside the NZ 22.
42 mins And Weepu sticks over his own penalty - from more like 35m in fact. Perfect start for New Zealand.
New Zealand 17-6 Australia (Weepu pen)
41 mins We're off -and the Aussies clear the long restart to touch on halfway. New Zealand win the lineout through Read and then maul it a few yards before Weepu puts it up high on O'Connor, who takes it.
But they move the ball through hands to McCabe and he is tackled on his own 22m line by Franks and then Weepu gets over the ball and forces a holding on call against him.
Cruden scores: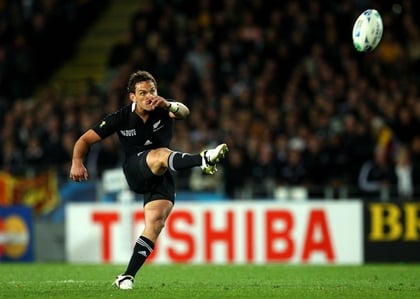 HALF-TIME ANALYSIS: There is a suggestion that Dagg's foot might have flicked the touchline as he passed the ball to Nonu for the try. Joubert could not have gone to the TMO though as Nonu was the man who completed the scoring.
Can the Aussies stay in the game? They need to score next and need to get within a score of the New Zealanders to put the pressure on and see if they can snatch a win says Brent Pope.
Half-time: New Zealand 14-6 Australia
40 mins The scrum is unstable and Weepu blocks Genia's pass with his foot. But the attack never gets going in a structured way and play ends with a ball sticking inside a ruck.
39 mins New Zealand win the lineout and try a few charges but a Cruden chip is blocked. An Australian immediately kicks down the line and as Dagg waited for it to go to touch, it sat up and he knocked it forward. Scrum Australia inside the NZ 22 and 15m from the New Zealand line.
37 mins The kick-off is claimed and then a high kick by Weepu is chased by Jane and he gets it again - remarkable. Cruden kicks to the corner but Cooper gets it and finds a good touch on the Australia 10m line.
34 mins The ball is kicked to touch and won by New Zealand and a hard carry into Pocock sees him stay down. The ball is then kicked towards the corner and taken into touch by an Australian.
New Zealand fail to win the lineout but charge down the attempted clearing kick and it runs to Cooper. He tries the matador thing against Nonu on his own line and it works - and he kicks long to touch. But Kahui takes it quickly to Dagg, who puts up a high kick and it hits off Horwill before going into Ashley-Cooper's hands. He was ahead of the kicker - so it is a cheap penalty for NZ which Weepu puts over.
NZ 14-6 Australia (Weepu pen)
33 mins Jane wins the kick off again and Dagg returns it. O'Connor makes a poor effort at the catch but Horwill gets it underneath him. Australia attack well a couple of times - Genia getting the Aussies ticking - until a hard hit by Read on Elsom and a scrappy ruck after Genia got scragged sees the ball turned over and then a penalty is given for Aussies jumping at the ball on the deck.
Pat McCabe is going off with blood on his face.
32 mins Australia win the lineout but can't get anywhere initially after moving it off the top. Moore manages a good carry but the attack can't make ground and after lots of pick and goes, Cooper drops to the pocket and sticks it over. Fair play to him - back to a five point gap.
New Zealand 11-6 Australia (Cooper DG)
28 mins Scrum series ends with a penalty to Australia - Woodcock for going straight to ground. And Cooper kicks the ball up to inside the New Zealand half.
Won off the top by Horwill and McCabe charges at Cruden. Genia picks and runs but there is no space and he kicks low towards Kahui. Dirty ball and it bounces into the winger and then to touch - lineout Aussies inside the NZ 22.
27 mins NZ lineout on the Australia 10m line. They win it and run it up the middle before giving Dagg a run and he looks dangerous. But Woodcock knocks it forward in midfield then - Australia scrum near enough their own 22m line.
25 mins O'Connor kicks - short - to touch and the Aussies attack off the lineout. But the Australia attack goes nowhere, ending with a poor chip that Dagg kicks long. Cooper is back there and he tries a chip but it is poor and the New Zealanders are back on the attack. But the Aussies manage a turnover - Pocock getting over one.
And then Cooper gets it again from Genia, and he runs the wing for a few yards before kicking straight into touch. Cooper has played with bravery, but his execution has been pretty dreadful.....
Vickerman is back in for Simmonds.
23 mins Vickerman forced off now with Simmonds coming in the second row.
The All Blacks won the restart and then Jane got under a high kick and took that as well. Scrum New Zealand on their own 10m line. NZ win that is won and then a high kick is put on Cooper. He catches it but is drilled by Kahui. But he does well to retain the ball.
Mealamu is then penalised for slowing the ball at a ruck.
20 mins Jane catches well again and New Zealand kick again after moving it across the backs to Nonu. Ioane gathers and from that ruck, Genia kicks high but short.
That ball is caught and another kick to the corner - Cruden this time - is carried to touch by O'Connor.
The lineout is won and a move down the front of it sees Mealamu have a dart. Moved wide then, but a superb tackle by Cooper out on the wing - Australian linespeed is very fast - disrupts the initial attack.
But Cruden shows his class them, dropping to the pocket and sticking a drop goal.
New Zealand 11-3 Australia (Cruden DG)
18 mins And the All Blacks scrum delivers a penalty - the Aussie front row dipping and collapsing under pressure from Owen Franks. It went down on Kepu's side.
But Weepu misses from out on the 10m line. Aussie 22m dropout.
James Slipper is being readied.
17 mins An exchange of high kicks sees Jane catch and Cooper drop it inside his own half - scrum to New Zealand on the Aussie 10m line.
14 mins Smashing hit on McCaw by Pat McCabe floors him as NZ tried to run out from the kick-off. The ball is kicked to O'Connor and he feeds Ioane, who races down the wing and almost to the tryline - he is just caught and then tackled by Dagg and carried another yard away from the line by Kaino.
It was moved right then, and Samo almost managed to create the try for Ashley-Cooper. But NZ's scramble was good enough, until McCaw was pinged for an illegal effort to turn it over on the deck.
And O'Connor sticks the penalty over. We have a match....for now.
NZ 8-3 Australia (O'Connor pen)
11 mins And Weepu gets this one, driving it over near the right hand upright.
New Zealand 8-0 Australia (Weepu pen)
9 mins Aussie lose that lineout, Thorn nicking it in front of Elsom. And then McCaw wins the first skirmish with Pocock - he carries into contact and is hit hard by Samo. Pocock gets over the ball but is immediately penalised by Craig Joubert, along with Vickerman.
Weepu prangs it off the post though! And it goes all the way back to Mealamu on the Aussie 10m line. Nonu then has a carry and then Cruden and Nonu again - but the attack is static and the New Zealanders go for the pick and go. Almost nicked, but New Zealand get it again and Cruden dashes into the Aussie 22, rounding one tackle.
And then Pocock is penalised again - 10m from the Aussie line.
"Not on your feet" says Joubert - a replay shows his knee grazing the turf. Harsh call! Weepu will have a shot.

8 mins This kick-off goes deep to Jane and he kicks it back to O'Connor, who puts it high. That is claimed and the New Zealanders look dangeorus then with a few runs, before Nonu opts to grubber kick to touch on the Aussie 22.
7 mins TRY! Wonderful play from Israel Dagg has created a try for New Zealand.
New Zealand won the lineout easily and transferred the ball to the middle. After a few pick and goes, it is moved to Dagg and he dummied, handed off Elsom and raced for the corner flag, before turning and offloading to the supporting Nonu as he fell into touch.
Stunning try, but the conversion from out wide just missed.
New Zealand 5-0 Australia (Dagg try)
5 mins NZ move the ball away from the scrum, but their backs botch a move, with Jane's attempt to link with the centres failing. Cooper gets it from that ruck and Cooper clears to touch outside the Aussie 22.
4 mins Australia waste no time winning that and move it quickly to Elsom in the middle before O'Connor kicks clear to the Aussie 10m line. Jane takes it quickly and Dagg runs back, breaking a few tackles. It is then moved to the far wing, where Nonu gets it and and beats a man but is then wrapped up.
The ball is whipped back across the field again then, but Cruden's pass is out in front of Jane and goes into touch.
Aussies win the lineout and Genia kicks high on top of Jane who catches and sets it up. Cruden and Kahui then switch before it is moved wide and a kick towards the dead ball area pulls up just short - and O'Connor carries it over, tries to beat a few men but is downed inside it. Scrum 5 to NZ.
1 min And Cooper dumps the first kick off straight to touch. Scrum NZ on halfway, and Weepu kicks a sweet one right into the corner - lineout 5m from the Aussie line.
Australia: 15 Adam Ashley Cooper; 14 James O'Connor, 13 Anthony Fainga'a, 12 Pat McCabe, 11 Digby Ioane; 10 Quade Cooper, 9 Will Genia; 1 Sekope Kepu, 2 Stephen Moore, 3 Ben Alexander, 4 Dan Vickerman, 5 James Horwill (capt), 6 Rocky Elsom, 7 David Pocock, 8 Radike Samo.
Replacements: 16 Tatafu Polota Nau, 17 James Slipper, 18 Rob Simmons, 19 Ben McCalman, 20 Luke Burgess, 21 Berrick Barnes, 22 Rob Horne.
New Zealand: 15 Israel Dagg; 14 Cory Jane, 13 Conrad Smith, 12 Ma'a Nonu, 11 Richard Kahui; 10 Aaron Cruden, 9 Piri Weepu; 1 Tony Woodcock, 2 Keven Mealamu, 3 Owen Franks, 4 Sam Whitelock, 5 Brad Thorn, 6 Jerome Kaino, 7 Richie McCaw (capt), 8 Kieran Reed.
Replacements: 16 Andrew Hore, 17 Ben Franks, 18 Ali Williams, 19 Victor Vito, 20 Andy Ellis, 21 Stephen Donald, 22 Sonny Bill Williams

0902 The Haka is next. Each move is greeted by a roar from the NZ crowd with Piri Weepu leading it. Nobody handles it better than the Aussies. The Aussies stood to face the New Zealand half after the Haka - really facing it down this time.
The Aussies then get into a circle in their own half - and are making the All Blacks wait.
0858 The camera picks out an almost spiritual looking Quade Cooper during 'Advance Australia Fair' - huge day for him.
'God Defend New Zealand' is next and the sense of a nation hoping and praying these All Blacks can deliver against the 'auld enemy' is palpable.
Incredible emotion during the anthem - and we are ready to go.
What a match we have!
0850 Pocock may shade the battle at the breakdown because McCaw is not fully fit says the panel.
The teams are on the pitch.
Predictions: Brent Pope goes for New Zealand and the other two men in studio agree. "Common sense and logic" says they will win according to George Hook, and they will do so "comfortably" says Conor O'Shea.

0840 News that Sam Warburton has been handed a 3-week ban is discussed in studio - and Conor O'Shea says that Alain Rolland got the tackle call right yesterday.
0830 Morning and welcome to the tracker - live coverage is underway on RTÉ 2 and online (click above) and the match is due to start in about 30 minutes.