by Padraic Ryan
TWITTER: "Move over guys hold that plane #RWC2011 #rterugby #eng" says @graham_royce.
"Right. Back to bed. #rterugby #rwc11" says @steviegreene in Limerick.
FULL-TIME: England 12-19 France
1021 And it hits the post and goes over the dead-ball line! The game is over! France advance to meet Wales in the semi-final, and England go home.
1021 Morgan Parra, the out-half who may be a scrum-half, has a kick to end the game.
1020 France take the lineout, get a penalty, we're inside the last minute, and they opt to go for the posts.
1019 Heymans comes on for Mermoz.
1018 England struggle to work the ball out of their 22, and Tuilagi, over-eager to take the ball into contact, is bundled into touch. French lineout.
1013 And Flood misses the conversion! He pushes it right. How costly may that kick end up being?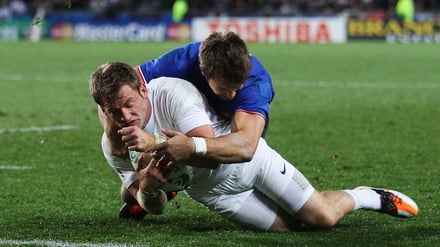 1013 (TRY! England, Cueto) Bonnaire steals the English lineout and France kick clear. England try to crash through, Banahan breaks the line but misses a pass to Ashton for a certain try. Still they push on, and the ball eventually rolls loose for Cueto who touches down. Walsh consults with the TMO, who okays the score.
1012 England get a penalty inside the French 22. Flood kicks for touch.
1011 Battered, bruised and on the bench, man of the match Imanol Harinordoquy has been replaced by Louis Picamoles.
1009 Drop-goal! (Trinh-Duc, France) Two converted tries needed for England now, and it may well be beyond them. Trinh-Duc sits back in the pocket and slots his kick with some aplomb.
1008 France pick and go, just under the English posts, the drop-goal a constant threat.
1006 Just over ten minutes left, two scores needed for England, France have the put-in at the scrum. They work the ball right and then left, and eventually get another scrum inside England's 22.
STAT: The handling error count now reads: England 12 France 9, and boy has it cost England.
1004 Rougerie comes off for France, replaced by David Marty.
TWITTER: "Can I believe dare I believe #rte #rterugby #RW2011 #England"? asks @graham_royce.
1002 Walsh is again warning Dusatoir that the penalty count is stacking up against France.
1000 Palmer with a sweet off-load as England attack the French line, but again the ball spills out of a tackle, and France clear their line, kicking into the English half. Flood looked for the off-load where it wasn't on.
0958 Wigglesworth and Banahan come on for England, replacing Youngs and Wilkinson. Flood moves into out-half.
For France, Pierre comes on for Pape.
STAT: England have made ten handling errors to France's eight.
0956 Dan Cole is off now, and he looks to be suffering. Lewis Moody also comes off, replaced by Haskell.
0954 France threatening the English line, but the ball goes forward under tremendous pressure from Moody, and England get the scrum.
0953 England drive forward into the French half, Flood makes a fine break, but loses the ball in a tackle and Parra kicks them back into their own half.
0951 England get a penalty, France penalised for tackling the jumper before he had landed. Walsh issues something of a warning to Dusatoir. England look to have a spark about them in the last few minutes.
0949 Szarzewski and Barcella come on for Servat and Poux, respectively. England make their own change, Hartley coming on for Steve Thompson.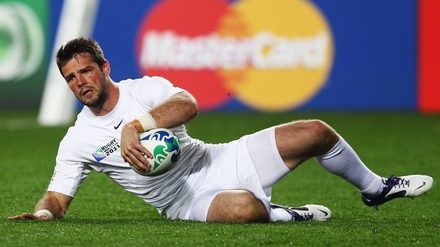 0946 TRY! (England, Foden) England take a tap penalty, work the ball out wide. Ben Foden takes the ball and nips back inside to break through the French defence and open the English account. Wilkinson converts. Game on.
0946 Trinh-Doc comes on for Yachvili, Parra moves into scrum half.
STAT: 53 minutes in, and England are yet to have a penalty kick at goal.
0943 France are penalised for an early engagement, and England get the free kick, but Tuilagi loses the ball forward in a tackle, and France work the ball. However, they in turn lose the ball and england get the put-in at a scrum.
0942 France dominant now, turning an English scrum and getting the put-in.
0941 Evergreen Simon Shaw on for Deacon, and Corbisiero comes on for Matt Stevens.
0940 Cole looks to be struggling here, and he's not alone. Four English players are receiving attention.
0938 France battering the English line now, looking more incisive than their opponents. But Tuilagi does very well at the breakdown, forcing the penalty from Rougerie. Wilkinson finds his touch on half-way.
0937 Lawes comes on for Tom Croft, and slots into the back row. A curious decision, as James Haskell, a specialist back-rower, remains on the bench.
0933 Lawes looks ready to join proceedings, but play goes on, England moving the ball across the pitch in their own half. A solid wall of French bodies means they struggle to make inroads, though.
0932 The sides exchange shuddering hits, and England look to work the ball forward from a linout of their own, but spill the ball forward. Scrum France.
0928 And we're back! Parra kicks, Easter takes, England return and the aerial ping-pong begins. Flood knocks on and France get a scrum.
TWITTER: @graham_royce, showing admirable optimism, says: "If that's the best France can do in one half 16 points we should be able to pull it back #rugby #rterugby #RW2011 #ENGFRA"
The linking between backs and forwards is part of the culture in France says George.
Frankie says that 16-0 flatter England and that France left points behind in the first half.
Back in the studio, Brent Pope says that England are poor and that France have a whole other dimension which the English do not have.
TWITTER: "Looks like England will be sharing the Taxi home with us #rwc2011 #rterugby" suggests @Blathanna_Dearg. That'll be at least a seven-seater, then.
Half-time: England 0-16 France
Flashes of their ability from England, with a great deal of careless play also present. Johnson will be disappointed with that.
Lievremont will be a happy man though, despite the moustache. Parra is pulling the strings beautifully, some of the French play is very impressive, and his side are, for the most part, punishing English indiscipline.
0915 Deacon takes a lineout. The ball is moved wide, and Wilkinson picks the ball up from his bootlaces, but more careless passing means it ends up going out, and the half ends.
0913 Nick Easter breaks for england into the French half. The ball is moved wide and Ashton breaks, England looking threatening. But the ball is recycled, moved left, and hits Cueto as he walk backwards from beyong the gain line, not even looking at play. Sloppy from England.
0912 Martin Johnson will not be happy with his team's first-half display. Below is what he may look like while being unhappy.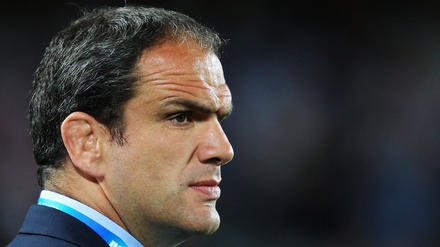 0910 Sweet passing from France in the English half ends with a knock-on by Mermoz. France look good, though.
0908 England try a nice move off the back of the lineout, but Wilkinson's pass is just knocked on by Cueto. England just a bit off-key.
0906 Holy moly! Bonnaire takes the english restart and France put england under more pressure. England get a scrum, but they look a bit shell-shocked. Walsh penalises Poux at the scrum, and England kick for touch.
Maxime Medard touches down for France's second try.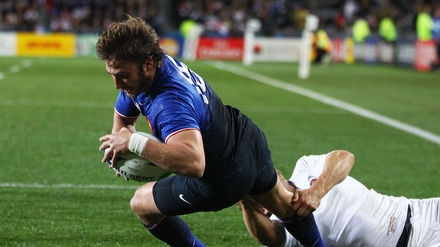 0903 Try! (Medard) From a clean take at the lineout Dusatoir breaks and almost makes the line. Franch move the ball right across the pitch and eventually Palisson releases Medard just as he is tackled into touch. Yachvili, who started the bgame so well, misses another kick with the conversion.
0902 England concede another penalty just inside their half, out on the touchline. That's their fifth penalty, to just one from France. Indiscipline is costing them dear. Left-footer Medard kicks beautifully to touch.
0859 Tuilagi cuts through the French defence in a strong, mazy run, but the play is slowed down again. Phase after phase, and the ball ends up going wide to Ashton, who spills it forward.
0856 Better from England. attacking in the French 22, Youngs nearly make a break, but they hold on to possession. It all founders, though, on a woeful drop-goal attempt from Flood.
0855 Yachvili misses the conversion.
Perennial scourge of Irish rugby Vincent Clerc extends the same treatment to England, as he touches down for his side's first five-poitner.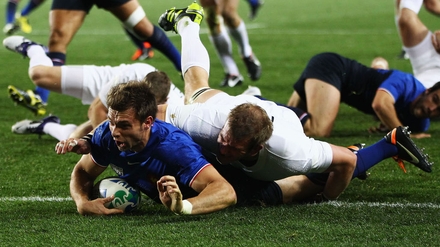 0854 TRY! (France, Clerc) France steal an English lineout again, and work the ball through the centre. The ball eventually comes out to Clerc, who runs a sweet line, but really should have been stopped.
0851 Huge pressure from France, Palisson chases a Yachvili box kick, and England end up giving away a penalty. France take the scrum, but the English pack do immense work, turning the scrum and getting the put-in.
Scrum goes down, and England get a penalty.
0851 But Yachvili has missed it! Had the distance but the kick went right. A let-off for England.
0850 Another penalty against England. Matt Stevens isolated. Yachvili steps up. England in a spot of bother here.
0849 Penalty: Yachvili kicks a second. He will do that all day long.
TWITTER: "Is Marc Lievremont aware that there's a small furry animal living on his top lip? #FRA #RWC2011 #rterugby" asks @jennybdaly. One for the post-match press conference.
0844 Clerc tackled into touch by Foden when the French were looking very threatening near the England line. England take the lineout and look to kick. France get the ball back, but a drop-goal attempt by Parra is poor.
0843 And Wilkinson's restart goes straight out. He hasn't got into this tournament,says Hugh Cahill. Too true, Hugh.
0842 Yachvili slots it, straight between the posts. Some kick.
0841 English tackler not rolling away, says Walsh. Penalty to France.
Martin Johnson, in a surprising development, doesn't look happy.
0840 England steal a French lineout and maul. Youngs kicks, but Medard takes it and runs. English defence solid as a rock.
0837 Clean take from Harinordoquy. France move it wide for Tuilagi has a massive, late hit on Parra. Penalty to France, which they kick to touch.
0835 England have the ball outside the French 22. Phase after phase, but a bad pass misses Moody, and France clear to the England 22. Foden returns the kick with interest. France lineout.
0834 France steal England's lineout and clear to England's ten-metre line.
0832 Ashton chases a grubber and puts Yachvilli under serious pressure.
0831 And we're off! Wilkinson gets us under way. Harinordoquy takes it, but England get it back, move it wide, and Tuilagi makes yards before being put into touch.
TWITTER: Not everyone can manage the second installment. "Hallucinating that the RTÉ panel are discussing art and existentialism. Time to go to back to bed. #rterugby #rwc11" says @kDamo, who, according to his Twitter description, likes mountain. Codladh sámh, Damo.
0829 And by gum, Dusatoir looks focused, too, as the French belt out 'La Marseillaise' with gusto.
0828 The anthems are sung. 'God Save the Queen' up first. England focused.
0825 Dusatoir and Moody lead the sides out. Five minutes until kick-off.
0824 France "in style" to win it, says George in the studio. Brent and Frankie back England.
TWITTER: "@ghook backing France - put the house on England #rterugby" says @ItAllDay.
0821 Lievremont is not the first dud coach of a good team, says George. What counts is the palyers.
0816 'Previous' doesn't matter, says Frankie Sheahan. France losing two in the group doesn't matter.
0815 France have picked a wonderful team with one exception, says George Hook. Poor Parra.
0814 Not a great month for Mike Tindall, Brent Pope says. With some understatement.
0813 In the RTÉ studio, Tom McGurk begins the build-up to 'Judgment Day'.
0810 TWITTER: "EngVFra I don't really want France to win but if Chris Ashton does that flying try i'll puke!!! #rwc2011 #rterugby #rockhardplace" says @Blathanna_Dearg
0758 Can England finally get their creative juices flowing? Can France find the consistency they have struggled with so far?
French coach Marc Lièvremont has maintained his consistently inconsistent approach, and Morgan Parra again gets the nod at out-half while specialist 10 Francois Trinh-Duc sits on the bench.
For England, this is a chance to forget about blondes, 'Mad Midgets' and squad indiscipline and do their talking on the pitch.
0748 Just over 40 minutes to go to kick-off in Eden Park, Auckland, and there's no late changes to the teams.
England: Ben Foden, Chris Ashton, Manu Tuilagi, Toby Flood, Mark Cueto, Jonny Wilkinson, Ben Youngs, Matt Stevens, Steve Thompson, Dan Cole, Louis Deacon, Tom Palmer, Tom Croft, Lewis Moody, Nick Easter. Replacements: Dylan Hartley, Alex Corbisiero, Courtney Lawes, Simon Shaw, James Haskell, Richard Wigglesworth, Matt Banahan.
France: Maxime Medard, Vincent Clerc, Aurelien Rougerie, Maxime Mermoz, Alexis Palisson, Morgan Parra, Dimitri Yachvili, Jean-Baptiste Poux, William Servat, Nociolas Mas, Pascal Pape, Lionel Nallet, Thierry Dusautoir, Julien Bonnaire, Imanol Harinordoquy. Replacements: Dimitri Szarzewski, Fabien Barcella, Julien Pierre, Louis Picamoles, Francois Trinh-Duc, David Marty, Cedric Heymans.
Referee: Steve Walsh (Australia).

0743 Heartbreak for Ireland in the day's first game, but it remains to be seen who will go on to face Wales in the semi-finals. Welcome to the England v France live tracker.
Send us on your thoughts on Twitter via the #rterugby hashtag, on the RTÉ Rugby Facebook page, or via the comments on this page.