by Brendan Cole
Ireland and Wales come in to this in red hot form and both have plenty of reason to believe they will be the ones that go forward to a Rugby World Cup semi-final against England or France.
<notforsyndication>Watch live coverage of Ireland v Wales on RTÉ Two television and RTÉ.ie (RoI) from 5.30am. Listen live on RTÉ Radio 1 (FM, DAB, LW 252 and RTÉ.ie) from 5.30am and follow live tracking on RTÉ.ie/sport</notforsyndication>
The clash of the round? For many neutrals it probably is, despite the looming Australia v South Africa showdown on the other side. Ireland and Wales have played their rugby with as much personality and passion as anyone to date.
Ireland have more experience and the confidence that comes from winning hatfuls of medals over the last five years and there is also a sense that they are building towards something big – a major theme all week.
But the Wales team is apparently superfit and packed with players under the age of 25 and while they may not know quite what they are capable of, neither does anyone else.
Like Australia and New Zealand, reaching top form is all about the openside. Sam Warburton has already proved he has the iron body, raw courage and rugby intelligence to be considered one of the top sevens in the world and he, along with back-row colleagues Dan Lydiate and Toby Felatau, is fast and light enough to beat the Irish trio in the race to the ruck.
That back-row selection has allowed Gatland to ditch a raft of old warhorses and open Wales' style out with the long passing of Rhys Priestland. Now, like the Grand Slam-winning Wales teams of 2005 and 2008 (which had Gavin Henson's passing to make up for Jones' limitations), this is a team that can strike quickly across the entire backline.
Wales can target multiple areas in Irish defence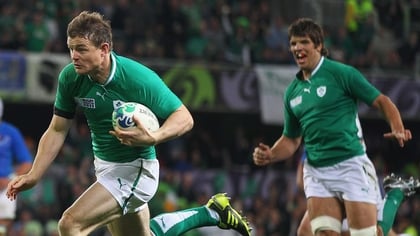 The issue for Ireland is that if they focus on protecting the wide areas, Wales will be more than happy to run their centres and back-rowers at Gordon D'Arcy and Ronan O'Gara. Brian O'Driscoll's superb instincts in the wide channels should help Ireland cope, while Conor Murray's size should help limit the damage in the middle.
But if Wales can expose the 10-12 pair, they know that O'Gara can be trampled over by direct carriers, while there are question marks over D'Arcy's ability to handle powerful runners coming at him from uncomfortable angles.
Ireland's choke tackle – which partly makes up for that lack of a true seven – may not be a major factor if Wales can pass and organise themselves well enough in the three-quarters to get their carriers running at Ireland at good angles and pace.
The Irish will obviously seek to test Priestland's skills to the limit with pressure but Mike Phillips quality and the fact that Jamie Roberts is a good safety valve for his 10 will make that difficult.
The Les Kiss defensive system has not conceded a try in the big games but this Wales side looks a far more complete attacking side than the Pocock-less Aussies and Italy proved to be.
Ultimately, avoiding a fast and loose game and keeping the ball out of Welsh hands is a surer route to victory.
Mike Ross - key man for Ireland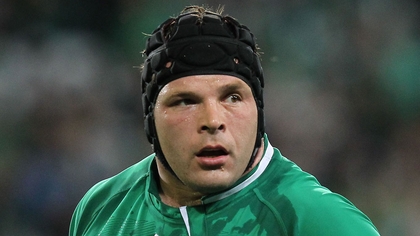 That means winning the setpiece and close-in carrying battle. The lineout battle may end up a stalemate – once Ireland defend the Welsh mauling cohesively – with both sides having plenty of jumpers to choose from.
In the tackle area, Wales prefer to chop the carrier down and give the nearest forward a go at snapping a turnover on the deck. Their decision making and discipline has improved but Ireland will seek to pressure that and sheer carrying power could mean they can dictate the contact area over two or three phases at least.
But the performance of the Irish scrum in particular could yet prove to be vitally important. The solidity of Mike Ross, Rory Best and Cian Healy has given Ireland a crucial platform in both key games so far but Wales have an excellent pair of props in Adam Jones and Gethin Jenkins.
The durability of either group of front rows might swing it either way – and Wales have an ace in the hole in the shape of the highly rated Paul James on the bench. But if both Best, Ross and Healy stay on the field for most of the 80 minutes, it is a contest which Ireland may just have an edge in.
And if Ireland's carrying strength and scrum can provide a platform, it will give O'Gara chances to pin Wales back in their own half and bring the offensive and defensive playmaking of Healy, Paul O'Connell, Sean O'Brien and Stephen Ferris into the game more. Ultimately, that is the key to opening the game up for O'Driscoll, Jamie Heaslip and Tommy Bowe out wide.
Mental strength is the final piece of the jigsaw. If Gatland stays true to form, Wales will be hyped up and look to blow Ireland out early. Kidney's teams absorb and absorb before pulling through late.
If Ireland do wobble under the early assault and concede too much good attacking ball to Wales, Gatland will be confident their aggressive breakdown play and the varied threat in their backline will be enough to carry the day.
Ultimately, winning the battle of inches up front, kicking the ball well, and shutting down the field might just be enough to put the back-row in position to dominate and allow Ireland to shade it.
RWC Prediction: Ireland 15-12 Wales