by Kurt McQuilkin
Ireland did what they had to do against Russia but there are still some "work ons" for this week's training sessions.
They are notoriously slow starting but blasted out of the blocks and rattled up a quick couple of tries through some good direct attacking lines that left the Russian defence shapeless and scrambling.
But Ireland played in fits and starts throughout and they let the Russians off the hook for a 15 minute period during each half. "East–West" (lateral) lines of running, lack of depth out in the wider channels and poor pass execution were the main culprits.
Defensively, Ireland made a couple of very uncharacteristic mistakes.
For Vasily Artemyev's try from a mid-field scrum situation, Sean O'Brien over-chased the Russian scrum-half from the set piece and with Rob Kearney losing his alignment inside the ball carrier out the back it left an opening for the Russian full-back to exploit and he did so with a simple switch.
The second Russia try by Denis Simplikevich came because the Irish midfield planted and sat down on their heels after becoming pre-occupied with movement on the inside channels and then got rounded.
Ireland missed tackles for second Russia try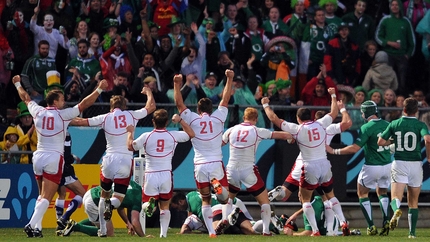 They scrambled well and had three players that could have effected a tackle and stopped the movement dead. Unfortunately, Fergus McFadden missed a one-on-one tackle and the winger went over through Paddy Wallace's "soak" tackle for the try.
Expect defencee coach Les Kiss to iron out these glitches this week through his unit, sub-unit and individual defensive reviews and field sessions.
It is a good thing that the team have areas to work as it will really focus the minds and drag out a performance against the Italians next week.
The positives were that the back-row of Jamie Heaslip, Donnacha Ryan and in particular O'Brien were outstanding, winning all of their offensive and defensive collisions.
Sean Cronin had a bustling presence and showed up well. Donncha O'Callaghan and Leo Cullen worked tirelessly in the tight with O'Callaghan showing good pace and great defensive nous on a Russian break out from deep in the first half.
Andrew Trimble was industrious and ran some superb attacking lines. In defence he had a good read and "shoot" on the Russian prop Sergey Popov out in the wider channel in the first half.
Star of the show: O'Gara punished Russia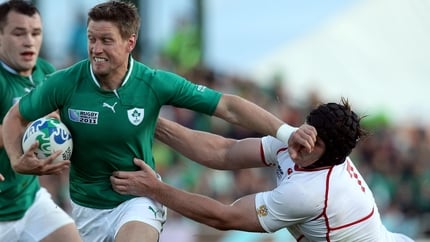 Keith Earls looked sharp and elusive on attack and assured on defence and Kearney was back to his attacking best and dominating proceedings with his retrieving of the high ball.
But the star of the show was Ronan O'Gara and he was rightly presented with the player of the day award. He had the ball on a string and punished the Russians for not taking those five-meter touchline corridors away from him with those typical spiral skidding kicks.
I think his short and long passing game are under-rated and were the catalyst for a lot of the good attacking movements while he was on the field.
Selection will be interesting with the likes of Ryan, Trimble and O'Gara putting up their hands in a big way and giving Declan Kidney a huge, but very welcome, headache.
The Jonathan Sexton / O'Gara debate is set to kick off again. We know the strengths of the two Irish 10s. I guess when the management team sit down for selection they will have to weigh up the pros and cons.
A recent chink in Sexton's armour has been his kicking out of hand and for goal. That would be seen as a definite "work on" for him at this point in time. O'Gara's master class in kicking against Russia would have only confirmed him as top dog in that department at the moment.
O'Gara's defence is seen as his Achilles heel but he is not a bad defender. He is as brave as the next man and takes up good defensive postions. It is his one-on-one tackle technique and selection that lets him down at times.
When playing Leinster v Munster fixtures in the past, we as a coaching team would not have picked out O'Gara any more than we would pick out any other out-half in the country. If you start chasing players around the park you lose sight of your gameplan and the key objectives that you want to achieve.
Sexton must improve kicking game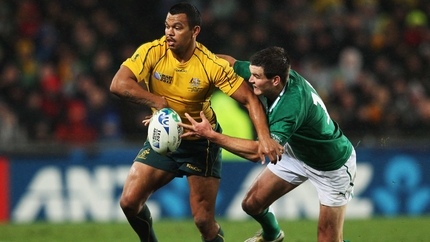 The Munster or Irish defensive systems have not tried to hide him either, and rightly so. He stands in the frontline with the rest of the defensive line.
You are always going to get players that are better defenders/tacklers than others. The key is to encourage your players to work in "threes" in the defensive screen with the middle man being on the ball carrier and the players either side of him communicating and reacting to any movements on and off the ball.
This could mean that the inside or outside defender in the "three" may have to snap in on a trailer hit, support tackle or step into a passing lane to stop an off load situation.
But trying to hide a weaker defender within a system, as Australia do with Quade Cooper, can have a detrimental effect on your defensive set up and play on the minds of the players that work within it.
It is an interesting selection problem. If Ireland go with Sexton they are clearly going to be taking it to the line and playing up front and in the Italians faces early on, looking to expose some alignment issues in the defensive screen.
If Ronan O'Gara gets the nod they will be looking to his renowned kicking and passing game to play position and possession, trying to put the territorial squeeze on the Italians early on.
Personally, I would not change the side that started against Australia and stick with Sexton.