By Tadhg Peavoy
Email: tadhg.peavoy@rte.ie
Ireland v France: Watch live: (Island of Ireland)
Listen live: (Worldwide)
FT: Wales 28-13 Argentina
FT: South Africa 18-5 New Zealand
FT: Ireland 22-26 France
FT: Scotland 23-12 Italy
By Tadhg Peavoy
1855 The one shining light from today is that Ireland's World Cup pool opponents Italy have lost to Italy 23-12. Scotland scored a second-half try through Mike Blair and Parks hit a conversion and penalty. Fabio Semenzato's try was the only second half score Italy could muster.
So, that ends today's rugby coverage. Thanks for reading and let us hope for much, much better from Ireland against England next Saturday. See y'after.
1855 Josh Lismore on Twitter: Earls and O'Leary have been truly awful today. Murphy and Bowe need to come in. Earls hasn't done anything in an Irish jersey. Ever.
1854 A spate of emails criticising this Ireland team. It seems there are problems all over the pitch and a whole style of play and anger in attack is missing. It is scarily similiar to the RWC 2007 preparations.
1853 Jim Jay: Watching the game, I think Keith Earls and Thomas O' Leary are just not up to it. Declan Kidney can put whatever spin on it he wants, but we are in trouble going into this World Cup. We may beat the "minnows" in our group, may!
But against the top teams, NZ, SA, AUS, France, we are not at the races at the moment. From such a good start, it's a sad indictment that we shot our load in the first 15 minutes against a second-string French 15. This should be embarrassing for the team. It's embarrassing for the supporters. So much for game time. We seem to be getting worse with each game, against gradually lesser teams !

1852 Robert O'Keeffe: Watching in France. The locals are laughing at us.
1851 Angela Cope: Bring back Peter Stringer! Tomas O'Leary is clearly not up to the mark. I'd hate to have spent all that money for a ticket to New Zealand to watch this team.
1845 Ireland applaud France off the pitch; France deserve it.
Les Bleus gave Ireland a lesson today in how to scrum, ruck, maul and attack with real incision and quality back-line moves. Ireland outscored France by three tries to two, but in reality Ireland only played at full tilt for the opening 20 minutes and the last 10.
The team looks undercooked and bar Trimble and O'Brien, the team was collectively second rate.
The best team won and Ireland have to soul-search and Ireland go back to the drawing board to find a way to create more in attack and defend with clarity. A very disappointing day.
1844 FULL-TIME: IRELAND 22-26 FRANCE
81 mins TRY AND CONVERSION - IRELAND - O'BRIEN AND O'GARA
O'Gara kicks the penalty to the corner. McCarthy wins it and then McCarthy picks and goes. Ireland go wide to O'Gara, he pops inside Fitzgerald who bashes five metres to the line. France are penalised for offside. Reddan takes it quick and he pops to O'Brien to bash over for a try from a metre out.
O'Gara makes the conversion from wide right. And that is the last kick of the game.
80 mins Scrum Ireland: they win and go wide to Earls - he makes contact, but France haul him down. Heaslip makes a halfbreak, before being bashed and brought down. Ireland continue to attack - France come through the ruck illegally. Ireland penalty. Last play of the game.
79 mins Scrum France just outside the Ireland 22: Heymans is fed the ball and loops wide left, but is taken down with no ground made. France set up the maul, but they collapse it and Ireland win the scrum.
78 mins Man of the Match: Morgan Parra.
77 mins Medard chips ahead and the ball bobbles into touch on the Ireland line. A sublime kick. Ireland win the lineout and hammer it downfield. France run it back, before Heymans kicks long. The ball goes over the tryline and it's an Ireland 22-metre drop-out.
76 mins O'Callaghan is off for Mike McCarthy.
75 mins TRY AND CONVERSION - IRELAND - SEXTON AND O'GARA
France lose in midfield and Fitzgerald seizes on to the loose ball and races 30 metres downfield. He can offload to O'Gara for a certain try. He doesn't and Palisson tackles him! The try looks lost, but Sexton gets on to the ruck ball and dives over for the try. Ireland 15-26 France
73 mins France win the lineout and Trinh-Duc clears long to touch. He fails to make it but Ireland aimlessly kick ahead. Palisson and Clerc combine to run it back.
71 mins Scrum Ireland: Trimble takes a charge on the loop and places back. Ireland then go wide to O'Driscolll - he tries to go down the left wing, but Medard and Heymans double-team and take him into touch.
70 mins Ireland maul it forward and spin wide to Drico - he makes a half a yard. O'Connell takes it and goes to ground. Ireland spin wide to Heaslip - who stands at second centre. France are everywhere - they are tackling hard and there is no space in the defence. But, there is no Irish support, they are isolated and the moves are too basic outside the pack.
69 mins Felix Jones has come down badly on his back and must be carried from the field. That looks serious, but he is able to walk off.
68 mins Trinh-Duc kicks ahead for Rougerie to take. He can't and O'Gara clears long.
67 mins France attack and lob a garryowen, Jones spills forward and France go wide right. It reaches Medard and he pops inside to Bonnaire. Picamoles is fed and makes a yard. Pierre is then hammered back by Ferris in the tackle.
67 mins O'Gara is on for D'Arcy. Sexton moves to 12 and O'Gara is at ten.
66 mins The ensuing scrum collapses and Ireland are penalised - penalty France.
65 mins Sexton kicks the penalty to the corner. Healslip wins the ball and maul it a yard. The ball is at the back of the ruck and Joubert twice calls for Ireland to use it - they fail to do so and Joubert says penalty France. That was shamefully bad from Ireland and especially Reddan. No leadership and no incision.
65 mins Ireland win a lineout and bash up the middle - they win a penalty as Fabien Barcella comes in off his feet at the ruck.

64 mins Ireland turn over the ball in the ruck and go wide to Jones, who is smashed in the tackle, but holds on. Ferris - now on - carries and goes to ground. France don't roll away and it's penalty Ireland.
63 mins Ireland win the lineout and knock on in midfield. France kick the loose ball right back at Ireland. Sexton clears to France. The French run lines and angles and force Ireland to cover. It comes backs to Trinh-Duc - he has a pop at the drop goal from outside the 10-metre line. It whizzes wide.
59 mins Finally the scrum holds and Ireland give to D'Arcy down the left wing - he is stopped short. Ireland go wide right to Heaslip - he bashes into midfield. Reddan picks and goes wide right. Best has a quick drive and Ireland go wide to D'Arcy, there is no space and he goes to ground before Trimble tries to go outside Rougerie, but is caught. France turn over and boot to touch.
58 mins Third Ireland scrum: again it goes down.
57 mins The scrum collapses and must be reset: Reddan puts in and again the scrum collapses. Third scrum.
56 mins France win their lineout and then hold on at the next ruck. Penalty Ireland. Ireland opt for the scrum.
55 mins Nallet wins the lineout. Ireland turn over and set a ruck in the France half. Earls makes a half break, before O'Brien again bashes up the middle. Ireland then spin wide left and go through several phases. Sexton then crossfield kicks wide left. The ball evades Jennings as Medard and he fight for the dropping ball. It comes to Earls - he dives for the corner and Medard makes a try-saving tackle.
54 mins Reddan is on for O'Leary.
53 mins Sexton gets his hands on the ball and pops the ball to the France corner.
52 mins France win a penalty as the Ireland scrum once more collapses. But France turn over the next play and O'Brien takes a driving run. Ireland set the ruck and again O'Brien takes up the middle. O'Driscoll tries a switch with Trimble in the middle, but they are well marked and make no ground.
49 mins Healy is off with an injury and is replaced by Tom Court.

48 mins TRY AND CONVERSION - FRANCE - TRINH-DUC AND PARRA
Ireland win the scrum, but the ball shoots out the back and O'Leary must scamper back and retrieve. The scrum-half throws a wild pass inside to Sexton, it is picked off by Trinh-Duc and he scampers over for a try. Parra pops over an easy conversion. Ireland 8-26 France
47 mins France scrum: they win and Picamoles charges ten metres, before losing the ball. Then O'Driscoll goes to contact, loses it and goes to ground clutching his shoulder.
France break downfield and surge down the left with Picamoles. He tries to pass back inside to Fulgence Ouedraogo. With the line beckoning - he knocks on.

46 mins D'Arcy hits contact in midfield. O'Driscoll next has a pop at the French. He goes nowhere, Mike Ross has a go and knocks on. France get the scrum.
45 mins PENALTY - FRANCE - PARRA

Parra fees Picamoles and then Palisson, who kicks ahead up the left wing. The ball bounces but not to his arms. France manage to secure and drive for the line. Ireland try to resist, but Trimble plays the ball in an offside position. Penalty France. From wide left, Parra will go for goal. He takes it from on the 22-metre line. Tough kick from an acute angle: but the scrum-half slips it over. France stretch their lead. Ireland 8-19 France
42 mins Heymans boots long and Trimble claims it. Superb claim from Trimble. But the ball goes forward shortly after - scrum France.
41 mins Barcella is on for Poux as the game restarts.
1755 Thomas Pollock: The only way is to kick ball upfield. The french will not like running after it. That's our only chance - if any.
We shall see...
1752 Thomas Pollock, Roscommon, by email: Ireland are not covering their men in scrum. Too late coming on to cover. Holding too much ball without releasing it quicker. Is a case of old man and tired men. Ireland should kick more ball upfield instead of running it through the middle. The back line is terrible. The line-out's terrible. Bottom end is don't send this team to World Cup. We will be ashamed.
Very scathing Tommy. We were excellent for ten minutes and there is a half to play. If Ireland cut out their knock-ons, make the scrum respectable and allow O'Brien to rampage, then they can still win this match.
1751 Back soon for more from Lansdowne Road.
1748 In the day's other matches, South Africa are beating New Zealand 18-5 with five minutes to go. The only second half score there so far is a Steyn penalty.
In Edinburgh, Scotland lead Italy 13-7 at half-time. Alasdair Dickinson got a try for Scotland. Dan Parks has kicked a conversion and two penalties. Italy have scored a try of their own through Tommaso Benvenuti, Mirco Bergamasco converted.

1745 Ireland were at 100% for that first ten minutes and blitzed France. But, the French soon after woke up and realised there was a rugby match on. They fought their way back into it and a superb try, a superb drop-goal and some typically accurate place-kicking from Parra have put Les Bleus in the driving seat. Ireland must regroup, refind their shape and come again. To be continued.
1744 HALF-TIME: IRELAND 8-16 FRANCE
41 mins Sexton takes the drop-out and Picamoles wins it and France charge into the Ireland 22. But they are done for holding on at the ruck. Sexton boots to touch and Joubert blows his whistle for half-time.
40 mins Ireland kick off with Sexton, he puts it short, but France get on to it with Pape. Trinh-Duc is fed and boots to the Ireland back three. The ball bobbles over the tryline and Ireland touch down for a 22-metre drop-out.
39 mins Penalty France in the Ireland 22: Parra will again go for goal. This time the kick is from wide right of goal and on the 22-metre line. The scrum-half puts it over. Ireland 8-16 France
37 mins Scrum France in the Ireland 22: France win and Parra feesd wide left, Medard drives at Ireland and the ruck is set close to the line. But, play is called back for Earls tackling Parra without the ball.
35 mins Scrum France: France win and Ireland are penalised. Mas feeds Fulgence Ouedraogo on the charge. Mas again carries it forward. France in the Ireland 22. France win a scrum as the ball is accidentally knocked against the referee.

33 mins France win the lineout and maul forward, before the maul goes to ground. Parra spins to Trinh-Duc, who feeds Palisson, he tries a grubber to the corner, which Ireland win and play wide left immediately. But, another knock-on for Ireland and it's a France scrum in the Ireland half. It's all become a little frantic from Ireland. They must breathe deep and calm themselves.
30 mins Jones tries to chip ahead for Ireland, but the ball skates into touch directly.
29 mins TRY AND CONVERSION - FRANCE - HEYMANS AND PARRA
France win a penalty and kick to touch in the Ireland half. Nallet wins at two in the lineout and France go wide to Trinh-Duc. He fees Rougerie in the midfield. Rougerie goes inside O'Driscoll and outside D'Arcy and as he is being tackled he pops up to Heymans to storm over for the try. France lead the match.
Parra adds the extras from the conversion. Ireland 8-13 France
28 mins DROP-GOAL - FRANCE - TRINH-DUC
France set up in the Ireland 22 and then lose it in the ruck. O'Leary hammers the ball clear and Trinh-Duc receives the clearance on his halfway. The outhalf looks up and tries a drop-goal - pure brilliance as the ball drops over. Ireland 8-6 France
27 mins Sexton takes the restart and Pape wins the dropping ball for France. France boot it to Ireland and Sexton and Earls fail to decide who is going to catch and they get in each other's way as Earls ends up knocking on.
23 mins PENALTY - FRANCE - PARRA
France lineout: Dimitri Szarzewski takes for France and hits Bonnaire again. But he then spills it and Ireland clean up before the ball goes loose in the backline, Trimble cleans up, but at the next ruck O'Brien holds on on the ground. France will kick the penalty. Parra goes for goal from just outside the 22-metre line: to the right of the sticks. France are off the mark.
Ireland 8-3 France

22 mins France kick the peno to touch and Bonnaire win the lineout. Trinh-Duc goes to contact off first phase. Franec go wide to Heymans, who is stopped flat. France are smashed in the tackle and turn it over. O'Brien decides to clear his lines and boots to touch.
21 mins Dimitri Szarzewski throws for France and O'Callaghan steals the lineout ball. Ireland feed Healy on a burst, before Earls takes a line ball at pace. O'Brien again smacks up the middle as Ireland reach the France 22. But, Sexton holds on in contact and France win a penalty.

20 mins Lineout Ireland: Best to O'Connell to O'Leary. Sexton then pops outside to Jennings as Healy burst onto a pass. O'Brien again makes a surging drive, but is hammered into touch.
20 mins France hold on on the ground - penalty. Sexton finds touch in the France half.
19 mins France win the lineout and go up the middle with Palisson and Poux.
18 mins Scrum Ireland: Heaslip picks and goes. O'Brien charges at Nallet before Sexton kicks ahead for Trimble to chase. It's just to far ahead and bounces into touch.
17 mins France maul it into the Ireland half and Ireland hold it up before France knock on - great defence from Ireland.
16 mins Rougerie and Heymans combine out wide before France switch it left and Picamoles goes to contact. Ireland are penalised for hands in the ruck.
15 mins Lineout Ireland: Best throws to O'Callaghan. Ireland maul it hard and make five yards and then go wide to Jones on a darting run. Ireland lose it in contact and Parra spins to Trinh-Duc.
14 mins France opt to take the scrum: they win and Picamoles goes blindside, he has nowhere to go and is bundled to touch. Ireland take it quickly and go wide left to Earls. But, Ireland turn it over and spin wide left, they run out of room and are smacked into touch.
12 mins Scrum Ireland as France knock on in their own half. It must be reset. Second scrum: again Ireland engage early and France are awarded a penalty.
11 mins Skrela is off for Trinh-Duc - injury replacement.
9 mins TRY - IRELAND - HEALY
Ireland go wide left where Heaslip finds Earls, he finds no way through and sets up the ruck. Cian Healy picks and goes and bulldozes over Parra to score in the corner from a yard out.
Sexton takes the penalty from wide left, on the touchline at the 22-metre line: he puts it wide left. Ireland 8-0 France
8 mins France clear their lines from the scrum and makes touch. Ireland take the lineout: Best hits Heaslip and O'Brien receives the pass from the lineout and bursts into the France 22. Ireland retain at the ruck and Trimble is fed - be cuts inside and back to contact.
7 mins Sexton boots to touch in the France half. Best throws to Heaslip in the line and Ireland go to D'Arcy in the middle. O'Driscoll takes it on before O'Connell has a drive. Earls is fed out left and is tackled by Bonnaire. O'Brien clashes with Mas and Ireland recycle with Drico and Felix Jones interchanging out right. Ireland retain and go wide left. O'Lery feeds Ross and Ireland bash at the France defence. Trimble makes a break up the right as does O'Brien. Best now drives hard and France kill it - penalty Ireland. Ireland try to tap and go and O'Brien knocks on.
4 mins Skrela kicks off to Ireland and they receive the ball with Healy. From the ruck O'Leary pops to Heaslip as Ireland go wide left to Earls. Jennings and Best ruck over but O'Leary is caught at the ruck by Picamoles. Penalty Ireland for offside.
3 mins PENALTY - IRELAND - SEXTON
Sexton goes for goal with the penalty from wide left, outside the 22-metre line. Perfect. Ireland lead.
Ireland 3-0 France
2 mins Joubert puts his whistle to his lips and the Parra kicks off to Ireland. Sexton returns possession to France and Picamoles drops the ball. France clean up and Rougerie boots to Ireland. O'Leary fires it out to Sexton, who finds Jones on a burst down the wing. Ireland win a penalty as France fail to roll away.
1702 Kick-off beckons as the pleasantries near an end.
1701 Actually, still a fair few seats to be filled as kick-off approaches.
1700 The Aviva looks to be packed.
1658 It's 15-5 at half-time in Port Elizabeth.
1657 The anthems are belted out in the Aviva.
La Marseillaise: http://www.youtube.com/watch?v=4K1q9Ntcr5g
Ireland's Call: http://www.youtube.com/watch?v=yjMrPgk1eU8
Amhrán na bhFiann: http://www.youtube.com/watch?v=4pHO7GW0MKE
1655 The teams emerge on the Lansdowne Road pitch.
1654 Ireland play in green, France are in white.
1653 The teams for today again:
Ireland v France, international Test match at the Aviva Stadium, Dublin, Saturday 20 August, kick-off 5pm.
Referee: Craig Joubert (South Africa)
Ireland
15 FB Felix Jones
14 W Andrew Trimble
13 C Brian O'Driscoll
12 C Gordon D'Arcy
11 W Keith Earls
10 FH Jonathan Sexton
9 SH Tomas O'Leary
1 P Cian Healy
2 H Rory Best
3 P Mike Ross
4 L Donncha O'Callaghan
5 L Paul O'Connell
6 F Sean O'Brien
7 F Shane Jennings
8 N8 Jamie Heaslip
Replacements
16 Jerry Flannery
17 Tom Court
18 Mike McCarthy
19 Stephen Ferris
20 Eoin Reddan
21 Ronan O'Gara
22 Luke Fitzgerald
France
15 FB Cedric Heymans
14 W Maxime Medard
13 C Aurelien Rougerie
12 C Fabrice Estebanez
11 W Alexis Palisson
10 FH David Skrela
9 SH Morgan Parra
1 P Jean-Baptiste Poux
2 H Dimitri Szarzewski
3 P Nicolas Mas
4 L Pascal Pape
5 L Lionel Nallet
6 F Fulgence Ouedraogo
7 F Louis Picamoles
8 N8 Julien Bonnaire
Replacements
16 Guilhem Guirado
17 Fabien Barcella
18 Julien Pierre
19 Raphael Lakafia
20 Dimitri Yachvili
21 Francois Trinh-Duc
22 Vincent Clerc
1648 TRY - NEW ZEALAND - KAHUI
Richard Kahui barges over for a try off a NZ lineout. The conversion is mised. South Africa 15-5 New Zealand

1647 Conor O'Shea is bigging up Conor Murray and saying he should be in the Ireland RWC squad ahead of Isaac Boss.
1645 We'll be switching over to Ireland v France shortly, but I'll bring you updates from the Tri Nations match when I can. It looks as though the All Blacks are going to get steamrolled by the SA pack at the moment. Steyn is playing out of his skin at present.
1643 DROP-GOAL-SOUTH AFRICA - STYEN (32 minutes)
Steyn sits back in the pocket, takes the pass from du Preez and smacks over a drop goal from the NZ 22-metre line.
South Africa 15-0 New Zealand
1636 PENALTY - SOUTH AFRICA - STEYN (27 minutes)
Spies wins the lineout and the Boks maul to the line. Spies takes a pop and drive. Botha and Matfield have goes but are held out. Habana gets fed and darts at the line, but is taken down. Whitelock is penalised for hands in the ruck - penalty SA on the NZ line. Steyn goes for goal from inside the NZ 22-metre area and in front of the posts. Easy. South Africa 12-0 New Zealand
1635 Steyn kicks a penalty to the corner and the All Blacks are seriously under the kosh now.
1634 TV coverage of the Ireland v France match starts at 1645, while radio coverage will commence shortly before kick-off.
1632 NZ burst into the SA 22 with a fierce break from Hosea Gear. Israel Dagg gets on the ball, but loses in contact and the Boks bash it downfield and then turned over at the contact. It's knocked on at the next ruck and the All Blacks win the scrum.
1630 The All Blacks win a penalty of their own and go for goal. From inside the Boks 10-metre line, Slade pushes it wide right.
1628 PENALTY - SOUTH AFRICA- STEYN
Steyn just about gets it, with the ball sneaking in past the left post.
1626 Fourie du Preez boots long, but can't find touch and Colin Slade fields before the All Blacks are caught offside. Steyn will go for goal from 48.9 metres.
1625 All NZ at the moment as they attack the SA 22-metre area. Adam Thomson holds on in the tackle though and SA win a penalty. Steyn boots clear for the Boks.
1624 Pictured below: Argentina's Martin Rodriguez moves away from Jamie Roberts and George North of Wales.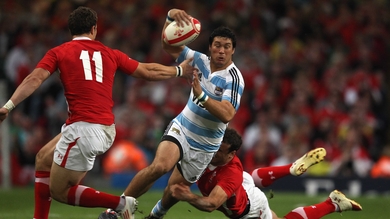 1619 Over in Port Elizabeth, it's 6-0 to South Africa after 11 minutes, two Morne Steyn penalties have given the Boks the lead.
1618 That's the last kick of the match. Wales win at a canter.
1618: FULL-TIME: WALES 28-13 ARGENTINA
1616 PENALTY - WALES - HOOK
In fact that is a scrum for knock on. Wales win it and shuffle out the line badly. But Wales win a penalty for Argentina hands in the ruck. The clock runs into the red and Hook decides to go for goal. From the middle of the park, in the 10-metre area. Hook smacks it over. Wales 28-13 Argentina
1615 The Pumas win it through Lobbe and set the ruck before a pick and go. Vergallo boxkicks to touch and Wales have a last chance for a fourth try.
1614 Wales attack again and Pumas must defend a linout in their own 22.
1613 TRY - ARGENTINA - SCELZO
The TMO says try Argentina and Contepomi takes the conversion from wide right. This time he pops it over (78 minutes).
Wales 25-13 Argentina
1612 Pumas maul a penalty right to the Wales line and the Welsh pack crumble. The Pumas collapse over the line and Poite calls for the TMO to decide on a try or not.
1611 Tavis Knoyle has been named Man of the Match in Cardiff.
1610 We'll be going over to that coverage right up until the Ireland v France Test match.
1609 Things are getting underway in the South Africa-New Zealand encounter.
1608 That last try came after 73 minutes and kills off any faint hopes of an Argies fightback.
1604 TRY - WALES - NORTH
Thomas wins the lineout and Wales maul to the Pumas line. Thomas is popped the ball and drives right to the line. Wales ruck it and spin wide left where George North is popped the ball by an inside pass from Leigh Halfpenny to storm over for a try.
Hook misses the conversion from wide left.
Wales 25-6 Argentina
1603 Scrum Wales on the Pumas 22: the scrum collapses and Wales are awarded the penalty against hooker Creevy collapsing. Hook pops the penalty to the five-metre line and Wales go for try number three.
1601 Pumas win their linout and kick long, where Justin Tipuric knocks on. Scrum Pumas: the Argies win and spin the width of the pitch and a break looks on, but Horacio Agulla knocks on shamefully from the final pass (70 minutes).
1600 Lineout to the Pumas in their own half as Scott Williams is bashed into touch.
1559 Scrum Wales in the Pumas half. Knoyle puts in and Pumas are done for early engagement. Penalty Wales and they tap and go. Another penalty for the Pumas not being ten metres. This game is cooked (67 minutes).
1554 Lobbe returns from the sin-bin (66 minutes).
1553 Surely with only 18 minutes to to the Pumas had to go for a try there (62 minutes).
1552 PENALTY - ARGENTINA - CONTEPOMI
Penalty Argentina in the Wales 22-metre area: Contepomi decides to go for goal and pops it over. Wales 20-6 Argentina
1546 Agustin Creevy barges his way into the Wales half, holding off several Wales players. The Pumas recycle several times and then go wide to Fernandez - he crashes into midfield. The Pumas are huffing and puffing and eventually Juan Imhoff makes a linebreak and makes the 10-metres line. Wales under pressure now as the Pumas pick and drive to within five-metres. Wales tackle with desperation as the Pumas maul it, but the maul collapses as Argentina win a penalty for hands in the ruck (62 minutes).
1545 Contepomi tries to spin to midfield and Knoyle intercepts and attempts to dart at the line. The Pumas take him down and Wales can't capitalise on the break. Aled Brew is on for Lee Byrne and Halfpenny goes to full-back.
1544 SIN-BIN - ARGENTINA - LOBBE
AW Jones is taken out in the air at the restart by Juan Martin Fernandez Lobbe and is sin-binned. Very dangerous play.
1543 Once more the Pumas are caught offside and this time Hook says he'll go for the sticks. From wide left of goal, on the 22-metre line, Hook smacks it between the posts (55 minutes).
Wales 20-3 Argentina
1542 Wales lose it again, as Hibbard throws it to Manuel Carizza. But the Pumas can't use it and Wales turnover and spin wide. But, with a three-man overlap a long pass is thrown. Wales throw away another overlap chance. It's all Wales now.
1541 Hook kicks the penalty to touch as Wales go for the try.
1539 Hook clears for Wales and makes the Argentina 22. Rodriguez slices his clearance to touch and Wales win the lineout. Pumas are caught offside attempting to defend and it's penalty Wales (52 minutes).
1537 Pumas kick to the Wales corner with a penalty and Wales turn it over before Hook kicks to Rodriguez. The full-back attempts a drop-goal from halfway - not even close (50 minutes).
1536 If Wales score next this one is over and the Pumas know it.
1535 The Pumas build with ruck after ruck and then go wide left to Fernandez. But Wales steal in contact again and go wide left, there is no way through as the Pumas close the space down.
1533 AW Jones catches the restart and Wales then lose it in the ruck. Pumas burst forward with Ledesma, but Hook rips it from his arms. Wales spin to the left and it gets to Byrne. With an overlap of two Byrne kicks to touch on the full. That was a try on and Byrne mucked it up (47 minutes).
1532 A scuffle breaks out after that and needs to be calmed down. Hook decides to go for goal and sets his tee right in the middle of the park, inside the 22-metre line. No mistake - Wales moving clear now (45 minutes). Wales 17-3 Argentina.
1530 Pumas try to break down the left wing and are put into touch. AW Jones wins the lineout and Wales clear the danger. It comes to the Pumas back three and Rodriguez, under no pressure, forward passes. Scrum Wales in the Pumas half. Wales destroy the Pumas in the scrum and it's penalty Wales.
1528 The teams are emerging from the tunnel in Cardiff. Game on.
1519 The Pumas played all the rugby in that first half, missed three kicks at goal and have been mugged by two tries. They'll be reeling in the Millennium Stadium changing room and dying to get back out and stick it to their opponents. Back for more soon.
1516 HALF-TIME: WALES 14-3 ARGENTINA
1511 TRY - WALES - AW JONES
Wales break fast and Dan Lydiate and Jamie Robers bounce off tackles before finding North on the wing. The left wing scorches down the touchline and passes back inside to AW Jones to canter across the line from 10-metres out. Hook pops over an easy conversion as Poite blows his whistle for half-time. Two tries in three minutes have turned this game on its head (40 minutes).
Wales 14-3 Argentina.
1510 TRY - WALES - POWELL
Wales win a scrum in the Pumas half. Andy Powell picks from the base and pops to Tavis Knoyle, who makes a half yard before finding Alun-Wyn Jones on his outside. Jones sees Powell bursting up on his inside. The number 8 is popped the ball and races over for a try from the 22-metre line and touches down in the corner. Hook steps up to knock over the conversion. A woeful first half of rugby has been uplifted by a try from their first real attack. (37 minutes)
Wales 7-3 Argentina.
1509 Contepomi misses it, pulling it wide left. Three missed kicks from the Pumas so far today. It should be 12-0 (34 minutes).
1508 Contepomi decides to kick at goal. Wide left, on the 22-metre line.
1506 Scrum Wales on their own 22: they win and Hook tries a little break down the blindside. Pumas turn it over in the contact and maul it at Wales. They go wide to Agulla and he hits contact. Poite calls play back for offside against Wales on the 22.
1540 Contepomi takes the Pumas second penalty of the day, this time from wide right, but inside the 10-metre line. He almost messes it up but the ball rebounds in off the far-left post (30 minutes.)
Wales 0-3 Argentina
1501 Lee Byrne overcooks a chip ahead and puts it straight into touch. This game is a fairly shocking encounter so far.
1458 Wales go up the middle and a crash ball on Jamie Roberts in midfield is knocked forward (25 minutes).
1457 Wales have lost three of nine lineouts so far. Their latest just now as Contepomi clears to touch (25 minutes).
1455 James Hook kicks a Wales penalty to the corner and the Dragons spin wide right to Leigh Halfpenny. The winger is stopped five metres short by the Pumas (22 minutes).
1454 Wales are in all sorts of bother here and can't put more than a few phases together.
1451 The Pumas recycle from the lineout and Marcelo Bosch drops into the pocket and goes for a drop-goal. The ball drifts wide right. Two missed kicks on goal from Argentina are the only chances in the match so far, 20 minutes gone.
1450 Argentina win a scrum and kick to the Wales corner. Wales win that lineout and Byrne clears to touch, relieving the pressure on the Dragons' line.
1448 It's very scrappy in Cardiff, with neither side able to gain a stranglehold on the game. The Welsh lineout looks creaky, but the lineout is standing up well to the fierce Pumas pack.
1443 Still 0-0 in Cardiff. Nearly ten minutes played.
1440 The teams in Wales are:
Wales: Lee Byrne; Leigh Halfpenny, Jonathan Davies, Jamie Roberts, George North; James Hook, Tavis Knoyle; Paul James, Richard Hibbard, Adam Jones, Bradley Davies, Alun Wyn Jones, Dan Lydiate, Martyn Williams (captain), Andy Powell.
Replacements: Huw Bennett, Ryan Bevington, Jonathan Thomas, Justin Tipuric, Lloyd Williams, Scott Williams, Aled Brew.
Argentina: Martin Rodriguez, Horacio Agulla, Marcelo Bosch, Santiago Fernandez, Gonzalo Camacho, Felipe Contepomi (c), Nicolas Vergallo; Rodrigo Roncero, Mario Ledesma, Juan Figallo, Manuel Carizza, Patricio Albacete, Julio Farias Cabello, Juan Manuel Leguizamon, Juan Fernandez Lobbe.
Replacements: Agustin Creevy, Martin Scelzo, Mariano Galarza, Alejandro Campos, Alfredo Lalanne, Nicolas Sanchez, Juan Imhoff.
1436 Argentina win a penalty on the Wales 10-metre line, far right. Felipe Contepomi steps up and puts the chance wide left - he pulled that badly.
1433 Wales and Argentina are kicking-off in Wales as I write, Roman Poite (France) is refereeing that one. We'll bring you the key scores as they happen in Wales.
1432 On Monday, there will be live web-only coverage of the IRFU press conference as Declan Kidney announces his squad for the Rugby World Cup in New Zealand. (Worldwide). That will be broacast here on RTE.ie at 1pm.
1411 Wales's Andy Powell on starting for Wales against Argentina: "I'm starting now, which is good...with all these young boys about." He followed that with a Ron Burgundy-style gun show.
1406 Keith Wood on Ireland's chances against France and their RWC warm-up games so far: "Ireland haven't shown a huge amount, but they have got their injured players back."
Laconic, or accurate?
1250 I'll be back closer to kick-off to bring you all the pre-match build-up and analysis. I'll also fill you in on the scoring from the day's other matches: Wales v Argentina (2.30pm), Scotland v Italy (5pm) and South Africa v New Zealand (4.05pm).
1210 Preview: Ireland struggled in the first 40 minutes of their Test clash with France last week and looked set to be overrun by their free-flowing opponents.
However, an injury to Maxime Mermoz, coupled with the half-time whistle, allowed Ireland to regroup and steady the ship.
The second half was a very different affair, with Ireland bossing the game, in ten-man classic Munster-rugby style. Ronan O'Gara kicked to the corners, the pack put France under pressure and O'Gara knocked over four penalties. But, as is so often the case for Ireland in France, that was not enough. O'Gara missed a penalty chance to give Ireland the lead and from then on two France penalties from Dimitri Yachvili extended their lead. Ireland had chances to win the game at the end and lost them.
This week, Ireland have several players back in the starting XV who often turn Ireland from an average team to a team that can challenge the Tri Nations, France and England: Gordon D'Arcy, Brian O'Driscoll, Paul O'Connell and Jamie Heaslip. If D'Arcy and O'Driscoll are fit they will run the lines that Ireland missed in Bordeaux last week, while O'Connell's presence from the start should ensure his usual inspirational leadership.
Heaslip, arguably Ireland's best player, will be relied upon for his usual rampaging runs and tackling.
Ireland have a miserable record against France. In 88 Tests, Ireland have won 29, lost 54 and drawn five. In the last 15 encounters Ireland have won four, lost 11.
Prior to that Ireland had lost 15 times consecutively to France, in 1985, Ireland and France drew 15-15 at Lansdowne Road.
Ireland secured a win in Dublin in 1983 - scalping the French 22-16. The sides also drew 9-9 in Dublin in 79. But Ireland lost the three clashes before that.
So, when broken down blow-by-blow the record is grim. In 30 Test matches, Ireland have won five, lost 23 and drawn two.
Any win against France is precious and hard fought.
I feel, Ireland will have enough to disrupt France in the backline today and Jonathan Sexton's return will spur his two centres to deliver the ball to send Ireland over for a try - a feat Ireland have failed to achieve in their last two outings. That try will be matched by France, with Maxime Médard - playing on the right wing - primed to add to his international tally. If that goes to plan, it could come down to a battle of the point-kickers as Sexton goes head-to-head with France's Morgan Parra and David Skrela.
Find out what Brian O'Driscoll's thoughts on today's match are here.
By Tadhg Peavoy
Ireland v France, international Test match at the Aviva Stadium, Dublin, Saturday 20 August, kick-off 5pm.
Referee: Craig Joubert (South Africa)
Ireland
15 FB Felix Jones
14 W Andrew Trimble
13 C Brian O'Driscoll
12 C Gordon D'Arcy
11 W Keith Earls
10 FH Jonathan Sexton
9 SH Tomas O'Leary
1 P Cian Healy
2 H Rory Best
3 P Mike Ross
4 L Donncha O'Callaghan
5 L Paul O'Connell
6 F Sean O'Brien
7 F Shane Jennings
8 N8 Jamie Heaslip
Replacements
16 Jerry Flannery
17 Tom Court
18 Mike McCarthy
19 Stephen Ferris
20 Eoin Reddan
21 Ronan O'Gara
22 Luke Fitzgerald
France
15 FB Cedric Heymans
14 W Maxime Medard
13 C Aurelien Rougerie
12 C Fabrice Estebanez
11 W Alexis Palisson
10 FH David Skrela
9 SH Morgan Parra
1 P Jean-Baptiste Poux
2 H Dimitri Szarzewski
3 P Nicolas Mas
4 L Pascal Pape
5 L Lionel Nallet
6 F Fulgence Ouedraogo
7 F Louis Picamoles
8 N8 Julien Bonnaire
Replacements
16 Guilhem Guirado
17 Fabien Barcella
18 Julien Pierre
19 Raphael Lakafia
20 Dimitri Yachvili
21 Francois Trinh-Duc
22 Vincent Clerc