Watch Ireland v South Africa here from 4:45pm. Island of Ireland only.
Radio commentary is available here with Saturday Sport from 3:00pm to 8:00pm.
Autumn international results:
England 16-26 New Zealand
Wales 16-25 Australia
Ireland 21-23 South Africa
By Tadhg Peavoy - sportonline@rte.ie
1919 A remarkable comeback from Ireland - inspired by Ronan O'Gara's substitution. O'Gara's crossfield kick to Bowe and overall spreading of the ball and kicking was exemplary. No doubt the newspapers will raise questions as to whether Sexton is the right man to start the Samoa match next week.
The Boks were the better team at the breakdown, the scrums, the line-outs and and in the 9-10 axis. Ireland survived on scraps and only their doggedness kept them in the hunt. That is a fine quality and one that all great teams need.
The attempt to play expansive rugby is first and foremost in Declan Kidney's mind and the team's desire to stick to that is obvious. Despite the poor performance, this is the type of rugby Ireland must play to have an impact at the World Cup next year; I commend their refusal to keep it tight continually.
The harsh truth, though, is that we must perform this type of attacking, ball-in-hand rugby better. On the basis of that last 15 minutes, when Ireland finally clicked, they can deliver.
Thanks for reading as always. This was a disappointing night for Irish rugby, but not a totally bleak one; where there is a fiery and passionate comeback late in the game there is hope!
We'll be back for next week's match against Samoa, see y'after.
1918 FULL-TIME: IRELAND 21-23 SOUTH AFRICA
80 mins A loose ball shoots out of the ruck and Steyn kicks downfield to Kearney. He runs it back and makes a dart down the right flank. It comes to nothing as the Irish lose it in the ruck and SA put the ball into touch.
FULL-TIME: IRELAND 21-23 SOUTH AFRICA
78 mins SA build through the midfield in their own half. The Boks, ever the professionals, are winding down the clock. Playing phase after phase of narrow ruck ball.
77 mins Woah! Ireland are right back in it. Superb passion and commitment to not only narrow the scoreline but the overturn mental dominance the Boks had established over them in the opening hour.
72 mins SA lose possession on the Ireland line and with acres of space on the left flank Ireland run it downfield. In a three-man attack Heaslip leads the attack ball in hand. He can't offload in time to put someone into space, but Ireland recycle and turn the ball back inside. A ruck is setup in front of the SA posts just five metres from the white line.
SA concede a penalty at the ruck. Peter Stringer is now on. He takes it quickly and feeds Drico who pops inside to Ferris on a crashball.
TRY KEARNEY: One metre out: Stringer feeds to O'Gara, the Munster man loops a pass across to Kearney on the wing, but Habana tries to intercept and knocks it on. The loose ball falls for Kearney and Aplon has misjudged his positioning, that leaves Kearney free to run over the tryline and touch down! O'Gara's kick is so, so good, but hits the post! Ireland 21-23 South Africa.
70 mins Ireland are back in this now, perhaps undeservedly, but who cares.
67 mins SA line-out in the Ireland half. However, the Boks don't use it and it's a penalty to the Irish.
TRY AND CONVERSION IRELAND: Healy takes it forward, ball in hand. O'Gara, who has just come on, kicks a crossfield kick to Tommy Bowe. Bowe cuts in off his wing and a perfect angle of running takes him past Aplon and into the try area. Thank Lord for that! It was a carbon copy of Bowe's try against Wales in the 2009 Grand Slam decider. O'Gara converts. Ireland 16-23 South Africa.
68 mins Penalty to SA as David Wallace comes in on off his feet at the ruck.
66 mins Bar a miracle this game is over now. Ireland aren't at the races.
63 mins TRY SOUTH AFRICA: Sexton hoofs downfield and SA attack through Kirchner. He takes it into contact. SA recycle and recycle: SA go wide and Kirchner runs out towards the left wing, bringing Brian O'Driscoll with him, the decoy run creates the space for Gio Aplon to cut in from his full-back position and cross the line for an SA try. Lambie converts. Ireland 9-23 South Africa.
61 mins Another turnover at the ruck from Ireland and SA now build the phases in the Ireland 10-metre area. Lambie takes into contact and Ireland play the ball on the ground. Lambie will kick the penalty from just outside the Ireland 22 - straight in front of the posts. PENALTY: Lambie steps up and on his debut misses from straight in front of the posts! Incredible miss. The first kick of this man's international career is surely the worst he will ever take!
61 mins SA win the next scrum and hammer it downfield with a huge punt. Ireland build again.
59 mins Matfield steals the Ireland line-out which falls to Best, but as he passes inside to Heaslip it is knocked on. Great chance.
59 mins Line-out on the Boks 22-metre area. SUBSTITUTION: Steyn is off for Lambie.
57 mins Sexton hoofs downfield to Pienaar, who hammers it back at him. SA win the ball at the breakdown. The Boks recyle five times and spin wide to Kirchner. He loses it in the tackle and Ireland go forward through Healy. Having set it up Sexton kicks cross-field to the right corner. Habana turns and chases to recover possession and punts into touch. Chance for Ireland here.
56 mins Sexton will kick the ensuing penalty. PENALTY: He kicks from the right of the pitch inside the 10-metre area. He has two from three so far. This one is from 37 metres and it's good! Ireland 9-16 South Africa.
54 mins Scrum Ireland in the SA half. It's a good scrum this time, but needs to be reset. The SA front row stands up and Ireland win a peno.
52 mins SA maul forward ten metres and Ireland creak under the pressure. Ireland come in the side of the ruck twice and concede a penalty. Steyn decided to go for the posts. PENALTY: The kick will be taken from wide on the right, just inside the 10-metre area. Wow. Amazing kick from Steyn - that man can kick an oval ball. Ireland 6-16 South Africa.
51 mins SA kick to Ireland and Steyn's kick makes touch in the Ireland 10-metre area.
51 mins Buckley cannot continue and Tom Court will replace him.
51 mins Buckley is down injured, it looks like a knee or maybe cramp.
49 mins Once more the line-out is awful and Boks turn over. SA kick downfield to gain field position. A long punt back from Kearney is claimed by Ferris. Ireland spin it wide and D'Arcy loses the ball in contact on the left wing. It was an unforced error.
48 mins Ireland run it at SA again, Heaslip carries in the loose, bumping off several tackles, but the ruck he sets up is not solid and SA snaffle it. Morne Steyn kicks long, but he puts it out on the full. Scrum back for Ireland.
46 mins Knock-on by de Villiers in the SA midfield. Ireland pounce on it and and setup their own ruck. Sexton again looks to the corner, but the kick is poor and Aplon takes the mark in the SA 22 and hoofs downfield.
45 mins The line-out is good from the Boks and Pienaar box-kicks downfield to the Irish half. Best to take the line-out, this time it is crooked. The Irish line-out is in a heap.
44 mins Sexton kicks to the SA corner and it is a beauty. A Ronan O'Gara style corner-aimed kick and SA will be put under pressure right on their own tryline.
43 mins PENALTY MISS SOUTH AFRICA: Steyn misses a kick at goal from wide on the right flank. Wow. First missed kick of the day for him - it was kickable and he rarely misses anything. A let-off for Ireland.
42 mins Ireland fail to deal with the restart and let it bobble around before putting a hopeless kick into touch.
1832 Pictured below: The Irish team change jerseys due to the commemorative jersey being too weak and ripping.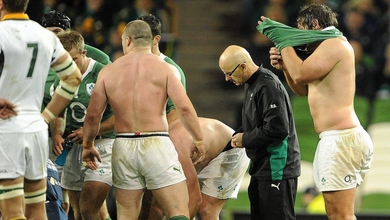 1827 Luke Fitzgerald was Ireland's most prominent attacker in the Aviva in the first half. However, there was little competition from his team-mates as Ireland failed to click.
Pictured below: Luke Fitzgerald attacked hard in the first half. As you can see his jersey is ripped. This was the case with many of the Irish jerseys. The commemorative jersey was deemed to be too weak and replaced at half-time by the normal jersey.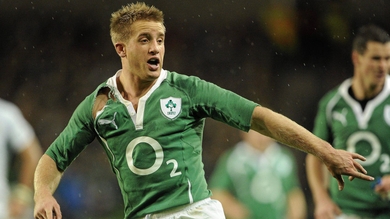 1825 So, Ireland must buckle down, tighten up the front five and the set pieces and hope the passes click and gel. It all sounds so simple on paper.
1824 The big question, bar if Ireland can come back and win this game, is when do we get our free EU cheese? On the basis of this performance so far, the Irish lads should be struck off the EU free cheese list as a result of their shambolic effort! I have faith they will pull it together though!
1823 That Sexton penalty is the last action of the half as the ref blows his whistle.
Ireland have been totally dominated across the board and are lucky to be so close to South Africa on the scoreboard. The scrum is a mess, the line-out is a mess, the backline is dropping the ball, lacking shape and taking passes flat: in summary, things can only improve in the second half!
To Ireland's credit, this is a defiant attempt to play open and expansive rugby. Ireland do not want to get invloved in a slugfest with the world champions and want to stick to their own attacking gameplan. That said, without the basics, total is rugby is a pipe dream. Very intriguing 40 minutes of rugby ahead.
HALF-TIME: IRELAND 6-13 SOUTH AFRICA
40 mins The ball is recycled four times after the scrum, with no ground gained. SA are then penalised for offside and Ireland get a penalty on the 22. PENALTY: Sexton will kick from directly in front of the posts. He gets it: Ireland 6-13 South Africa.
39 mins The restart reaches Bryan Habana who runs it back. From the ruck Steyn knocks on the greasy ball. Scrum Ireland on the SA 22.
37 mins Ireland's scrum crumbles and SA win a penalty. It looked like Buckley collapsed under pressure from Tendai Mtawarira. PENALTY: Steyn takes the kick from in front of the posts and makes it with ease. Ireland 3-13 South Africa.

36 mins Spies picks and goes and knocks on under pressure from Reddan and Sexton.
35 mins Kirchner throws a wild pass out to Aplon, which goes to ground. Bowe charges on to intercept, but the bounce is bad and Aplon recovers possession. Scrum to Ireland due to a knock-on. But Ireland engage too early and the scrum put-in is reversed.
34 mins An SA scrum marches forward, but needs to be reset. The rain is pelting down in Dublin now.
33 mins Matfield is hit by Jannie du Plessis in the line-out. Ireland turnover and go wide to Bowe on the right - he cuts across the pitch diagonally to meet an onrushing Fitzgerald on the other wing, the offload is bad and the ball is knocked on.
32 mins Kirchner carries for SA in midfield. Spies makes a crash move down the middle and offloads to Steyn. At the next ruck, SA play it on the ground and Ireland make a quick break. Wallace goes up the left flank and decides to kick ahead. It goes into touch in the SA 22-metre area.
31 mins Best takes the line-out. Heaslip drops the ball when it was in his hands.
31 mins Sexton boots to touch in the SA half.
30 mins Du Plessis takes it five yards and then a quick recycle leads to Juan Smith carrying, but Ireland dig it out and win a penalty for SA not releasing.
29 mins Boks take to long at the ruck when a drop-goal was on and they are driven back. Tendai Mtawarira drives five yards and the crowd chants 'BEAST!'

28 mins Wallace recives the restart and is bundled into touch. Boks win their own line-out and feed wide. Steyn borrows past a number of Irish defenders before Mick O'Driscoll puts him down.
26 mins PENALTY TO IRELAND: Springbok runner was ahead of the kicker and Ireland win a penalty. Sexton again: this time it is from the right of the posts, in the 22-metre area. Sexton gets it this time. Ireland 3-10 South Africa.
25 mins The Boks kick downfield and make touch. Best to throw: he hits Heaslip at the back of the line-out. Fitzgerald loops around Drico on a sharp backline move, but in contact Fitzgerald drops it forward. Fitzgerald is Ireland's brightest spark so far.
23 mins At the next scrum, the Boks enagage early and Heaslip takes it quickly, he goes to ground and sets up. Boks put their hands into the ruck on the ground and Ireland win a penalty. A Springbok chats back to referee Owens and Ireland are given an extra ten metres on the penalty.
PENALTY: Sexton misses it - badly. Slicing the kick across the face of goal to the right.
22 mins The Boks rumble a maul forward in the Ireland 10-metre area, but there is a turnover for Ireland. Not sure, who got their hands on it.
21 mins So, a quarter of the match gone and we are in trouble. Ireland look rusty and physically weaker.
19 mins Best throws long in a line-out - too long as the ball runs over the whole line-out and it is a scrum back for the Boks. This is a very worrying start. Luckily the Boks knock on and Ireland get a scrum.
17 mins TRY SOUTH AFRICA: Disaster. An awful line-out from Ireland is tapped off the top to Eoin Reddan, on the back foot Reddan tries to offload to Sexton, but Smith charges in, intercepts and runs the whole way from the Bok 22 to score in the corner. Steyn makes the conversion: Ireland 0-10 South Africa.
16 mins Best throws to Mick O'Driscoll in the line-out. The play moves to midfield where Ireland crash on Heaslip. Then it is spread wide to Fitzgerald on the left - he kicks at Aplon in the 22. The Boks full-back kicks back to touch - on the 22.
15 mins Penalty to Irealnd for the Boks going off their feet at ruck time. Sexton to kick long. He does it and makes touch in the SA 22.
15 mins Ireland knocked-on though and SA get another scrum.
15 mins Scrum SA, but Ireland win a peno as the ball wasn't put it straight.
1749 Ryan Dumigan has got in touch again:
Funnily enough we play [rugby] every Tuesday morning at 0600.Shame on the IRFU when Ireland is hurting.
14 mins Wallace is down and needs attention. He appears to have taken a knock to the head.
13 mins D'Arcy and Bowe attempt a switch on their own 10-metre line, the pass to Bowe is over his shoulder and he can't hold it and knocks on.
12 mins Boks clear long to Kearney - Kearney counters and is double-tackled. From the ruck, Reddan goes blind to Fitzgerald who finds space, as he is closed down by Basson Fitzgerald pops outside to D'Arcy, but Pienaar makes the cover tackle. Line-out Boks on their own 10-metre line.
10 mins Boks line-out on the 10-metre area. Cian Healy kicks a loose ball halfway downfield and Aplon goes down on it. Drico is right up on it and is adjudged by ref Nigel Owens to have tackled and not let Aplon up off the ground.
10 mins The scrum comes to nothing and Fitzgerald clears for Ireland.
9 mins Knock forward from Ferris in the line-out and the Boks win a scrum.
8 mins South Africa rumble through the phases. Spies kicks downfield and it comes off Fitzgerald for a Bok put-in.
7 mins Ireland hoof downfield, long to Aplon, who kicks to touch. Ireland run it back. Bowe attempts to get on to a long pass, but the pass from Sexton is not perfect and the greasy ball is dropped.
6 mins PENALTY BOKS: Ireland infringe at a ruck and Steyn steps up and slots it home. Ireland 0-3 South Africa.
6 mins All South Africa so far. All Boks...
4 mins Ireland try to run the 22 drop out and it is turned over. Ireland regain possession but hoof clear this time.
Stegmann and Spies drive forward in the 10-metre area. Crash ball on Habana in midfield. Steyn fires wide to Basson on the right wing, there is a two-man overlap but Fitzgerald closes the gap.
3 mins Line-out win for Boks and they setup in midfield, Ireland hammer them back in the loose. Juan Smith carries forward and from the setup Steyn goes for a drop-goal from halfway - it is a very poor effort and drops wide.
1 min Steyn kick back downfield to Kearney who punts it back. Spies fields it this time. From a ruck it is kicked long to Kearney who is wrapped up by Habana. Ireland go wide to Fitzgerald on the right wing, but Drico's pass is poor and it goes into touch. Line-out Boks.
0 mins WE ARE OFF! Sexton kicks to the Boks.
1733 Things are much fuller at Aviva, but the top tier of the stands are a little bit sparse.
1732 New-wave freestyle jazz version of Ireland's Call being played. Muddy Waters-influenced version here! Pretty unique!
1731 Time for Amhrán na bhFiann.
1730 The South African anthem, entitled Nkosi Sikelel' iAfrika belts out around the Aviva. The anthem is unique in that it uses five languages for the lyrics, pretty cool, eh.

1728 Rog is looking fresh on the sidelines. Ryle Nugent is in the TV commentary box too, looking dapper in his North Face puffer.
1727 Things filling up slowly in Lansdowne. Still fairly half-empty though.
1726 Mary McAleese is doing the meet and greet on the red carpet. I have to say, she has great hair - definitely the best hair I've ever seen on a world leader!
1725 Top marks for that dig at my mate Bren, Patrick!
1725 Patrick Kennelly:
Lots of empty seats 10 mins before kick off. IRFU become the first loser of the evening.
And keep those bets coming Brendan, us bookmakers would really stuggle without his input.

1723 To answer your question Ryan the stadium is unlikely to be full due to the outrageous and exorbitant ticket pricing of the IRFU. What's the going rate to watch a rugby match in Iraq these days? Have you seen any rugby in Iraq?
1721 My favourite George Hook quote ever has just been delivered: 'If Brian O'Driscoll were a Ferrari sportscar, he would be in the knacker's yard.' Class.
1720 Ryan Dumigan, Iraq:
Catching the updates here in Iraq. Will it ever start. The Saffas have a good pack so it won't be easy.
Hopefully our front row will show us something today. Am I hearing correctly that the stadium won't be full for the game (the first game) they should have given the spare tickets to schoolkids. GO ON Ireland.
1712 Gearoid Slattery:
I don't think Hook realizes that with Paul O'Connell out Ireland don't have a line-out organizer, that's the main reason Mick O'Driscoll is picked. Toner is much too light to play the Boks, he would get killed, if we beat them up front we will beat them well. This game will be won up front.

Prediction Ireland 27 South Africa 17
1711 Moss Garde from Cork and Patrick Kelleher, Limerick following from Gaborone Botswana. Go Ireland!!!

1710 Colin Rogan:
The panel keep ranting on about the first rugby international played in Lansdowne Road.
Ireland's first home international was played against England in 1877 in Observatory Lane Rathmines, the home of Leinster Cricket Club.
The first international played at Lansdowne Road was in 1878.

1707 George Hook is delivering a piece to camera examing the state of the South Africa camp. It's slightly ridiculous and resembles a scene from Hamlet or King Lear rather than sport commentary. Fair play to the fella, he is entertaining if nout else. Maybe he can move into acting and play a part in Neil Jordan's next epic!
1654 The ranting and raving in studio has begun as Conor O'Shea attempts to wrestle the insanity of conversation out of George Hook! Good luck Conor.
1651 Match score and gameplan predictions are more than welcome.
1650 The teams have arrived replete with headphones on and psyched-up faces to boot!
1644 The broadcast of the 1951 classsic Operation Pacific, starring John Wayne, is just reaching its end on RTÉ Two and the egg-ball sport coverage is about to begin!
1641 A very handy link today is 02's free online stream of their Ref Link:
http://bethedifference.o2online.ie/#state=/ref_talk/
Could be worth dipping in and out of throughout today's encounter. It will also be in use for the matches with New Zealand and Argentina.
1636 Check out Brendan's preview of the Ireland v Springboks clash right here.
1629 Also, a quick reminder that esteemed rugby writer Brendan Cole lost 100 big ones on the NZ match: hard luck man! The betting slip proof is below!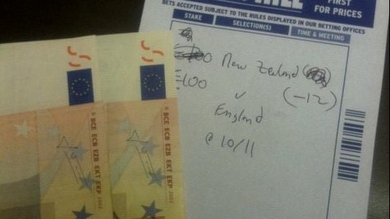 1628 A quick reminder of the teams for today's main course:
Ireland: 15-Rob Kearney, 14-Tommy Bowe, 13-Brian O'Driscoll (captain), 12- Gordon D'Arcy, 11-Luke Fitzgerald, 10-Jonathan Sexton, 9-Eoin Reddan, 1-Cian Healy, 2-Rory Best, 3-Tony Buckley, 4-Donncha O'Callaghan, 5-Mick O'Driscoll, 6-Stephen Ferris, 7-David Wallace, 8-Jamie Heaslip.
Replacements: 16-Sean Cronin, 17-Tom Court, 18-Donncha Ryan, 19- Denis Leamy, 20-Peter Stringer, 21-Ronan O'Gara, 22-Keith Earls

South Africa: 15-Gio Aplon, 14-Bjorn Basson, 13-Zane Kirchner, 12-Jean de Villiers, 11-Bryan Habana, 10-Morne Steyn, 9-Ruan Pienaar; 1-Tendai Mtawarira, 2-Bismarck du Plessis, 3-Jannie du Plessis, 4-Bakkies Botha, 5-Victor Matfield (capt), 6-Deon Stegmann, 7- Juan Smith, 8-Pierre Spies.
Replacements: 16-Chiliboy Ralepelle, 17-CJ van der Linde, 18-Flip van der Merwe, 19-Keegan Daniel, 20-Francois Hougaard, 21-Adi Jacobs, 22-Patrick Lambie.

1627 One hour to kick-off in Lansdowne Road - oh, yes baby - it's true.
80 mins Ashton comes down the right flank and stupidly decides to kick along the touchline instead of keeping the ball alive. The kick is too long and rolls into touch - poor decision making ends this match. FULL-TIME: ENGLAND 16-26 NEW ZEALAND.
Final verdict has to be that NZ are looking very good, their backline is deadly and full of vim and vigour. However, like the Aussies, their scrum is awful, awful, awful.
As for England, they were outplayed in the first half. In the second, they upped the ante and played rugby. When the Red Rose decided to run it, NZ were under pressure, but awesome NZ defence allied to poor creative decisions and disappointing final passes led to no late tries for Martin Johnson's charges.
FULL TIME: WALES 16-25 AUSTRALIA
As the match clock ticks into the red both teams try and keep the game alive by keeping ball in hand. The Aussies even decline a shot at goal, but eventually a knock-on ends the game. The Australians look very slick, creative and are lethal when running with the ball, but they cannot scrummage.

78 mins From the scrum England go blind as full back Foden joins the line and feeds Hape. NZ steal the ball and knock-on. Scrum to England and they win it and once more go wide.
Tindall steps inside, England are ten metres out. The NZ defence steps up and demand that England go backwards. Immense NZ defence, but England are lacking the finesse to outwit the All Blacks - it's all power not enough skill.
76 mins NZ kick-long to England, but Carter puts the kick downfield into touch! England scrum on the 22. It needs to be reset - NZ are being shamed in the scrum - totally shamed. Three minutes to go and ten points in the game.

75 mins England go wide to Armitage, he sets up the platform and England go inside. After six phases England have a two man overlap on the right wing - it goes the distance out on to thw wing where Shontayne Hape is waiting, but he is shoulder-charged by a NZ tackle. It goes to a TMO and he says no try. It should have been a penalty try as the tackle on Hape was high and a shoulder not a tackle from Toeva.
73 mins England hammer at the NZ line, Care plays in Lawes who sets up a super platform. It is popped to Croft who knocks on. NZ kick downfield and England run back through Delon Armitage - finally England are opening up.
72 mins SIN BIN FOR NZ: Repeated infringement at the breakdown from Jermoe Kanio. He is sin-binned.
WALES 16-25 AUSTRALIA
PENALTY AUSTRALIA on 74 minutes: Australia respond with a vengeance and attack Wales on both wings. Wales concede a penalty for offside 30m out in front of the posts. O'Connor defies the booing of the Welsh crowd and strokes it over.

70 mins PENALTY: Carter to kick another penalty for NZ on the touchline on the right: easy for the best out-half in world rugby. England 16-26 New Zealand.
WALES 16-22 AUSTRALIA
TRY WALES on 71 minutes: The usual raft of substitutions takes place. Martyn Williams comes on for Wales and immediately steals the ball.
Wales go through the phases and batter the Australian line. The pack gets over and referee Wayne Barnes goes to the TMO.
Alun-Wyn Jones is ruled short of the line and Wales get a five metre scrum.
Another penalty to Wales in the scrum: Reset. Penalty again and words from the ref to Aussie skipper Rocky Elsom.
Wales opt for another scrum. An 8-9 move sees Richie Rees get across for the try. Jones taps over the conversion.

1605 As I stated earlier our rugby columnist Brendan Cole has 100 euro on a NZ win by 13 points. He will be sweating a little now. NZ only seven points ahead on 68 minutes.
64 mins England win their own line-out on halfway and go wide to Tindall on the right wing, he takes the outisde arc and makes space for Cueto inside, but is high tackled by Carter. England penalty, they kick to touch and win the line-out. From the line-out, England win a penalty for Kaino coming in the side of the already formed ruck. Peno for the Red Rose.
Thorn pushed Hartley in the head and he fell over - a royal rumble break out. It all started when Hartley elbow-dropped a NZ head in a ruck. He is very lucky to be still on the pitch.
PENALTY: Flood knocks over the peno. England 16-23 New Zealand.
62 mins Toeva tries to go through Foden on the right, but the Saints full-back stands tall and makes the tackle and forces him to touch. Foden has been outstanding today, tackling all of the pitch and putting out fire after fire.
WALES 9-22 AUSTRALIA
PENALTY AUSTRALIA on 65 minutes: The Welsh attack is slow and cumbersome and Australia steal the ball.
SIN-BIN: Another fantastic break by James O'Connor and as he passes inside to Pocock for a certain try, but Tom Shanklin takes Pocock out. 10 minutes in the sin bin for Shanklin and a simple penalty for O'Connor.

60 mins England knock-on on halfway and Muliaina takes advantage to make a half-break, he tries to pop it up to Dan Carter, for what would be a sure try, but Ashton comes across to snaffle the pass and save England.
1554 WALES 9-19 AUSTRALIA
TRY AUSTRALIA on 62 minutes: Prop Ben Alexander gets over in the corner following another great back-line move. He can't scrummage but he has scored his first try for his country. James O'Connor just misses the conversion from the touchline.

59 mins: WALES 9-14 AUSTRALIA
Kurtley Beale is having a huge game. Another fantastic break, followed by a dink past the defence, he fly-kicks it on, picks up the ball on the slide and knocks it on as he crosses the line.
To be fair James Hook chased him all the way and got in a last-gasp tackle. Australia penalised in the resulting scrum.

58 mins PENALTY NZ: NZ go right back downfield and claim back a penalty, clawing back some points. England 13-23 New Zealand.
52 mins TRY ENGLAND: Scrum England and then another scrum as they win another penalty - NZ are totally second second best in the scrum. It is the one area the Red Rose is on top. From the scrum penalty they kick to touch, then from that line-out the ball thrown is crooked, scrum to NZ. England can't string together enough phases to do anything meaningful in the NZ half.
NZ once more go to the wing on first phase and it reaches Rokocoko, but England intercept and Foedn kicks it long. Ashton chases downfield and with the line at his mercy the ball bounces away and he misses it, but England recover and regather the ball.
Dylan Hartley comes from way back to take the charge on and barges over - the video ref says try! GAME ON. Flood converts: England 13-20 New Zealand.
51 mins Lewis Moody takes a nasty headbutt from Kevin Mealamu - accidental, I think.
50 mins Nonu barges into the England 22, but takes it into contact with little support and then knocks on. England kick possession back to NZ and they attack again!
54 mins: WALES 9-14 AUSTRALIA
Wales are huffing and puffing but are unable to make a dent in the Australian defence in open play.
They do win a scrum, however, and once again the Welsh forwards decimate the Australian pack and win a penalty which Stephen Jones knocks over.

1540 The scoreboards in both games are beginning to look grim. A try is needed for the Northern Hemisphere teams.
47 mins PENALTY: England are subject to another NZ attack. Quick hands, pace out wide and England scramble to cover on the right flank - it's simple and effective stuff all day from NZ. They win a peno for England infringing at the tackle area. Carter to kick - no mistake. England 6-20 England.
47 mins: WALES 6-14 AUSTRALIA
TRY AUSTRALIA: The outstanding David Pocock steals the ball (again!!) and Australia break out from their own half. James O'Connor outpaces Shane Williams on the right wing and pops the ball inside for Beale to score the try. O'Connor makes no mistake with the conversion.

43 mins PENALTY: Scrum to England now, inside the NZ 10-metres, Woodocks infringes against Andrew Sheridan for the third time today and England win a penalty. Flood to take from wide on the left, in the 10-metre area. It's wide, but kickable. He makes no mistake. England 6-17 New Zealand.
45 mins: WALES 6-7 AUSTRALIA
Australian full-back Kurtley Beale has started the second half on fire. First he pins the Welsh back into their own 22 with a fantastic kick to touch, and then he breaks the Welsh line with a chip-and-chase.
Australia are well on top in the opening five minutes of the half, and persistent pressure gets them to within five metres of the Welsh line. A try looked on until Matt Giteau knocked-on a simple pass; chance missed for Australia.

41 mins England make an early break with Tindall being released down the left, but the ball is called back for an earlier England knock-on.
1532 Action underway again in London.
1530 WALES 6-7 AUSTRALIA
The second half is underway at the Millennium Stadium, come on Cymru!

1527 The most impressive aspect of NZ so far has been their ability to spread the ball wide so quickly, Carter has been very quick to spot overlaps and push the ball wide early to stretch England.
England, by contrast, are playing their traditional narrow-minded ten-man game. Nobody does it better, bar maybe the Springboks, and if they get an early second half try, then who knows...
1526 The half-time verdict, is England - pull up your socks. Wales - more of the same lads.
1521 England are over the line. After seven phases on the right wing it eventually reaches Ben Foden who shows fantastic upper-body strength to barge his way over the line. However, he is held up and there isn't enough time to take the scrum back, the ref blows for half-time.
HALF-TIME: ENGLAND 3-17 ENGLAND.
1520 HALF TIME: WALES 6-7 AUSTRALIA
Wales are right in this game at half time, with their pack really performing well. Australia have not been able to exploit their potent attacking threat due to great Welsh defence.

1517 Again it goes wide to Rokocoko, the pass is slightly behind him and he must stretch to get it, he bounces of the palm of his right hand and attack over. England counter and have a chance of a try in the right corner - at that point Mike Tindall delivers a shameful pass with Lewis Moody on his right. That was try on for England - shocker.
1516 Scrum to England, they win a penalty due to NZ infringement in the front row. Toby Flood to go for goal from just inside halfway. Very kickable goal, but he misses it. England are in trouble here.
39min: WALES 6-7 AUSTRALIA
It's hectic stuff at the Millennium Stadium, lots of broken play running and half chances for both sides.
Australia nearly cross for a try, but Wales steal the ball and kick downfield. Some great forward play sees them recover the ball and earn a penalty. But Stephen Jones misses to the right of the posts.

1514 NZ try to spread wide first phase off a line-out. It reaches Rokocoko but the pass is terrible, way too high and Rokocoko can only paw it into touch.
1512 Seven minutes or so to half-time in both games now. NZ are killing England all over the park.
1511 WALES 6-7 AUSTRALIA: Another chance for the Australians missed as James O'Connor's penalty from the 10m line is short and wide.
1509 PENALTY NZ: Dan Carter makes no mistake with a routine penalty from in front of the posts. England 3-17 New Zealand.
1504 PENALTY WALES: Over in Cardiff, Wales win a line-out on the Aussie line, from that line-out they win a peno and Jones steps up. Chisholm pulled down Alun-Wyn Jones' arm in the air. Stephen Jones gets this one: Wales 6-7 Australia.
1500 PENALTY ENGLAND: England make a rare foray into the NZ half and win a penalty, they need this to keep in touch; in all honest, they have been blown away by the NZ power and pace thus far. Toby Flood to take from the 22, slightly to the right of the posts, he gets it. England 3-14 New Zealand.
1456 TRY NZ: Scrum NZ on the England line. It is a simple 9-10 scrum, then Hosea Gear bursts in off Carter's shoulders and goes to a yard of the line. He offloads to Kieran Read who burrows his way over for NZ try number two. Carter pops over the conversion with ease. England 0-14 New Zealand.
1455 NZ break again. A sweeping backline move ends again with Hosea Gear, this time he chips ahead and England cover. The All Blacks look dominant as hell here.
1451 TRY NZ: NZ cross the line! A line-break down the middle from Sonny Bill Williams leads to Hosea Gear being played a lob pass and sprinting for the line, Mark Cueto makes a superb cover tackle and the ref goes to the video ref. It is an incredibly close call as Gear's foot looks to have touched down, but, the ref gives it. Dan Carter knocks over the conversion. England 0-7 New Zealand.
1449 NZ spread it wide on their own tryline and almost get caught in possession, they finally ruck it and clear to touch. Dangerous. Sonny Bill Williams guilty of over-playing it that time.
1448 Ben Foden is given a pop pass by Ben Youngs on the right wing, but fine cover defence guides the winger into touch.
1445 Crooked line-out from Steve Thompson, then the scrum is penalised and NZ win a free-kick.
1443 It's all possession for NZ in Twickenham. They win a penalty on the left wing, in the 10-metre area. Dan Carter steps up and pulls it to the right - very poor kick, albeit from a tough angle.
1441 TRY AUSTRALIA: First try of the day! It comes for Australia's David Pocock on six minutes. In-form James O'Connor knocks over the conversion. Wales 3-7 Australia.
1439 Hosea Gear rumbles through several tackles and is eventually grounded. NZ recycle and keep the ball in the England 10-metre area. Eventually Muliaina chips ahead and Chris Ashton reacts to the situation and scampers back to cover the danger.
1436 Mils Muliaina is played into space on the left wing by Ma'a Nonu, the full back is away, but puts a foot in touch. Let off for England. That was a try in the making.
1435 PENALTY WALES: Things are off in Wales too. Stephen Jones has given the Welsh an early lead with a penalty. Wales 3-0 Australia.
1434 Match underway through Dan Carter.
1432 NZ perform the Haka and the English fans respond by chanting Swing Low Sweet Chariot! Excellent pre-match battle. With the new rulings stating teams cannot respond to the Haka, the English crowd take up the mantle - fair play to them.
1430 God Defend New Zealand is belted out by a young lassie. Good voice, it sounds like someone is playing an accompaniment on a keyboard on the sideline. Button five = God Defend New Zealand, kind of thing.
God Save the Queen is belted out in the usual manner - loud and brash and effective.
1427 Fireworks are going off in Twickers. The Red Rose lads look well fired-up for this one. The red carpet has been upgraded to a massive red St George's Cross flag across the pitch.
1423 Courtney Lawes is in the second row for England today, he must win the award for the most tattooed international rugby player in history. He looks like a lad more at home in the Blue Oyster Tavern than on the hallowed turf at Twickenham.
1420 This image has been saved in our database as 'Brendan throws his cash away'.
1419 Our colleague and esteemed rugby columnist Brendan Cole is putting his money where his mouth is and is backing New Zealand to beat England by 12 points at Twickenham today! We have the photographic evidence to prove it below!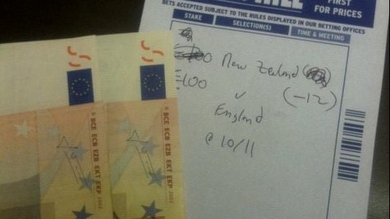 1416 The SKY Sports lads are in studio fiddling with their high-tech machinery. They're a bit like the Galactic Empire in Star Wars, all the good equipment but ultimately evil. George Hook has already given in to The Dark Side of the Force.
1356 Nodlag O'Neill-Forde:
Hi Tadhg,
Expect wins today for Ireland, New Zealand and prob Australia though Wales could give them a good run for their money.

Ireland should be well able to beat South Africa, who are going through a bad spell at the minute. Though, if the weather forecast is anything to go by, it could be a pretty dour match ultimately decided by Nigel Owens. That could actually be a good thing - Irish teams have had a pretty immaculate record with him as referee.

Think O'Gara and Sexton will have big parts to play. Still think Sexton's kicking is sometimes hit and miss - time will tell. Think the selection call is pretty spot on, though Mick O'Driscoll will really need to keep up his recent form.

Elsewhere, Wales will have a good chance to beat Australia in their own patch. New Zealand and England will slug it out for an hour before New Zealand push on and run out handy enough winners.

Best of luck with the commentary!!

1347 Man for man, if one was to pit each player against each player I would say Ireland have the edge in the backs this Saturday, being stronger in five positions compared to the Boks two.
However, in the pack, the Boks would have the edge, on a 6.5 to 1.5 balance. Even I have never seen this rating system before, but I think you get the drift.
Overall, on paper, Ireland have a stronger backline, with the Boks the dominant force in the forwards. So, Ireland stronger in 6.5 positions, Boks stronger in 8.5.
The only position I can't separate is number 8 - Pierre Spies or Jamie Heaslip, both are immense players. What do you all think?
1339 I was talking to Setanta Sports blogger Tom Fox yestrday and he outlined an interesting theory on Luke Fitzgerald. A big fan of Fitzgerald, Fox feels Ireland have failed to fully harness his ability in the backline; not making the most of jinks and trickery.
As the winger comes back to full fitness and form it will be fascinating to see whether he is deployed in Guinness Series more as a strike runner or a winger who devours ground in broken play. We shall see.
1338 Well folks, an hour away from kick-off in the Millennium Stadium and Twickenham, I'll be stepping up the update output around then.
1258 Good morning all: Irish breakfast time; read the papers; get ready for rugby - autumn international time is upon us.
We'll be bringing you updates from the two Tests kicking off at 2.30pm, followed by the big one from the Aviva Stadium. As always, any comments or diatribes are welcome. Send them to sportonline@rte.ie.
1257 PREVIEW: The build-up to the November internationals has been immense this year. The ever expanding column inches dedicated to rugby have groaned at the seams as information upon information has been loaded on us in preparation for four weeks of top-tier international rugby.
With all those articles you've read you are fully prepared – I would imagine - for a rugby-fest of a month. From an Irish perspective, what can we expect from Declan Kidney and Co? What does the IRFU brains-trust have in store for us?
On the back of five straight defeats to Scotland, the Barbarians, New Zealand, New Zealand Maori and Australia, Ireland need at least three wins from four matches. Emotionally and mentally that would lift the team significantly for the behemoth year that is 2011 – with an RBS Six Nations and World Cup on the horizon.
The fact that Ireland have never beaten New Zealand would indicate they may not do it this year – although what better way to reinvigorate this side than a famous win over rugby's cultural masters?
Realistically Ireland's best chances this autumn are wins against the Boks and Samoa. Australia are beatable, but their improved attacking displays in recent months indicate that – as is always the case – the Wallabies are peaking in perfect timing for the World Cup.
I expect Kidney to target the Boks match as key to lifting morale in the Irish camp and also as an opportunity to lay down the law to his pack and give them the opportunity to front-up and dispel the question marks hovering over the front five.
The battle of the front five will prove crucial and although man-for-man the Boks are better in that department, the fillip of this being the first match at the Aviva Stadium, located on Lansdowne Road, will be a huge boost for Ireland.
The danger is that slightly arrogant comments from players like Gordon D'Arcy mid-week have given fire to the Boks, raising their aggression levels; the Boks are not to be trifled with when it comes to mind games.
Ireland are likely to take on the Boks up front and play them at their own game for the first half in order to draw a physical line in the sand. As the game wears on and space opens up, I would imagine Jonathan Sexton's skill in opening up the backline will become evident as Ireland attempt to spread the ball and bring their world-class back three into the game's end-game 15-minute period.
Six wins to the Boks, three to Ireland, since the end of the apartheid era. All of Ireland's wins have come in the last three clashes, a sure indication that Irish rugby has come on leaps and bounds since the likes of 33-0 hammerings in Loftus Versfeld in 1998. A win here would give the impression the upward curve is not tapering off. By Tadhg Peavoy.

1425 A reminder of a special broadcast after today's game. We think you might enjoy it.
Live at the Guinness Area 22 exclusive supporter's event, RTÉ's Ryle Nugent, George Hook, Brent Pope, Conor O'Shea and Francois Pienaar look back on the opening game of the Guinness November Series between Ireland and the world champions South Africa.
You'll be able to watch it exclusively on RTÉ.ie here from 8:28pm.
1415 Welcome to coverage of today's international rugby matches. We'll have updates on the early Tests for the next two hours, as well as building up to Ireland's match with South Africa.