Crabbie's Grand National-winning jockey Leighton Aspell felt his time away from the sport made him appreciate every aspect of it, even before hitting the headlines with Dr Richard Newland's Pineau De Re at Aintree on Saturday.
Aspell, 37, lost his appetite for the game at the end of the 2006-07 season and by that July had decided enough was enough, handing in his licence.
The following summer he began working for John Dunlop and started to miss it before reapplying again in April 2009, after which his career has taken off once more.
One of the more grounded members of the weighing room, Aspell had a quiet night after the race, driving back down to his Sussex home and travelling back north to Market Rasen for four rides on Sunday.
"Since straight after the race it has been madness - I was speaking to the BBC at 6.30am," he said.
"There was no way I was going to give up my rides today, though, they were booked well in advance and I picked up a spare.
"We haven't had chance to celebrate yet, my parents flew back to Ireland last night and we had to get back to Sussex. I'll catch up with family and friends tomorrow night as it is a quiet start to next week. We'll have a party in a couple of weeks.
"I've had messages off people I haven't seen or heard from in a long, long time - it's been great.
"People have said I was a bit nonplussed after the race but it was a combination of being speechless and exhausted, I'd done a light weight the race before and he is a small horse and I had to sight tight a couple of times.
"He made a couple of mistakes after Tidal Bay barged into him at the 13th and he was a bit guessy at the next couple, but he got back into his own zone after the Canal Turn. He jumped the last few best of all.
"I think that was just my fifth ride for Richard but I'd been lucky that the few I'd had had run well and he'd stuck with me. He said he booked me because of the ride I gave Supreme Glory (second in the 2003 National) all those years ago and thankfully those are the things that people remember.
"You never think you'll never win the National, in the last few years we've had some big-priced winners, you might get lucky. I got lucky that Daryl Jacob was injured which meant Sam (Twiston-Davies) switched to Tidal Bay.
"I was so surprised at the pace we went, it was even which meant I didn't have to force the horse - from the Canal Turn I was travelling very easy and I was just biding my time, I went to join Noel (on Rocky Creek) on the long run to two out and then win my race from there.
"He won his race from the last to the Elbow, he really picked up well, but then he started to get tired, it was a good feeling when he picked up when he did.
"The longer Richard has had him the more he has got to learn about the horse. He only has 12 horses so he gets to learn individual things about each one. He loves the staying chasers.
"I was up at 6am this morning, I have a pre-training business so I'm always up early mucking out. My wife helps me, and I rent a barn off Amanda Perrett.
"The reason I retired was because I was having a quiet time, what I should have done was just have a long break over the summer because I'm always quiet then anyway. I'd got a bit stale and was a bit tired. I wasn't enjoying the travelling and everything else.
"I picked up a job with John Dunlop in the summer and after a while I got the bug back, spoke to some trainers and they were very positive so I decided to reapply (for his licence).
"I missed the competitive edge, I was still young enough and I still had it so I wanted to try again.
"It makes you appreciate everything more. It's a short career and you get one crack. If you're fit, healthy and able you should give it your best shot.
"I've had a good year already before this, Oliver (Sherwood, main supporter) has his best crop of youngsters for some time and they've stayed healthy all season.
"After this, you never know what doors may open, I'll be riding for the same people but any other rides or offers will be greatly appreciated."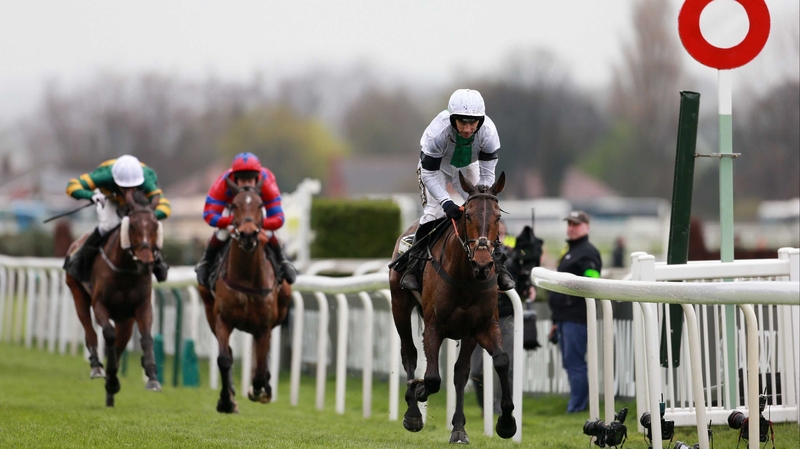 Lucy Wadham provided Aspell with one of his four mounts at the Lincolnshire track and is also the only trainer to give him a Grade One winner, with the mare United at the Punchestown Festival in 2005.
She said: "It's absolutely fantastic for him, he's so deserving and is such a top bloke.
"He's a great horseman and a wonderful jockey. Loads of my owners were ringing me with congratulations for him.
"United at Punchestown is still his only Grade One but he's won lots of Grade Twos and Threes and the Welsh National.
"He's been a major part of our team for years but we might have more competition for his services now!
"He is a very popular winner."