Ireland got off the mark on the opening day of the Cheltenham Festival when Quevega romped home for a fourth consecutive victory in the OLBG Mares' Hurdle.
In a slowly-run race, Ruby Walsh sat towards the rear but made good ground to take closer order running down the hill.

For a moment turning for home it seemed the gap might never come, but once it did, Quevega quickened up brilliantly to put the race to bed.

A fine leap at the final flight sealed the deal and she careered away up the famous hill to secure a four-length win at odds of 4/7.

Kentford Grey Lady filled the runner-up spot, with Golden Sunbird third.
Winning trainer Willie Mullins was delighted the effort the eight-year-old put in. "To come out every year without a run and do that, and do it in the style she did today, she's extraordinary.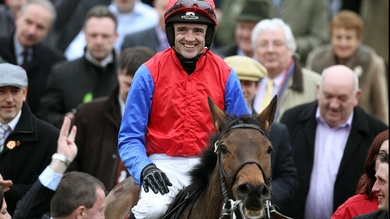 "I said to Ruby how did you wait and hold your nerve coming down the hill, and he said 'well I'd nowhere else to go!'.

"She has a beautiful temperament and that's why we can do this (bring her straight to Cheltenham each year).

"I'd hate to try and do it with the likes of Hurricane Fly, but every day I send this mare out to do something she'll do it.

"If she does too much work, she'll let me know as she's just not good the following day. If she's like that I just back off her and let her come back into form.

"She has her own way of doing things, but she's a quite easy read.

"If you owned a horse good enough to win at Cheltenham, why not run it in a race it's good enough to win?

"If she was running in the Champion Hurdle or the World Hurdle, she might have only won one mares' race and maybe finished second or third in either of those races.

"This race was made for her and we're going to keep her in training.

"Someone said something about breeding but I told the owner I'll buy him a foal or I'll buy him two if she stays in training!

"She is in good order and they are racehorse owners rather than breeders, so I'm happy to race her."
Ruby Walsh added: "It's been a bad day but she's some mare.
"She travelled and jumped brilliantly. The owners aren't breeders so why not do it?

"It wasn't a mad gallop but she travelled really well and jumped really well. When the gap came in the straight, she accelerated really well.

"We didn't have much room coming down the hill but I knew I had loads of horse. I sat where I was and she did what she had to do."

Walsh was full of praise for Mullins, saying: "It's some going bringing her back here four years in a row, three years even without a prep run. It says enough doesn't it?

"It's not as easy as he lets on."