Yana Shemyakina won Ukraine's first-ever individual fencing gold at the ExCeL tonight - but it came following one of the biggest controversies the sport has ever seen.
South Korean Shin A Lam left without a medal in the women's epee, but with the sympathies of everyone in the crowd after spending an hour on the piste, much of it in tears, while an appeal into her semi-final defeat to Germany's 2008 champion Britta Heidemann went on.
The 25-year-old world number 12 had thought she was through to the final when, to her horror and that of her coach Shim Jaesung, the clock was reset from zero to one second.
The score was 5-5 at the time, but that would have been good enough for her under the rule where one fencer is awarded "priority" when a contest goes into sudden death.
But when the action resumed under the instruction of referee Barbara Csar Heidemann scored a do-or-die hit that eventually put her through to face Shemyakina.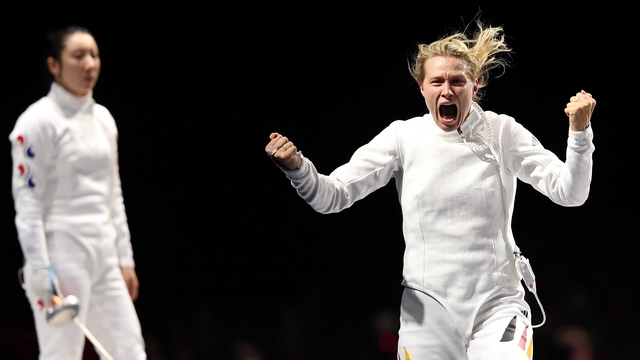 At one point the audience could hardly believe their ears when they were told that International Fencing Federation rules required the Koreans to lodge money - an unspecified amount - before the formal appeal could be heard.
A distraught Shin never left the stage throughout, the crowd having been told that if she left it was an acceptance of defeat.
The furious Korean coach launched an appeal against the decision that had allowed the fight to continue after the clock changed.
The bronze medal match and the final both had to be put back while the row went on, but almost 75 minutes later Shin was led off.
Amazingly, she was back on a few minutes later, but from 11-11 with under two minutes left she lost to world number one Sun Yujie.
That left the stage for Heidemann and Shemyakina and that went into a minute's extra time as well when they tied 8-8.
It was the latter who achieved the decisive hit as the fight headed into the last 30 seconds - with Heidemann this time needing only to see out time.