Ireland's challenge at London 2012
Updated: Friday, 20 Jul 2012 16:10
By Niall O'Flynn
Since the foundation of the state, Ireland can boast just eight gold medals from the Olympic Games.
In Irish terms, Ron Delany's gold (1,500m, 1956) is a truly singular achievement – Ireland's only gold medal in a sixty-year span, from 1932 to 1992; Ireland's first Olympic gold for twenty-four years, thirty-six years before the next. 'It is the single most important sporting achievement by any Irish athlete, ever,' says the former Minister for Arts, Sport and Tourism, John O'Donoghue. 'It's as simple as that.'
Michael Carruth agrees: 'For the absolute No. 1 Irish sporting moment, it would have to be Ronnie's win in Melbourne in 1956. Totally No. 1.' The last man to win Olympic gold for Ireland (boxing, 1992) smiles – 'And I'm No. 2.'
For those who hope to follow in their golden footsteps, however, the omens are not good. By the time of the London Games, 56 years will have elapsed since Ireland's last Olympic track and field gold. John Tracey (silver, marathon, 1984) and Sonia O'Sullivan (silver, 5,000m, 2000) came close, and so did Eamonn Coghlan (fourth place twice – in the 1,500m in 1976 and the 5,000m in 1980). And they were all very special athletes, world champions in their respective events.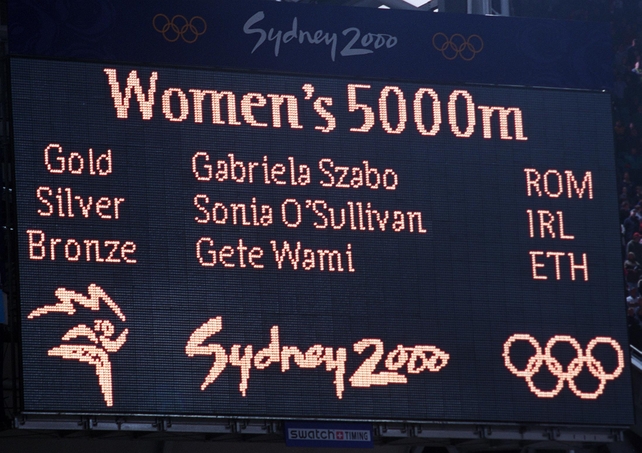 So, why, as another Games approaches, do we still expect so much from Ireland's Olympians? Where will the next success come from? Will it be in equestrian sports, an area of expertise in which Ireland traditionally excels? Will it be sailing, shooting, or triathlon? Is there any chance of success in track and field? Or will it, again, be boxing, as so many expect?
According to investment bank Goldman Sachs, Ireland will win one gold medal, and four medals in total, at the London Games. The bank, applying the techniques of picking investment winners to a study of the Olympics, predicted that Ireland will finish in 46th place in the medals table, well in the vanguard of the 200+ competing nations. That would be a significant improvement on 2008, when Ireland's three boxing medals, Ken Egan's silver and the two bronze medals won by Paddy Barnes and Darren Sutherland, pushed Ireland to joint 61st, with Austria and Serbia.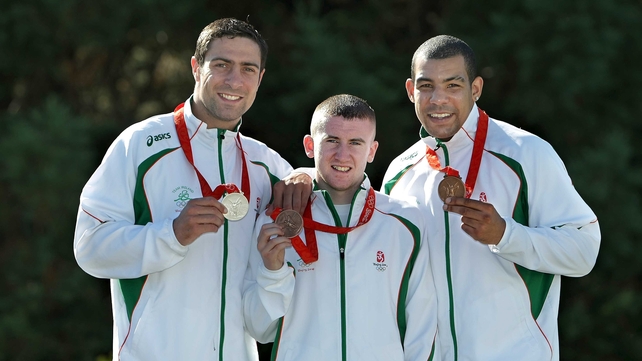 In London, Ireland will be represented by an even bigger boxing team - six in all, including, for the first time, a woman, the reigning world and European champion, Katie Taylor. The four-time world champion is unquestionably Ireland's best hope for a medal in London, but she is acutely aware that the prize will not be easily claimed. Taylor says: 'I am aware of the expectation that is on me, but nobody expects more of me than myself.'
Ireland head boxing coach Billy Walsh, who masterminded Ireland's three medals in Beijing, insists that Taylor will be the one to beat in London. 'Katie is the flagship of the women's sport and one of the main reasons it got into the Games. Other countries are chasing her and trying to find ways to beat her. Without improvement they would be catching up on her, but Katie continues to improve. She is only 26 and time is still on her side.'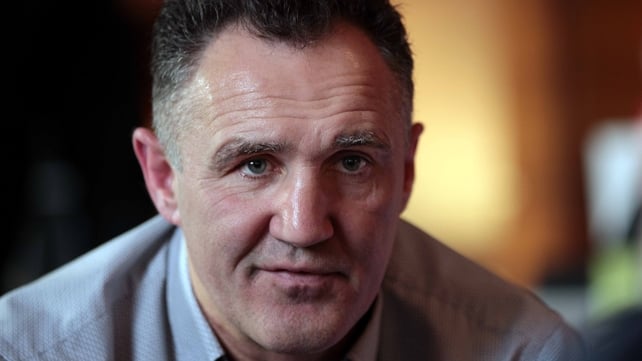 In London, Ireland will be represented by 65 athletes, across 14 sports. That's a substantial improvement on Beijing, when 54 Irish qualified, in 12 sports, and Athens, when the Irish squad numbered just 49. For the first time, Ireland will have representatives in modern penthathlon (Natalya Coyle), women's judo (Lisa Kearney) and women's boxing (Taylor).
There have been improvements, too, in results, with Irish Olympic sports culling well over a hundred medals in the three-year lead-in to London: 2009-2012. A 2012 report on the Irish Sports Council's High Performance Programme, which has, since 2001, pumped €86 million of taxpayers' money into top-level sport, indisputably shows Irish teams and athletes winning an increasing proportion of world and European medals - and proves that, whether we like it or not, a 'money in, medals out' system works. In the run-up to the Beijing Olympics, by comparison, Irish sports won just 70 medals. And in the cycle before that, 2001-2004, leading up to the Athens Games, the total medals won was just 54.
So, what can we expect for the €37 million Ireland has spent on high-performance sport in the years since the 2008 Games? Boxing, Ireland's most successful Olympic sport, remains the most likely to produce medals. In addition to Katie Taylor, the Irish squad can also call on the firepower of an Olympic bronze medallist (Paddy Barnes), a two-time world medallist (John Joe Nevin) and a European silver medallist (Darren O'Neill). The latest AIBA rankings show four of the Irish team in the world's top ten - Nevin (4), O'Neill (7), Michael Conlan (9) and Katie Taylor, the four-time world champion, who has held the number one spot in the lightweight class for the last six years.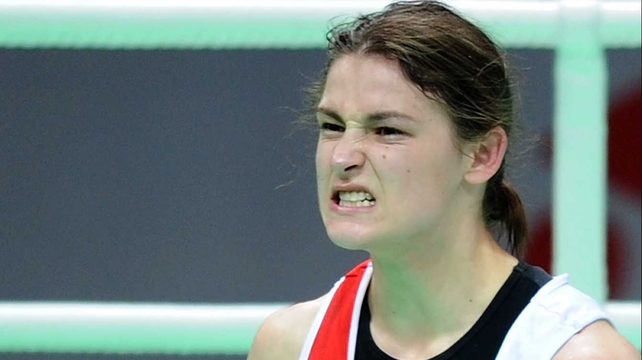 As befits an island nation, Ireland can also be expected to threaten for medals in the water sports in 2012. Canoeist Eoin Rheinish was desperately unlucky not to medal in Beijing - he finished fourth in the K1 slalom.
'The fact that I was fourth kills me. I want one more crack at it,' says Rheinisch, who is going to his third Olympics.
Rheinisch remains a good outside bet for London, but the smart money is still on sailing. Joining Annalise Murphy as genuine medal prospects are Peter O'Leary and James Burrows, who compete in the men's Star class. Gold medal winners at the pre-Olympic event, Sail for Gold, on the same Weymouth waters, O'Leary and Burrows, both returning Olympians, have the class and experience to make the podium in London.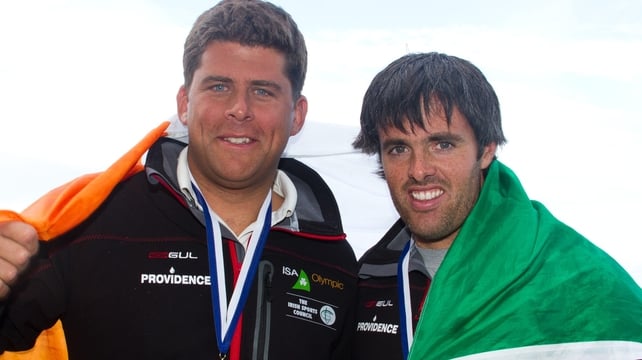 The vast bulk of the Irish representation in London, however, will be track athletes. In all, 23 athletes have qualified - including the reigning European cross-country champion Fionnuala Britton and former world indoor champions Derval O'Rourke and Alistair Cragg.
Former world champion Sonia O'Sullivan, chef de mission for the Irish team in London, singles out walkers Olive Loughnane, the 2009 world silver medallist, and Robert Heffernan, as potential medal winners. Both walkers finished in the top eight in Beijing, both are ranked in the world's top 20, and both are vastly experienced, heading to their fourth Olympics. But the Sydney silver medallist added this warning: 'Athletics is very difficult - it's one of the hardest sports in the Olympics to get a medal in, one of the hardest to do well in. There are a few chances, but it's very, very difficult and everything has to go right on the day.'
TEN TO WATCH IN LONDON:
• Katie Taylor, Boxing
• Paddy Barnes, Boxing
• John Joe Nevin, Boxing
• Robert Heffernan, Athletics, racewalk
• Olive Loughnane, Athletics, racewalk
• Peter O'Leary & David Burrows, Sailing
• Annalise Murphy, Sailing
• Eoin Rheinisch, Canoeing
• Billy Twomey, Show jumping
• Aileen Morrisson, Triathlon
DARK HORSES FOR A MEDAL:
• Cian O'Connor, show jumping
• Fionnuala Britton, Athletics
• Derval O'Rourke, Athletics, hurdles
• Nicholas Roche, Cycling
• Darren O'Neill, Boxing
• Derek Burnett, Shooting
• Deirdre Ryan, Athletics, high jump
• Grainne Murphy, Swimming
Niall O'Flynn is a journalist and producer with RTÉ TV Sport. He is the author of the 2008 book, Ireland's Olympians, which is being re-released as an ebook for the London 2012 Olympics.