By Tadhg Peavoy
Email: Tadhg.Peavoy@rte.ie
Toomebridge's Eugene Laverty has said he is more than happy with his fourth-place finish in his debut World Superbike Championship season.
The 25-year-old star told RTÉ that while missing a podium spot was disappointing, he had achieved his goal of a top-six spot.
"I started the year aiming to finish top six in the championship. Going into the last round I was third. But in the end Max Biaggi just pipped me; although we finished equal on points and he got it on a countback," he said.
"So, that was a little bit disappointing to be so close [to a podium finish] but I didn't expect to be top three at the start of the year, so it wasn't so important anyway."
Laverty feels that he needed the debut season to get a feel for the extra power of Superbike and that he should improve again next season
"Every day I arrived at the track it took me the first day of practice to catch up with the other guys and start low down in the order. Although I had ridden the tracks before, they felt very new with the extra power of the Superbike underneath me.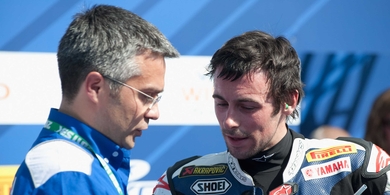 "There were a few tracks that I had tested the Superbike at previously and those tracks I was able to arrive and be quick immediately on the Friday. So, that's what I'm looking forward to next year: doing that week in, week out. I've got the learning year under my belt now."
Laverty knows the key to more success next year is performing better in practice and qualifying, thereby getting good starting positions on the grid.
"[Next year] I'll be starting right at the top, rather than playing catch-up and having to work really hard. A lot of the time in first practice we might have been as low as 13th position and having to work your way up - even at Silverstone," a track which Laverty has raced countless times throughout his racing career.
"In the British round I think I was outside the top ten on the Friday. I managed to pull out two rostrum finishes on the Sunday," Laverty continued.
"If we're able to start top three in first practice then it's not as much of an uphill struggle."
He also feels that getting to the front row in qualifying, rather than pole, is what is most crucial.
"There were times I was up to speed. By the time qualifying came around I just missed out on the pole position. I think I was second on the grid maybe four times and I was so close in Silverstone; it was a few thousandths of a second at Silverstone. In France as well I was pretty close again. There were a few others I just kept missing out.
"For qualifying there's always going to be somebody who's willing to put their neck on the line. I was always happy to get front row, for me that was the most important.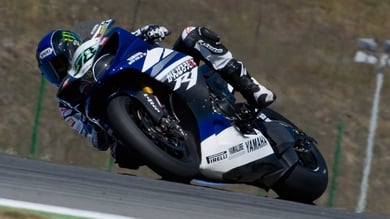 "The way our qualifying format works you've got one lap to go and do it. But if you crash on that one lap you find yourself lower down the order. So, I was always happier getting a really good lap in, rather than a complete balls-out lap to win it or bin it I, guess. All you get is pole position at the end of day - you don't get a race win."
The Northern Irishman has also praised championship winner Carlos Checa and stated he will again be the man to chase next season, while highlighting himself and Marco Melandri as challengers for the 2012 crown.
"Checa gels really well with the Ducati. His riding style suited the bike, it was manageable, the bike; whereas some of the other bikes were more of a handful this year. We could achieve the same lap times, but Carlos was able to do it for 20 laps, consistently. He did a great job being consistent and that's always going to be important when you've got so many strong riders in the championship.
"Considering he won more than half the races this year, he's got to go into the next season as the favourite. But I think he knows I'm going to step it up a little bit and also Melandri in his second year in a Superbike as well. He's not going to have it easy."
Laverty has said Monza was his favourite race and circuit of the season, as well as a career highlight.
"I really enjoyed Monza, where I got my double victory; that was a special day. Just to get one victory so early in my Superbike career was special. But then to get another one just a few hours later – that was the best moment in my career so far."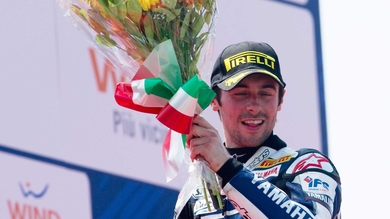 The former World Supersport Championship rider believes one of the most pleasing aspects of his debut season was his consistency.
"The thing that surprised me most about my own performance was that I was consistent. I was always consistent around fourth position. I want to be stepping that up to be consistent in first and second. There's hasn't been one specific thing I've learnt [this season]. There's been a lot of lessons to be learned and I've taken it all on board."
Laverty raced with Yamaha Racing for 2011, but with the team withdrawing their factory support for next season, he has signed for Aprilia Racing Team for 2012 and feels the change can only help him.
"Max Biaggi was the world champion on the Aprilia last year [2010], so the bike's obviously capable. When Yamaha announced their withdrawal I had to look somewhere else. And, I'm confident I'll have the package to fight for the title next year."
Tadhg Peavoy was in conversation with Eugene Laverty on 9 November 2011.
Read an interview with Eugene Laverty from November 2010, here.