Rory McIlroy reunited with cop who got him to course on time for Ryder Cup
Updated: Tuesday, 02 Oct 2012 11:53

| Comments
Ryder Cup hero Rory McIlroy has been reunited with the police officer who rushed him to the course for the final day's play at Medinah Country Club.
McIlroy almost missed the start of his match with Keegan Bradley after being confused by American time zones.
The Northern Irishman was still at the team hotel when he got a panicked phone call telling him he had 25 minutes to get to the first tee.
He was bailed out by Pat Rollins of the Lombard Police Force in Illinois, who radioed ahead to ensure intersections were cleared in a dash across the Chicago suburbs.
McIlroy made it in time to take a couple of practice swings before he overcame Bradley as part of Europe's dramatic comeback from 10-6 down to retain the trophy.
The world number one has spoken of his gratitude towards Rollins and a picture on his Twitter account showed he had taken the chance to say thank you in person.
Me with my chauffeur who drove me to the course yesterday!! #betterlatethannever say.ly/Dbq4hSV

— Rory Mcilroy (@McIlroyRory) October 1, 2012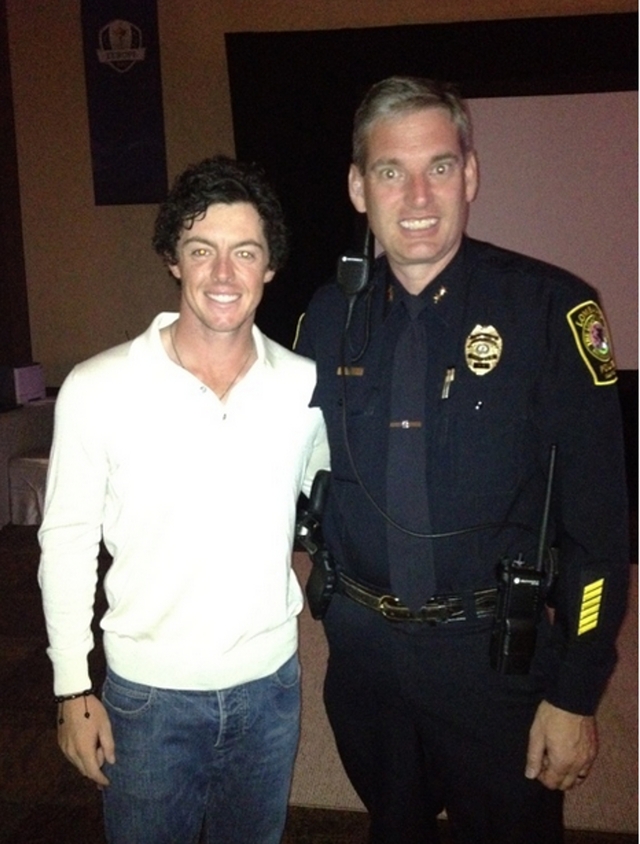 Speaking to BBC Ulster this morning, Officer Rollins - who has become known as the "Ryder Cop"- said he's already been "teased a bunch of times" by his colleagues that he "should have taken him somewhere else".
But he added "we take care of everybody" and stressed that the members of the European team "were guests of ours".
"We would have done the same for any American or European player, though I must admit it was extra special that he is the world number one. I'm a big golf fan and I knew who he was. It was a great event, an exciting event. I'm just glad I could play my small part."
Despite the fact the United States team lost, Mr Rollins says he's no regrets over helping Rory to the course. "I'm ok with it" he said this morning adding that "the game of golf is played on the course, it's not about the road they travel to get there".
Rollins has received some ribbing for his contribution towards the United States' defeat.
"They jokingly said if I hadn't, the USA would have won the Ryder Cup. But the Ryder Cup should be settled on the course, not in traffic.