Graeme McDowell's driving, in every sense of the word, is proving a problem, but the former US Open champion believes this week's Irish Open will be a "walk in the park" compared to last week.
McDowell was joint second after the opening round of the US Open before fading to finish 28th, 18 shots behind winner Martin Kaymer, who was one of only three players to finish under par at Pinehurst.
A far easier test is expected at Fota Island, where McDowell made his Irish Open debut in 2002 and Soren Hansen won the title in a four-man play-off after finishing 14 under par.
That was one of just six cuts McDowell has made in 12 appearances in the event and the 34-year-old hopes an improvement off the tee can see him challenge for his national open in Cork.
"I'm struggling driving on the left-hand side of the road for a start," joked McDowell, who is based in Orlando for most of the year. "Pulling out of the airport last night I was very confused.
"I had two drivers in the bag this morning in practice, so it's a work in progress shall we say. I'm not driving the ball the way I'd like to, but it's a week like this where I can hopefully get dialled in.
"At Pinehurst you don't get a lot of drivers in your hand and typically I drive the ball better on golf courses where I hit a lot of drivers. Maybe I can get into a bit of a groove and get my confidence back again.
"It's a pretty-looking golf course. There's a few kind of blind tee shots and you've got to move the ball around a little bit. The rough is pretty lush in places so you've got to drive the ball well.
"The greens are fairly receptive, (although) maybe after a few days of sunshine they might bake out a little bit. But it feels like a proverbial walk in the park after Pinehurst, put it that way. Golf feels fun again."
Shane Lowry was still an amateur when he became the last home winner of an Irish Open in 2009, while McDowell and fellow major winners Rory McIlroy, Darren Clarke and Padraig Harrington all missed the cut at Carton House 12 months ago.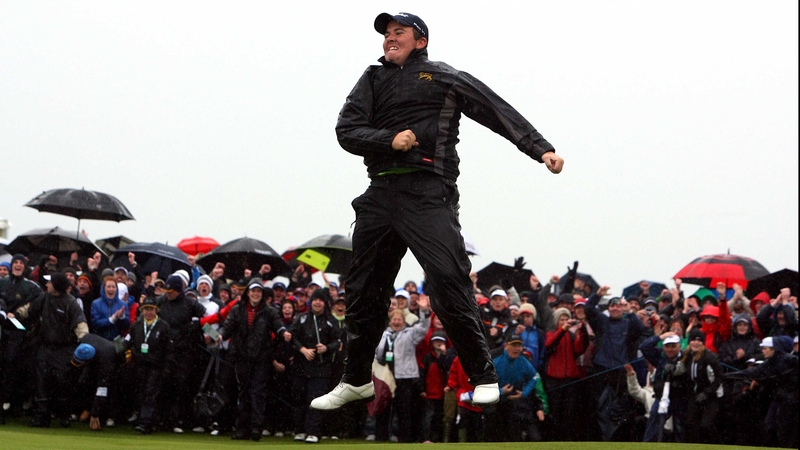 McDowell admits he would love to win the title and hopes arriving in Cork a day later than usual after playing a practice round at Open Championship venue Hoylake on Tuesday will boost his chances.
"My record is not really shining in this tournament, but I'm certainly here to try and put pay to that this week and this is the type of golf course that I feel like I can win an Irish Open on," McDowell added.
"I know I need a good summer to do it. Do I sit down every Monday and study the Ryder Cup rankings? No, I don't"
"Talking with my caddie we were saying if the sun was shining here come the weekend, going down the stretch Sunday afternoon with one of the other Irish players would be a pretty special thing to be involved in.
"I figure there will be big crowds here this weekend and I'd love to be part of that.
"I love coming to the Irish Open but there's obviously a lot of demands on our time here. People want photos and autographs and they don't get to see us very often.
"I do like kind of floating in under the radar in this tournament just from an energy point of view and using my time as effectively as I can.
"And sneaking in that little practice round for a major championship just takes the pressure off when it comes to the Open as well."
With 100 days to go until the Ryder Cup, McDowell is currently well outside the automatic qualifying places but added: "I can't really put myself under pressure to make the team.
"I know I need a good summer to do it. Do I sit down every Monday and study the Ryder Cup rankings? No, I don't."
McIlroy's place in the team looks assured and the former world number one has other targets on his mind at Fota Island, where he also revealed he would like to represent Ireland in the 2016 Olympics.
The 25-year-old is within sight of leader Thomas Bjorn in the Race to Dubai and can also get back into the world's top five with a good performance.
"It's a special week for the Irish guys," said McIlroy, who was reunited with his clubs on Wednesday morning after they got lost in transit from the United States.
"We all make an effort no matter where we are to come back and support this event, and it's shaping up to be a good week.
"There's a lot to play for me this week personally so it's not a week I'm taking lightly. I want to come here and put my best foot forward and try to get another win.
"I've been disappointed with my performances in The Irish Open up until this point.
"I think I've managed a couple of top 10 and that's really been it. It would be good to at least give myself a chance to win and feel like I have a real chance going into the last couple of days."
Watch Live Online coverage: Irish Open on RTE.ie, Republic of Ireland only (Thursday 19 June from 11.15am, Friday 20 June from 10.05am, Saturday 21 June from 12.50pm and Sunday 22 June from 12.10pm)