Leaderboard (External website).
By Ed Leahy
1830 So that's it from The Open for another year. Thanks for staying with us here for the weekend. I'm off now to look for a big man carrying a jug who's hosting a monster party tonight...
1825 And now Clarke takes centre stage and accepts that most coveted of trophies, The Claret Jug. Clarke asks permission from the R&A to fill the Jug with some of that 'black Irish stuff' later on. Lots of thank-you to all the important people in his life and a special thank-you for manager Chubby Chandler. And finishing off with a big thank-you to the crowd who got him through the weekend.
1815 Tom Lewis takes the Silver Medal for finishing as top amateur.
1811 Clarke close to tears as he speaks for the first time as Open champion. It's for the kids, says Darren, who are back home playing at Royal Portrush this afternoon. He is now looking forward to the celebrations that should go on and on.
1805 Hugs and kisses all around as Clarke celebrates with his family and friends and wanders off to sign his card. Jimenez among the well-wishers waiting en route.
1803 Johnson leaves it just short to share second place with Mickelson. Clarke now with a par putt for The Open. Just short by an inch and Clarke laughs before tapping home for The Open and the Claret Jug.
1801 Johnson chips out leaving a ten-foot putt for second place. Clarke gets a bit carried away and drifts ten feet past the hole.
1759 Clarke nudges a five iron up to the green and safely sitting just off the edge of the putting surface. Johnson finds the bunker and Clarke will just roll a couple of putts down for his first Major victory.
1756 Thomas Bjorn putts to finish with a par and on one under for the tournament. Fowler ran out of steam on the back nine with two bogies but holes a ten-footer for par on the last to post a very respectable level par for the tournament.
1755 Johnson drives into the crowd and one good drive for Darren here and he can start to think about hoisting that famous jug. Clarke drives it straight down the middle - now go and enjoy this walk, Darren.
1750 Johnson gets up to the hole but just off line and Clarke should be home and hosed here...... oops, Clarke misses from four feet and drops a shot. Three ahead going down the last. Jumenez finishes with an eight-over 78 to post seven over for the tournament.
1748 Darren putts from off the green at the 17th flag and gets it to within four feet. Should make par but if Johnson can make birdie it could make it just a little bit nervy for Darren.
1744 Mickelson comes home in 68 to post the first under par round finishing on two under. Anthony Kim fails to come home under par with a final hole bogey to finish level par for the tournament. That leaves just four players under par for the tournament. And that makes Clarke's performance even more impressive to be seven under in these conditions and two under on the final day's play at a major.
1741 Clarke gets his drive away on 17 without any problems, in the first cut of rough. Just one more drive on the 18th and Clarke can enjoy that long walk into the final green to victory.
1739 Poor Phil Mickelson hits his second into the grand stand on the 18th. He just laughs knowing how close he came to taking the Claret Jug home.
1736 Misses and stays at three under, four behind Clarke. Clarke with par putt now to stay seven under with two to play. No problem for Darren, off to the 17th.
1734 More rain on the course but it looks like it would take a Jean Van de Velde special to prevent Clarke from winning it now. Rolls his putt up to the hole on 16 and should make parr without too much trouble. Johnson for birdie...
1732 Clarke hits the middle of the green on the 16th so a par should be a formality here. Johnson follows him onto the dancefloor with a good chance of a birdie. Still trying to hang in there, to his credit.
1730 Par for Darren on the 15th leaving him four shots clear with three to play. Now for the par three Thomas Bjorn 16th... Stay clear of that greenside bunker, Darren.
1725 Another lucky hop sees Clarke ball bounce over the greenside bunker. And Clarke doing the stewards' job for them as he hushes the crowd to allow Fowler and Bjorn tee off in peace on the 16th tee.
1722 Darren in a little bit of trouble down the 15th fairway but should have a shot into the green. Bjorn's challenge slips away with bogey on 15th. Another par for Fowler and could be in with a shout at second place.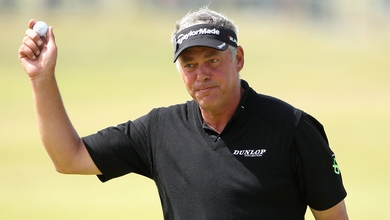 1717 Johnson misses and it's a four-shot lead with four to play for Clarke. Mickelson goes for broke on the 16th but flies his birdie putt past the hole. Misses his par putt and back to two under. No links victory for Lefty this year.
1715 Rickie's run of pars ends on the 14th with his first bogey. Clarke taps in for par on 14 after nudging his par putt just past the hole. Now Johnson needs this putt for bogey to have any chance.
1711 Clarke lays up and Dustin Johnson goes for the green in two but......oh dear, squirts it right and OUT OF BOUNDS. This is Clarke's to lose now. Johnson will be lucky to make bogey now and if Clarke can grab a birdie, this could be all over.
1707 Johnson nails his drive straight down the middle with a very brave shot. Clarke goes left, naturally enough, but only just and very well placed for his secong shot. Mickelson drops another and now back to three under. Is that it for Phil with three to play and four shots behind Clarke?
1705 Johnson and Clarke make par on 13th and now for the fun and games of the par five 14th. Risk and reward here with out of bounds running all the way down the right. If Johnson can get down in two, it could make things very interesting.
1704 Chad Campbell makes birdie to finish on level par and take the clubhouse lead.
1701 Mickelson safely out of the fairway bunker on the 15th. Needs one of his magic wedges now to save par. Otherwise, you'd have to say that Lefty will come up short in this race for the Claret Jug.
1658 Raphael Jacquelin is the new clubhouse leader on one over after a final round 69. Chad Campbell with a putt on the final hole to post 69 and finish on level par.
1653 Mickelson lets another birdie chance of 14 slip past the hole, while Rickie Fowler does the same a hole back to make it 13 pars in a row. If just a couple of those were birdies, he'd be in the mix here but now looking like a very solid top five finish.
1650 Johnson takes birdie to move to within two of Clarke. Clarke leaves his birdie effort short and settles for a par. Six to play and two shots clear.
1645 Another lovely hop off the bank on the edge of the 12th green sets up a birdie chance for Clarke. Johnson follows him in to give himself a chance to move second on his own.
1642 Simon Dyson shoots a level par 70 to finish on two over and end the tournament as the top Englishman in the field.
1639 The rain returns as Mickelson drives left into some heavy rough on the 14th. Johnson and Clarke safely down the 12th fairway.
1635 A sweet bunker shot from Clarke leaving about six feet for par. Mickelson has a par putt coming up on the 13th from about six feet. And misses. That's Mickelson back to four under. Clarke can take a three shot lead if he sinks this par putt. No problem for Darren. Three up with seven to play. Johnson now back in contention sharing second place with Mickelson, three shots off the lead.
1633 Clarke rolls off the 11th green and back into a bunker. Tricky up and down coming up.
1630 Rickie Fowler just sinks an eight footer for par number 11 in a row. Fowler is a player who has gone way up in my estimation this weekend. Playing in the worst conditions on all four days and he has just been going about his business with no nonsense. When the rain was hammering down there a while back, most players were wasting time with towels and waterproofs while Fowler stood out in the middle of the driving rain and played away.
1625 Clarke's birdie putt looks good all the way and great pace but lips out and another par with eight to play. Johnson can get to four under with birdie here and... straight in. Now only three off the lead.
1623 Clarke on the tenth green and another birdie chance coming up. Anthony Kim sinks another birdie to go two under.
1607 Clarke's birdie attempt falls short and leaves three feet for par. Mickelson, likewise is a bit tentative with his birdie effort and leaving a two-footer for par. Ouch, Mickelson misses and has to settle for a bogey. A bad loss of concentration there for Lefty.
1604 Clarke's second at the ninth looks to be heading straight for a nasty bunker at the front of the green but the ball takes a hop and clears the bunker leaving a long birdie putt as a result.
1602 Rickie Fowler makes it nine pars in a row and will need to get a bit more aggressive on the back nine. Mickelson finds the green on the par three 11th, leaving an outside chance of a birdie as he is still a good distance from the hole.
1601 Tom Watson signs off another Open in 25th place as things stand with a final round 72 to finish on six over par.
1600 Another birdie for Mickelson on the tenth. That was the best part of 20 feet again and Lefty is loving it on the links today.
1556 Just six players under par at the moment but surely this is now a two horse race with some exceptional required from the other four to land the trophy. Clarke two-putts the eighth to stay two clear but over on the tenth, Mickelson has another birdie attempt coming up.
1550 Sun is shining again. And so is Thomas Bjorn with birdie on the eighth to move three under. Clarke gets a great kick on the eighth to set up another birdie attempt.
1545 Here comes the rain again.....absolutely hammering down now as the players duck for cover and break out the waterproofs. Shouldn't last too long but really lashing at the moment.
1543 Mickelson to get back to within one shot. Just drops below the hole and Lefty has to settle for a par. That putt was for a front nine 29.
1542 EAGLE.... Clarke takes a two shot lead with a beautiful putt for three on the par five seventh.
1540 Back to the battle at the top and Mickelson has another good birdie attempt on the ninth. Johnson leaves his eagle putt a bit short and not guaranteed a birdie. Clarke with eagle putt, here goes...
1536 McIlroy believes he shot himself in the foot on Saturday dropping some shots and had too much to do today. McIlroy says he is not going to change his game to suit the links as he only plays one week a year. He also believes he can win The Open, he just needs to wait for a year that the weather is good.
1530 Sergio finished with birdie to post 68 and take the clubhouse lead on two over. Rory settles for final round 73 to finish the tournament on seven over par. Fowler left himself with a 15 footer for birdie on the seventh but misses and taps in for par - that's par number seven out of seven. Bjorn misses a five footer for birdie and stays on two under.
1528 Mickelson also lips out on the eighth - getting very tasty here in Sandwich...
1525 Clarke lips out on the sixth and takes his par with the easy seventh hole to come next. Johnson cannot get up and down and loses another shot to the leaders as he joins Rickie Fowler on two under.
1522 Johnson just off the green on the par three sixth and Clarke punches his four iron onto the green and another birdie attempt coming up. Mickelson still tearing up this course as he nails his approach to eighth to set up yet another birdie putt. Lefty started the day at 20-1 and is now 7-4 favourite to land the Claret Jug.
1520 Birdie for Bjorn on the sixthto get back level for the round and two under, just three off the lead. Rickie Fowler makes it six pars in a row to also sit three off the lead.
1516 Another monster putt for Mickelson to take a share of the lead after sinking it from 30 feet. Johnson hits a weak chip onto the fifth hole and two putts for par.
1515 Phil Mickelson is on fire...
1511 Mickelson finds the seventh green with his second shot and sets up an eagle attempt to tie the lead with Clarke. Clarke's second to the fifth safely on the green but will be happy to get down in two from there. Anthony Kim gets close with his eagle putt and taps in for birdie. Over to you Phil...
1507 The fifth hole is 419 yards long and Dustin Johnson has just driven the ball through the green. The drive carried over 340 yards befor hopping through to the green and beyond.
1502 Tom Lewis gets home in 74 to post nine over and secures the Silver Medal. Jimenez's challenge is all but over after triple bogey on the fourth. Now three over, eight behind Clarke.
1500 Mickelson continues his charge at the leaders and sinks another birdie to move three under. Clarke's putt runs out of steam and falls below the cup for his first dropped shot. Mickelson now joins Johnson just two shots behind Clarke.
1458 Clarke in a bit of trouble on the fourth and has to pitch from about 60 yards for his third shot. Gets it to within eight feet so another tricky par putt coming up.
1452 Mickelson on the sixth tee finds the middle of the green, pin high, leaving a 20-footer for birdie. Lefty's cap actually came off half-way through his swing, did well to maintain a good swing. Rickie Fowler tipping away nicely with four steady putts to remain two under.
1446 A long par effort for Clarke is aggressive and leaves himself with another tricky par effort. No bother to Darren though as he makes another great save and Johnson misses his shorter putt to drop back to three under. Three shot lead for Clarke now. Oosthuizen signs off his defence with a 77 to finish on 13 over.
1439 Chad Campbell also making a move, now two under for the day and one under for the tournament. Birdies on the 2nd, 3rd and 7th after an opening bogey. Clarke tries to chase a four iron up the third green but stays on the lower level of the green. Still a fine shot and should make par. Johnson follows Clarke down with a five iron but is also short.
1437 Dustin Johnson misses his birdie attempt, falling below the hole and Clarke rolls home his birdie putt to take a two-shot lead.
1433 Lefty is on the move with another birdie on the fourth to move to two under, just three behind Clarke now. Clarke responds with an excellent approach at the second and a decent birdie attempt coming up.
1424 Ryan Moore has hit the best round of the day, posting an impressive 69. So that's a clubhouse lead of eight over. Jimenez loses the shot he just got back on the third hole with bogey. Peter Uihlein home in 12 over after a 75 today. That means Tom Lewis has three shots to play with going down 16 for Silver Medal victory.
1424 Clarke sinks it from 15 feet. What a tough putt that was, downhill and left to right. Great save. Johnson makes par as well.
1420 Clarke with a very tricky birdie putt on the first green over a ridge and tehn picks up speed towards the hole. Johnson within getable distance for his putt for birdie. Clarke leaves it well short and sits up on top of the ridge and is left with a very tough par putt. Johnson misses his birdie attempt but will make par.
1412 A great reception for Clarke on the first tee box. Johnson goes into the crowd down the left and Clarke also goes left into the long stuff. Phil Mickelson and Anthony Kim grab early birdies, while Jimenez also birdies the second after a bogey on the first. Tom Lewis hits eight on the 14th but still well clear for the Silver Medal.
1353 For very different reasons, Thomas Bjorn and Rickie Fowler will have many supporters this afternoon. Bjorn will be hoping to exorcise the ghosts of eight years ago, while Fowler has been talked up as the next big thing. They're on the tee waiting for Glover and Jiminez to move along to the first green. The last-names duo hit modest iron shots to leave themselves with work to do.
1352 Mickelson finishes off his first hole with a solid four, while Kim has a straight-forward putt to do the same.
1351 Davis Love has no trouble finishing his second hole for a birdie to bring him back to level for the day.
1350 Spaniard Miguel Angel-Jiminez and American Lucas Glover, both starting on -1, hit solid tee shots to get their rounds going. The former is in the light rough but it doesn't look like a bad lie.
1348 Davis Love looked in trouble at the second but a brilliant chip from the left of the green spun back to within feet of the hole. That dropped shot should be negated.
1345 This is only the second time in 18 Open outings that Mickelson has started the final day within six shots off the lead. From the rough on the left hand side of the first, he overcompensates a touch to leave himself a very long putt from the right.
1341 Ryan Palmer is making an early move. The American parred the first, birdied the second and looks to have a very easy birdie chance at the third. If he can convert the opportunity, he'll move to 1 under for the championships.
1340 Phil Mickelson is on the course, playing alongside the mercurial Anthony Kim. Mickelson looks a little concerned as his tee-shot flies left but it's just in the light rough. Kim has no such anxiety, with a perfetly struck starter.
1335 Garcia's birdie chance comes up a couple of inches shy. An outward nine of 33 is a fine start but it could have been so much better.
1334 From a birdie chance on the first, Davis Love three-putts to drop a shot.
1332 From a perfect position in the middle of the ninth fairway, Sergio hits a terrific short iron to about six or seven feet. Can he get one of those dropped shots back? Meanwhile, Chad Campbell, who started with a bogey on the first, replies with birdies on two and three. One under today and par for the tournament.
1330 Good tee-off shots on the first hole from George Coetzee and Anders Hansen. The latter finished day three with a disappointing double bogey, which could be crucial when this tournament reasches its climax.
1329 Televised coverage of the event is still focusing on Darren Clarke, who's warming up for his final round. Meanwhile, Kaymer's putt was well judged but just a little shy of the cup. A tap in for par and a solid start.
1326 Former world number one Martin Kaymer is out on the course and he and Davis Love constitute the first group to begin the final day level or better. Kaymer plays a fine shot to the first green giving him a sporting chance at a birdie start.
1325 Unlucky for Sergio. A smashing putt ran along the lip but, like the eagle chance on seven, it stayed up. Double bogey 6 tempers his hot streak.
1321 Sergio in fear of double-bogeying the eighth. He was too brave with his second shot at the par four and that got him into trouble. After over-shooting the green with his third and chipping back past the hole, he faces a very difficult putt for bogey.
1312 And no sooner had I double checked the spelling of oscillating when McIlroy lines up his birdie putt, grounds the putter and the ball rolls four inches, handing Rory a one-shot penalty. The birdie putt turns to a par putt and sure enough he misses it and settles for a bogey. Sort of sums up his week here. Now six over for the tournament.
1310 The balls are oscillating on the green such is the strength of the wind so players have to be careful when addressing their putts. Garcia's putt hangs agonisingly over the cup but will not drop. Another tap-in birdie for Sergio.
1305 Sergio hitting what looks like a lofted club into the par five seventh. And he absolutely nails it pin high, leaving an eagle putt from about 20 feet. If this drops, Garcia would move into red figures and a share for fifth place.
1300 Darren Clarke speaking on the practice range hoping he can hit the ball as well as he was yesterday in more tricky conditions. It's Clarke's 20th attempt at Open victory this year and no one has ever won the event after more than 15 attempts. Not the greatest stat in the world but Darren would be quite happy to have it updated for next year.
1255 Those four-five feet putts wouldn't be Sergio's favourite part of his game but he sticks that one straight in the middle to stay one over through five.
1252 Miguel Angel Jimenez going through his mesmerising pre-round routine, complete with cigar in mouth. Back on the course and Garcia nails his bunker shot to four feet of the flag. McIlroy two putts for par to stay five over. Another par for Tom Watson on the fourth to stay four over.
1250 Garcia punches his iron at the par three sixth but the ball fades a bit too much and finds the greenside bunker.
1245 Sergio now in to one over after a tap in birdie on the fifth, which is almost driveable today. That's three under after five holes for Garcia - amazing golf from the Spaniard. Umbrellas starting to go up all around the course as the rain starts to fall. Fun and games in store if this rain persists, because the wind certainly isn't going anywhere.
1235 Tom Lewis looks like he has one hand on that Silver Medal after a sensational eagle on the seventh hole. He's now four shots clear of Peter Uihlein as both players approach the back nine. Charl Schwartzel another player on the move enjoying a birdie on the first hole to move to two over alongside Garcia.
1225 Sergio on the march. An unbelieveable putt from over 100 feet to land his second birdie of the day. Rory tries to follow him in from almost the same distance but zips one past the flag, leaving at least ten feet for par.
1215 Disaster for McIlroy on the third taking double bogey after taking an unplayable after his tee shot. Tom Watson is out on the course and enjoys par on the first hole.
1204 Two great approach shot by McIlroy and Garcia coming into with side of the green and two putts to match as both players sink their birdie putts to move to three over.
1200 Second tee and the hook is back for McIlroy as his drive careers left over the rope but looks like he has a good lie.
1155 Two pars for McIlroy and Garcia on the first with Rory just missing out on birdie, while Sergio enjoyed a great up and down for his four.
1150 There is also a great battle going on for the Silver Medal as top amateurs Tom Lewis and Peter Uihlein. Lewis currently has the edge on five over after two holes with Uihlein three shots back and three holes ahead.
1144 Bubba Watson has just his a monster drive to the edge of the 380-yard par 4 second hole. Unfortunately for Bubba, he three putts from just off the green and settles for a par to stay on five over.
1140 Rory and Sergio out together today so for some quality golf all but guaranteed here with two of the purest ball strikers in the game and possibly the best two iron players in the world at the moment. McIlroy first up and let's hope he can avoid the left rough which he found quite a lot in his early holes on Saturday. And once again down the left but safely on the fairway, so a good start for Rory. Sergio's drive also follows Rory down the left and just rolls onto the first cut of rough. No problems for either player here.
1135 Rory McIlroy is set to tee off in five minutes. An early run of birdies and possibly another 62, like his first round at St Andrews last year, may be required to have any chance of landing back to back majors. A big ask for sure, but if anyone could do it, well the Holywood man will definitely give it a go. Others on four over include Tom Watson, Sergio Garcia, Trevor Immelman and the in-form Pablo Larrazabal. One or two of this group are likely to set the early pace this afternoon.
1115 Weather report from the course - the good news is that there is no rain at the moment in Sandwich but the wind is pretty strong at this stage. A few showers are predicted throughout the day but nothing on the scale of Saturday's inclement weather.
1100 Defending champion Louis Oosthuizen is just about to set off. On six over, its fair to say the South African won't be taking the Claret Jug back home with him later this evening. Simon Khan is on the march - three under through nine but still seven over.
1030 Good morning. The final day of The Open is underway at Royal St George's. The first few groups are out on the course and we'll be following from now until the winning putt is sunk later this evening. Can Darren Clarke keep ahead of the chasing pack or will someone come out of the field with a low score to snatch the title from the Dungannon man's hands?