Darren Clarke remains in contention at The Open after shooting a level par 71 at the second round at Muirfield.
The 2011 champion sits four shots off Miguel Angel Jimenez's three-under lead and would be even closer had it not been for a quadruple-bogey eight on the par-four sixth hole.
But Clarke bounced back with two further birdies to go with his three in a row on holes three, four and five, before finishing with a bogey on the final hole.
Rory McIlroy bowed out after shooting a second round 75 to finish on 12 over, four shots off the cut of eight over.
However, there will be a strong Irish contingent in action over the weekend as Graeme McDowell, Padraig Harrington and Shane Lowry all made the cut.
McDowell sits seven shots off the lead on four over, while Harrington and Lowry are two shots further adrift.
Gareth Maybin also missed the cut after posting a disappointing 12 over
Laid-back Spaniard Jimenez has no doubts he is able to cope with the pressure as he bids to become the oldest winner of a major.
Although the Ryder Cup star shot a level-par 71 in the second round of the 142nd Open Championship today, it was more than enough to maintain his position at the top of the leaderboard at three under.
Julius Boros, an American of Hungarian background, holds the record for being the oldest major winner after his 1968 US PGA Championship triumph aged 48 years four months and 18 days.
Jimenez celebrated his 49th birthday in January, while he was laid up with a broken leg sustained in a skiing accident, but age proved no barrier to him producing a solid round of two birdies and two bogeys.
That kept him one shot ahead of world number one Tiger Woods, and fellow Ryder Cup stars Lee Westwood and Henrik Stenson, who are all considerably younger.
On range after my round Miguel a Jimenez walked past me with aviator sunglasses, cigar and bottle of wine. Maybe he is the coolest man alive

— Keegan Bradley (@Keegan_Bradley) July 18, 2013
Asked just how he was the clubhouse leader at The Open, the Spaniard replied: "Why? I have not the right to do it? Only the young people can do it?
"I've been 25 years on the tour, had 19 victories, and I would love to have a major on my career - why not this one?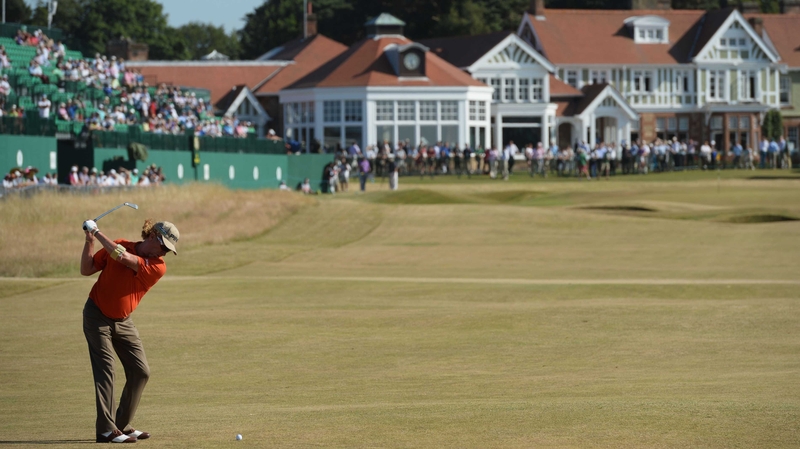 "Enjoy yourself what you do in life - that's the secret - that's what I'm doing.
"I feel relaxed and I love what I'm doing. I play golf, I do this for a living and I've been doing the same thing for 25 years.
"Probably some times people say maybe it's too many years but they're wrong.
"Anything that is important to you is going to make you feel pressure and to me golf is very important.
"A major is more important. Being on top of this major field makes you feel a lot of pressure - but that's what I'd like to feel on the golf course. I like to feel the pressure."
Jimenez is famed for his love of huge cigars, rioja and Ferraris - and lack of any sort of gym work-out like most of his fellow professionals.
But has no intention of changing his routine, which begins with 30 minutes' physio to help out with a tennis elbow problem, and will continue to keep doing the things he enjoys.
"You have to do the same things that you do every day. You don't need to change anything," he added.
"I'm leading now so I have to go to bed at 10 o'clock? Bulls**t.
"I'm going to hit some balls, I'm going to have a nice cigar, have dinner with my girlfriend and with my sons and when the sun comes up tomorrow I will deal everything."