Padraig Harrington missed out on a fourth victory in the traditional par-three contest on the eve of the Masters, but was unlikely to be too disappointed.
Since the event started in 1960, nobody has ever become par-three champion and Masters champion in the same week, with Harrington continuing the 'jinx' after wins in 2003, 2004 and 2012 - although he twice had to share the title after bad weather prevented a play-off.
The three-time major winner was in contention again today when he posted a three-under 24, but then saw Ernie Els and Nick Watney finish on four under, Watney by making a hole-in-one on the ninth.
Most players treat it as light relief and invite family or friends to act as their caddies, including the 'Big Three' of Jack Nicklaus, Arnold Palmer and Gary Player, who will be back together to hit ceremonial drives as honorary starters for the tournament proper tomorrow.
Rory McIlroy had tennis star girlfriend Caroline Wozniacki on the bag, saying: "It's very special. Caroline could have come last year but it did not quite work out, but I really wanted her to come and see what it's all about."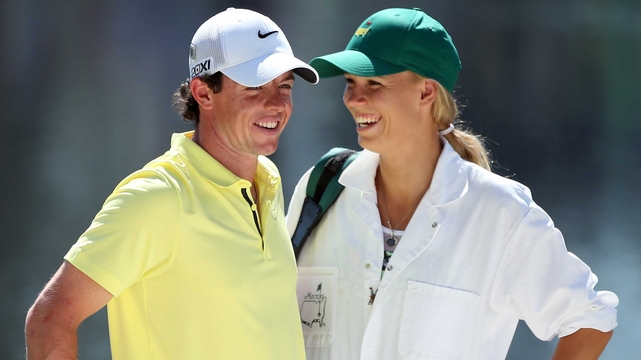 Bo van Pelt looked set to take over the lead when he reached the ninth green at five under par, but clearly believes in the jinx and let his sons have a putt each before holing out.
That meant his score would not count and left Els, Watney, Ted Potter Jnr and Phil Mickelson tied for the lead on four under.
Mickelson's score had initially been taken off the leaderboard, but was reinstated after clearing up some confusion over the total.
Matt Kuchar made it a five-way tie at the top on four under, while two-time Masters winner Ben Crenshaw carded a hole-in-one on the seventh.
McIlroy was less successful, letting Wozniacki hit his tee shot on the ninth and seeing her duff it only a few yards into the water.