Cork manager Eamonn Ryan believes that retired midfielder Juliet Murphy could have prolonged her inter county career by at least two more years.
Murphy, a seven-time All-Ireland senior medallist, announced her retirement from inter county and club football last week.
Ryan paid a rich tribute to Murphy, who featured on TG4's Laochra Gael series this year.
But he insists that the powerful Donoughmore player, regarded as one of the finest in the history of the game, had more to offer.
Ryan explained: "Juliet gave great service and she was a great leader on the field and a role model too, by how she acted off the field as well as on it.
"She was one of the catalysts for gelling the two factions – the older girls who had won nothing and the younger ones who won quite a bit.
"That gelling was not quite as seamless as sometimes it should be but thanks to Juliet and some of the older players, it happened.
"The older players then gave great example and the younger ones thought this was the way to go. She made a fierce contribution and I thought she had a few more years in her. I'd be confident she'd have gotten two more years."
Life without Murphy begins for Cork when they face Kerry on Sunday in the first round of the TG4 Munster Ladies Senior Football Championship.
The neighbours collide in Caherciveen (2.00) in what is a repeat of last October's All-Ireland final between the sides, a fixture Cork won by 0-16 to 0-07 at Croke Park.
"If they get the bit between their teeth, they will prove difficult to stop" - Eamonn Ryan
But the void left by Murphy is not the only one that Ryan is attempting to fill as Laura McMahon has also retired.
Norita Kelly, Grace Kearney and Aine Sheehan are travelling and Ciara O'Sullivan and Aisling Hutchings are ruled out through injury.
Cork will still start as favourites to claim a 10th successive Munster title this summer but Ryan is anticipating a massive challenge from Kerry as they look to avenge last year's provincial and All-Ireland final defeats.
Ryan explained: "We found it hard to beat them in the All-Ireland and they're a coming team. We played them in a match a few weeks go in Ballydesmond and what you have is a group of up and coming players.
"If they get the bit between their teeth, they will prove difficult to stop."
Monaghan, meanwhile, begin their quest for a fourth successive TG4 Ulster title when they face Donegal in Donaghmore on Saturday evening (7.00).
Monaghan, many people's tip for All-Ireland glory this year, blitzed Donegal in last year's provincial decider, winning by 5-25 to 1-08 as a first ever three-in-a-row was secured in Ulster.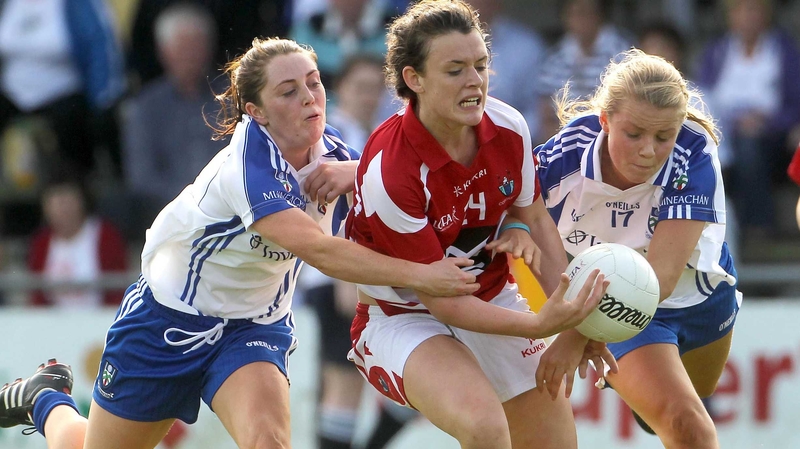 But Monaghan are without a competitive game since losing the Tesco Homegrown Ladies National Football League Division 1 semi-final against Mayo on 28 April.
Manager Gregory McGonigle explained: "The girls got their break for the week after Mayo before they came back and put in five-six weeks of tough training. Over the last two weeks, we've played challenge matches against Kildare, Meath, Dublin and Galway.
"It's given new players a chance and we've got football into Amanda Casey, Niamh Kindlon and Christina Reilly.
"Anita Newell was possibly number 26 or 27 on the panel last year but she's now in very strong contention for a starting place on the back of how she's played in those challenge games."
"Anita Newell was possibly number 26 or 27 on the panel last year but she's now in very strong contention for a starting place" - Gregory McGonigle
McGonigle has also predicted a renewed challenge from 2010 All-Ireland finalists Tyrone, who face Armagh in Sunday's second semi-final.
McGonigle insisted: "Tyrone are going to be a very strong team under Paudge Quinn and Brian McGee. But Armagh have a very good manager in James Daly, who guided Queen's to O'Connor Cup glory this year.
"Armagh probably underestimated Down in the Division 3 League final and aren't as bad as they were thawt day. Ulster is tough and the Tyrone-Armagh game will be very interesting."
In Leinster, meanwhile, Meath and Westmeath meet once more in the provincial Championship.
The prize for the winners of Sunday's preliminary round tie at Summerhill GAA grounds is a semi-final meeting with Laois on 30 June.
Meath beat Westmeath by 2-07 to 0-08 in last year's Championship clash.