Tesco Homegrown Ladies National Football League Division 1 champions Monaghan have received a massive boost with the return of experienced midfielder Amanda Casey to Gregory McGonigle's squad.
2008 All-Star Casey got married last month and has not played football for the Farney County yet this year.
But the Donaghmoyne star, who won an All-Ireland senior club title last year, has returned ahead of next Sunday's Division 1 semi-final against Mayo in Ballinamore.
Monaghan manager McGonigle confirmed: "The girls look up to Amanda a lot and her coming back has given the camp a lift again.
"She's a very popular girl in teh squad and it will make things even more competitive and keep a bit of pressure on the girls that are playing.
"We did talk at the start of the year about Amanda coming back and I told her that if she was back for the championship, I'd be happy enough.
"She's on a different programme to the rest of the girls and it's about trying to get her back up to speed."
Monaghan have already beaten Mayo in the League this year – by 1-15 to 2-6 in Aughnamullen last month.
Caoimhe Mohan scored 1-6 against the Westerners on that occasion but McGonigle admits that Mayo also have top forwards capable of wreaking havoc.
He said: "At the minute, Mayo, ourselves, Cork and Laois are the four strongest teams in the country and are in the Division 1 semi-finals.
"If Dublin can get their act together, they won't be too far away and possibly Kerry added in. Out of those six, you won't be too far away from the teams that can potentially win an All-Ireland. And Mayo are definitely up there. Just look at their forwards. Outside of Cora (Staunton), they have Sarah Roe, Deirdre Doherty, Fiona McHale and Aileen Gilroy.
"They have very good young players as well, with Claire Egan and Martha Carter adding experience. They're very strong all over and I would rate their management team very highly. I've worked with Peter Clarke and I think that he'll want to prove that Dublin shouldn't have got rid of him last year."
In next Sunday's other Division 1 semi-final, Laois meet Cork at Sean Treacy Park in Tipperary town, in what is a repeat of the 2011 final between the counties.
Laois have already defeated All-Ireland champions Cork this year, by 1-9 to 0-11 last month.
But O'Moore County manager and Dublin native Tom McKittrick insists that the Leesiders remain the team to beat.
He said: "Absolutely. They've won seven of the last eight All-Ireland titles and have won six League titles in that time. They're definitely the team to beat in Ladies' football, no question. Monaghan are right up there with them – they're the team leading teams to be fair and honest about it."
But McKittrick and Laois will travel in a positive frame of mind and in bonus territory after qualifying for the last four.
McKittrick explained: "The way it's worked out, we're delighted with th extra match.
"We have a few injuries and we lost Anna Moore a few weeks back – she's one of our midfielders and she's not going to make the game.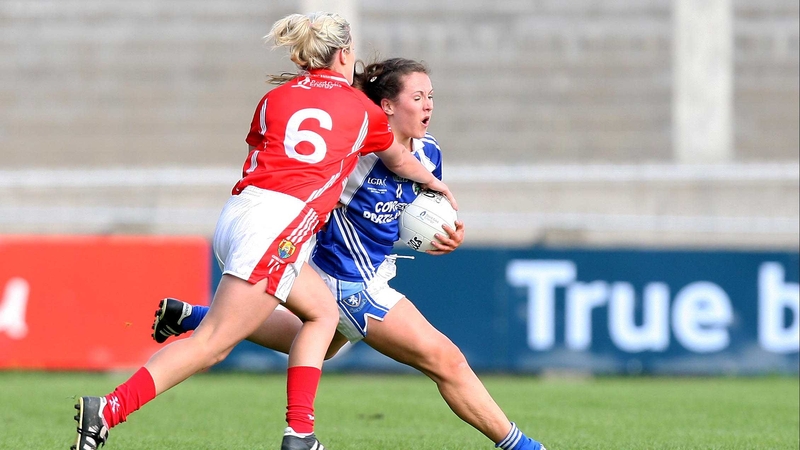 "Cork are raging hot favourites but we're out to play football, no matter who we play. We'll knuckle down and do our job."
The Division 2 and 3 semi-finals are also down for decision this weekend.
On Saturday, Kerry and Westmeath contest the first Division 2 semi-final in Tipperary town, with Galway and Kildare meeting in Banagher on Sunday.
Both Division 3 semi-finals are down for decision on Sunday, with Down up against Longford in Clones, while Armagh take on Tipperary in Mullingar (St Loman's).