Tipperary not finished article insists boss Eamon O'Shea
Updated: Monday, 18 Aug 2014 00:17

| Comments
Tipperary manager Eamon O'Shea insists that his team still have a lot to work on, despite blowing Cork out of the water in the All-Ireland semi-final.
Tipp hammered the Munster champions at Croke Park by ten points, though O'Shea says improvement will be required before next month's final with Kilkenny (7 September).
"I'm not trying to downplay the performance or appear any way calm about this; I think the performance was really good," he explained.
"I'm just saying they are not happy with their movement and their coming on to the ball.
"In terms of where it came from, these guys are calm. They are calm about what they do. They don't pay much attention to what is being said or written about them.
"We tried to get calmness around us, solidity around us, and to be something. That's all we want to be; to be something.
"What you saw was that solidity. When people are assessing Tipperary, sometimes I see the word 'flair' being mentioned.
"When I assess Tipperary I see the word 'character' first. Because you can't have flair without character. This team are really strong in terms of their character.
"That's the way it has to be. You can't get into an All-Ireland final unless the team has bundles of it."
Tipp were given little hope of making it this far, but their win over the Rebels sets up a fourth All-Ireland final in six years with Kilkenny.
"I think it's great credit to them," said O'Shea. "I said it to them that they should be proud of what they've done, in terms of the way they delivered on what they wanted to do themselves.
"We just put in a framework for them and I'm just happy for them."
Cork boss Jimmy Barry-Murphy didn't pull any punches in his assessment of what was one of the poorest performances of his latest three-year term in charge.
"I just think on the day we were comprehensively outplayed in many positions on the field," he said.
"I think when you're playing a team of Tipperary's quality, you can't hope to win the game [when that happens].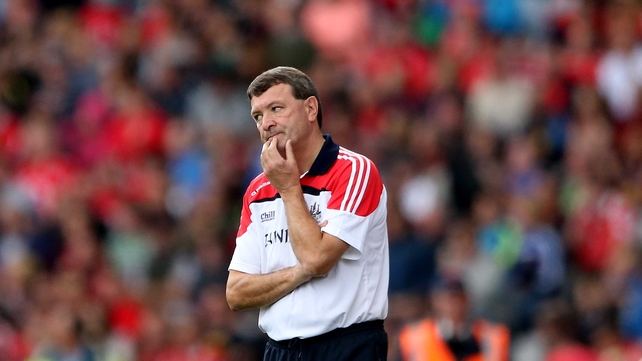 "Nine wides in the first half was shocking. It was very, very poor at times.
"That eroded confidence certainly. Free-taking was a problem as well. Different things didn't help us today.
"I thought two points down at half-time flattered us. The wides eroded confidence, heads seemed to drop because of that."
Barry-Murphy led Cork to within a puck of a ball of winning last year's All-Ireland before they lost the final after a replay to Clare.
However, he was non-committal about his future as Rebels manager.
"I'm not sure," he said. "I'll have to reflect on it to be honest and talk to the county board to see what they want to do."