Ger Loughnane predicts a summer of schmozzles
Updated: Monday, 09 Jun 2014 15:30

| Comments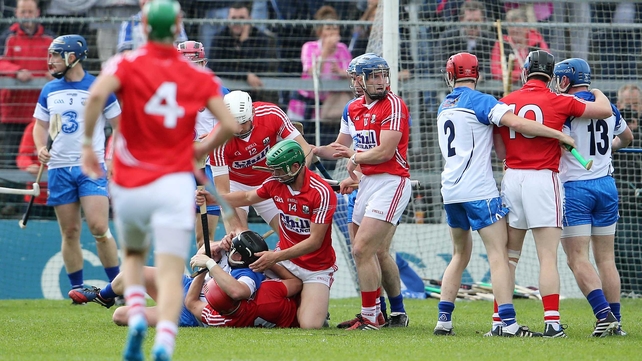 RTÉ analyst Ger Loughnane is predicting a summer of schmozzles if the hurling penalty rule is not sorted out.
The debate centres around a penalty-taker's technique of lifting the ball forward from the 20-metre line before striking for goal.
But during yesterday's Munster SHC quarter-final replay, Waterford goalkeeper Stephen O'Keeffe rushed from his goal to deny counterpart Anthony Nash's penalty, and was just a couple of yards from Nash when he struck the sliotar for a second time.
O'Keeffe blocked the shot but pushing and shoving ensued in the next phase of play.
The referees' committee confirmed to RTÉ Sport that once the ball is touched it is deemed in play and the goalkeeper can come out.
Therefore, O'Keeffe was perfectly entitled to close down the penalty-taker.
But former Clare manager Loughnane says it will lead to chaos.
"Now we have more confusion," he said on The Sunday Game.
"Now the man who is in danger is actually the striker of the ball because people are going to rush him and the danger is they'll keep going and [go] right through him.
"So we're facing a summer of goalmouth schmozzles if this isn't addressed. The GAA should address it, they shouldn't wait until next year's congress, they should address it immediately."
However, GAA president Liam O'Neill, speaking on RTÉ Radio's Morning Ireland, said that there is no way to change the current rule until congress meets.
"We can't address it until congress," he said. "We can't stop the championship halfway through and change the rules. We did try to address this at congress.
"The rule we tried to bring in would have affected all frees. We wanted it for 21-yard frees. Cork vehemently opposed it.
"What we want to do is have the ball placed somewhere outside the 21, ideally in the D somewhere and struck before the 20-metre line and we will address it at the next congress."
Former Tipperary goalkeeper Brendan Cummins added: "The world has changed for penalty-takers after Stephen O'Keeffe's [run]."