Analysis: Championship on fire right from the start
Updated: Sunday, 08 Jun 2014 10:41

| Comments
By Joe Dooley
This year's championship has picked up where last year's left off, with some very exciting games played; right now any one of a number of teams are in with a chance of lifting the Liam MacCarthy on the first Sunday in September.
Cork should avail of second chance
Cork were lucky to get the draw in last Sunday week's exciting game with Waterford. I was down Leeside last weekend and the general feeling is that if they can get more out of Seamus Harnedy and Conor Lehane in the replay then they should make it through to a juicy semi-final meeting with Clare.
To win they will also need the likes of Pa Cronin and Daniel Kearney to step it up and be much more disciplined at the back.
Waterford made all the running in the drawn game and I expect them to really put it up to Cork again on Sunday. Derek McGrath and his back-room team have done a great job this year and this was very obvious in the levels of determination and fitness shown and their first touch was top class.
The introduction of a few new young players like Austin Gleeson and Tadgh Burke has freshened up the team and the return of Shane O'Sullivan and Dara Fives will greatly strengthen their panel.
Cork are unlikely to start as slowly as in the drawn game and I expect them to edge this one on the basis that they should have learned more from that game.
Tipperary receive major set-back
Tipperary's defeat last Sunday to Limerick was a major set-back to their ambitions for 2014. This narrow defeat on the back of losing the league final narrowly to Kilkenny has to be a big blow to morale within the camp.
"Sometimes you are better off keeping your powder dry when it comes to revealing your aims for the year"
A win last Sunday guaranteed a shot at winning a Munster Championship medal and one game away from an All-Ireland semi-final or at worst a quarter-final appearance.
Tipp did not hide the fact all year that this game was their primary target to win. Sometimes you are better off keeping your powder dry when it comes to revealing your aims for the year.
I am sure Eamon O'Shea and the team will regroup in a few days and knuckle down to take on who ever they are drawn against in the qualifiers. They can still have a big say in the championship.
They need to reposition Brendan Maher into midfield where his reading of the game and ability to pick off scores would add more value to the team than playing him in a holding role at centre-back.
Conor O'Mahony, who struggled a little for pace on the wing, would be more comfortable in the centre. A few minor adjustments and a much more ruthless approach up front from key players is a must if they are to bounce back this year.
Limerick back on track
Why so many experts were writing off Limerick ahead of last Sundays game lacked logic, especially when they announced their strongest team on paper for a good few years.
The re-positioning of Seamus Hickey to corner-back, which is his more natural position, and the inclusion of Shane Dowling and Kevin Downes from the start in the forward line gave them a much more balanced look than any time in 2013.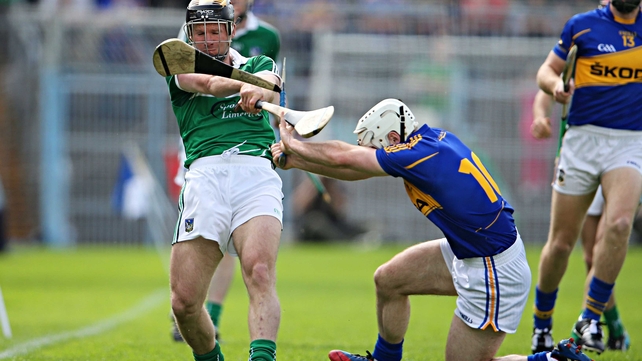 They also have a very mobile and strong back line and midfield and their goalkeeper, Nicky Quaid, was excellent under pressure last Sunday.
TJ Ryan not alone picked his best team but also never panicked and, apart from a couple of switches and substitutions near the finish, showed great faith in his team. Limerick let themselves down last year against Clare in the semi-final and should be very determined this year to go one step further.
They now have a long six-week wait for the Munster final but it is a problem Tipperary would love to have.
Gallant effort from Laois
Galway were extremely lucky to get past a gallant Laois team. This may be the fright they needed to get them in the right frame of mind to play Kilkenny or Offaly.
Remember, only two years ago Galway struggled to beat Westmeath and yet went on to win the Leinster championship.
Wexford looked very impressive when easily disposing of Antrim in the other game and with a home game will really put it up to Dublin.
Liam Dunne is putting in massive work behind the scenes to get Wexford back up competing with the top teams. They could be the dark horses in Leinster this year.
Kilkenny v Offaly
Offaly supporters travel to Kilkenny this Saturday very much in hope that Brian Whelehan and his team can put it up to the Cats, who have been flying all year.
Offaly had a number of injuries earlier in the year, which contributed to a poor league campaign and recent challenge games have not gone well.
With almost all players now back to full fitness and if they can take the game to Kilkenny from the start then they may be able to make a game of it.
Brian Cody has made no secret of the fact that they will be taking this game very seriously and with the competition he has for places in his squad then there is unlikely to be any complacency in his team and it is very hard to see anything but a home win.