Seamus Plunkett: Big-game experience will help Laois
Updated: Thursday, 05 Jun 2014 13:11

| Comments
Yet again, it's a case of so near and yet so far for the Laois hurlers.
Last year the county lost by seven points to Galway in the Leinster semi-final. In terms of moral victories it was right up there.
Twelve months on, and at a round earlier in the province, Galway again had the wherewithal to close out the deal, this time by only two points.
The see-saw nature of the game saw the westerners lead by six points after ten minutes. Yet, it was 'Cheddar' Plunkett's troops who held sway at the break by a similar margin. Unfortunately for them, they could not hold on as Galway went on to win by 1-22 to 0-23.at O'Moore Park on Sunday.
Needless to say Seamus Plunkett reflected on what might have been after the game:
He told RTÉ Sport: "We're all devastated about it really. We gave it everything, gave it our heart and soul. I simply cannot fault the players; they left everything they had out on that field. I think Galway's technical ability in the second half was key.
"There was nothing in it. It was an absolutely cracking game of hurling and it was great to be involved in it. Having said that, we're devastated. Last year we got to a Leinster semi-final and we wanted to push on this year and try and go a step further."
"That said, we've come a long way as a team and there is still much to come. There are things we can enthuse about."
One aspect of Laois' play that would have pleased the manager was the way they set about their task even after Galway raced into an early lead.
"I think as we go along we have to gain that championship cuteness that is required to close out games" - Seamus Plunkett
Plunkett added: "Galway's first goal was against the run of play. As you said, they had 1-03 on the board before we got going. We tore into the match after that. In the second half when the wind was with Galway I thought our lads fought tooth and nail for every ball they could find.
"A lot of their points at the end came from breaking balls. It wasn't as if they were flowing through our defence.
"Overall I can't commend my team enough. We were down seven or eight players from the side that played here last year. We had to throw in three or four minors today and I thought they were brilliant, as were the senior lads.
"We're out of the Leinster championship now, so we'll just have to regroup and look at where we go in the qualifiers."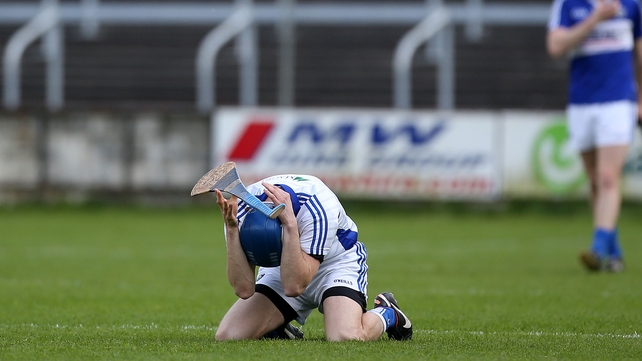 How Laois bounce back from this defeat will be important in terms of their development and the manager believes a dividend will accrue from playing in big games.
"We have stabilised ourselves in terms of being in Division 1. An awful lot of young players got experience from playing the likes of Galway. I think as we go along we have to gain that championship cuteness that is required to close out games.
"The important thing is that we all stick together now and keep working as hard as we're working. If we do that, some day we'll have success in a big game. "