Kilkenny v Tipperary - A rivalry to savour
Updated: Tuesday, 28 Apr 2015 12:52

| Comments
By James McMahon
There is no denying that the Kilkenny and Tipperary hurling rivalry is one that more often than not lights up the GAA scene.
While not a classic, last year's championship clash between the counties is still fondly remembered by the near full-capacity crowd that assembled in Nowlan Park on that Saturday evening in early July.
A genuine classic
Cast your mind back a little further to 2009 and that year's All-Ireland final. Some will argue that it was the greatest game in the modern era. Kilkenny, courtesy of two late goals, one as a result of a contentious penalty decision, wore down the Tipperary challenge on a 2-22 to 0-23 scoreline.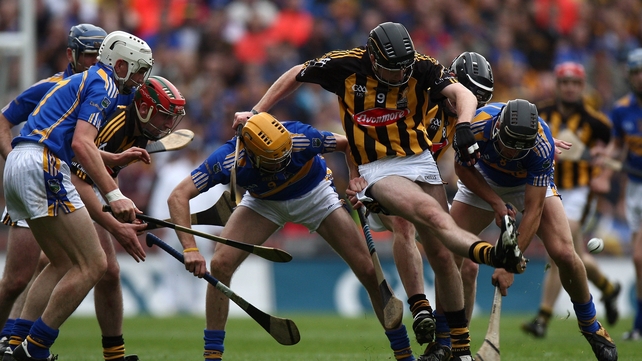 Tipp would get their revenge a year later in the September showdown, with Kilkenny proving masterful again when the counties met in the 2011 final.
'Babs' inspires Tipp
Those of a certain vintage will clearly recall a bare-footed Michael 'Babs' Keating in action for the Premier County in the 1971 decider. It was a game that saw ten goals and victory for Tipperary by a three-point margin.
20-years would elapse before the sides clashed renewed hostilities in the championship. Not surprisingly it was in another battle to claim Liam MacCarthy. 'Babs' was now the Tipp manager and the county's fortunes were on the rise again after the 'famine' that followed their '71 success.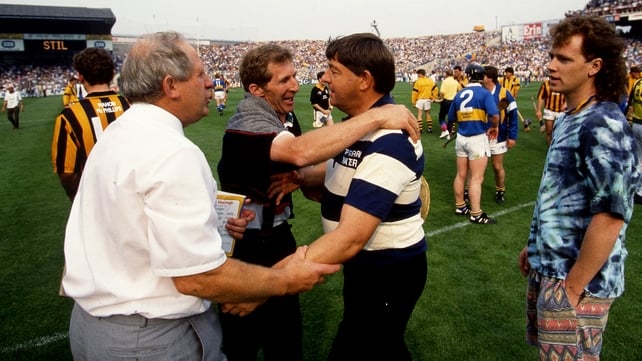 A miss-hit free from Michael Cleary early in the second half found its way to the back of the Kilkenny net. That score proved to be decisive as Tipperary ran out 1-16 to 0-15 winners.
Cats enjoying the cream
While these hurling heavyweights have made the headlines in high summer, their clashes in league finals have been no less enthralling. This has certainly been the case over the last decade with the counties meeting in three deciders.
Kilkenny have had the upper hand in all three. The latest of which came last year in Nowlan Park when Cody's men ran out 2-17 to 0-20 winners. Ten years previously Croke Park was the venue and fans were treated to a Bank Holiday Monday goal-fest in what was a game to savour. Kilkenny prevailed by the bare minimum - 5-14 to 5-13.
However, the 2009 final in Thurles heads the trio in terms of overall quality and drama. A magnificent long-range point from Eddie Brennan put the seal on a Kilkenny victory in a match that went to extra-time and yielded 49 scores.
The report below, along with RTE's match highlights, captures the excitement from that clash five years ago.
2009 Allianz Hurling League Final -
Kilkenny 2-26 Tipperary 4-17 (AET)
Tipperary led for the majority of this absorbing game but faded in extra-time after the two teams finished locked on 2-17 to 3-14 after 70 minutes in Semple Stadium.
James Woodlock, John O'Brien, Seamus Callanan and Noel McGrath hit the Tipp goals, while Richie Hogan, who finished with a personal tally of 1-10, and Aidan Fogarty found the net for Kilkenny.
The match was played at Championship pace, with plenty of niggle and hard hitting. And both sides had a man yellow-carded in the opening period when Tipp's Declan Fanning and Kilkenny's Martin Comerford were punished for manhandling each other.
Seamus Callanan was performing well at centre-forward for Tipp and his huge wind-assisted point from a free behind his own 65-metre line helped ensure the then defending league champions led by 2-07 to 0-08 at the break.
Everyone expected Kilkenny to come out strongly in the second half, but it was Tipp who scored first after the resumption as Callanan's low shot after taking a handpass from the excellent Lar Corbett, evaded Cats goalkeeper PJ Ryan's stick and went into the corner of the net.
But the Black and Amber delivered the perfect response when moments later Richie Hogan blasted past Tipp netminder Brendan Cummins from an acute angle.
A handpass from Shefflin set up Hogan and it would prove to be the 'King Henry's' last positive impact as he was yellow-carded and had to leave the field on 41 minutes after he came in late and high on Shane McGrath.
Hogan assumed the free-taking responsibilities, and also contributed a brilliant point from play in the 48th minute he split the posts with a shot straight off his hurl.
And two minutes later Kilkenny grabbed their second goal when Aidan Fogarty sent a rasping shot across the bows of Cummins and into the corner of the net.
The Cats should have lost the services of Tommy Walsh in the 56th minute when he somehow avoided censure for throwing his hurl at John O'Brien as the Tipperary captain was in the process of scoring a point.
It took Kilkenny until the 68th to draw level, with Fogarty the man to hit the target after good work from Michael Grace along the end line.
Kilkenny appeared to have clinched the game when Hogan landed a fantastic free from the 65 metre line out at the right sideline, but Noel McGrath equalised for Tipp' with a free of his own.
Liam Sheedy's side claimed their fourth goal just before half-time in extra time when Corbett passed to McGrath who buried the sliotar into the back of the net.
There were many highlights in this game, and one came two minutes after the restart when TJ Reid converted a sideline cut from a huge distance out. Three more points from Hogan and one from Eoin Larkin had Kilkenny a goal ahead heading into injury time.
Cummins ventured up the pitch to try and convert a 25-metre free, but he blazed over the bar and Tipp's chances of retaining their title had gone.
There was just enough time for another special moment, however, as Eddie Brennan wrapped up the scoring with a monster drive from fully 100 yards.
Tipp seek overdue victory
This year's league saw the age-old rivals produce another blockbuster as Kilkenny came from ten points behind to win on a 5-20 to 5-14 scoreline.
Something similar, with the result still in doubt late on, would do nicely on Sunday.
A win for Tipperary would represent the end of another famine as they haven't beaten Kilkenny in a League final since 1968.
Live coverage and updates of all the day's GAA action from 14:00 on Sunday 4 May on RTÉ Radio 1, RTÉ RnaG and RTÉ.ie (Worldwide). Television highlights on League Sunday from 19:30 on RTÉ Two and RTE.ie (Ireland only)