Brian Whelehan wants return to Offaly core values
Updated: Sunday, 19 Jan 2014 09:54

| Comments
New Offaly manager Brian Whelehan wants to revive the county's "core values" as he bids to rebuild the Faithful as a hurling force.
The midlands side last won the All-Ireland title in 1998, after a final in which Whelehan, suffering from flu, scored 1-06 after being moved from wing-back to the forward line.
That victory over Kilkenny came after a roller-coaster summer campaign that saw a Leinster-final defeat to the Cats, a change of management – with Michael Bond replacing Michael Keating before the All-Ireland quarter-final – and a semi-final against Clare that required two replays after a draw and a referee's mistake.
But since that memorable summer, Offaly have not claimed any significant silverware, while watching erstwhile peers Kilkenny win nine Liam MacCarthy titles.
Now, Whelehan, named on the Hurling Team of the Millennium in 2000, is at the helm, having taken over from Ollie Baker in October.
Last summer, under the former Clare player, Offaly failed to get out of Division 1B, with Dublin and Limerick finishing ahead of them in the table.
The Championship saw a spirited effort against Kilkenny, which ended with a five-point loss before a disappointing qualifier defeat to Waterford.
The challenge that lies ahead for Whelehan, taking on his first inter-county job, having previously worked at club level with Camross in Laois and Kiltormer in Galway, is to invoke the spirit of the 1994 and 1998 All-Ireland-winning teams.
The Birr man admitted it was a big challenge, but an opportunity too good to turn down.
"[It's a] big step up from club management. It's something I was really looking forward to," he told RTÉ Sport.
"We've been a long time in the shade, looking at and admiring other teams, and that has to change"
"I've two very good guys with me in Ger Coughlan and John Troy.
"Ger has been here before and John brings that edge to us from a forward's point of view – just that different way of thinking.
"As an Offaly man, and very proud Offaly hurler, when that opportunity came my way I was only too delighted to throw my hat into the ring, and I felt the opportunity mightn't come again.
"We're under no illusions here in Offaly of where we have to get to. The first step is trying to get a bit of confidence into the team, into the squad, and a bit of spirit.
"What we will aspire to is getting back to some core values – moving the ball, supporting one another, you know, getting that Offaly spirit back there. We've been a long time in the shade, looking at and admiring other teams and that has to change."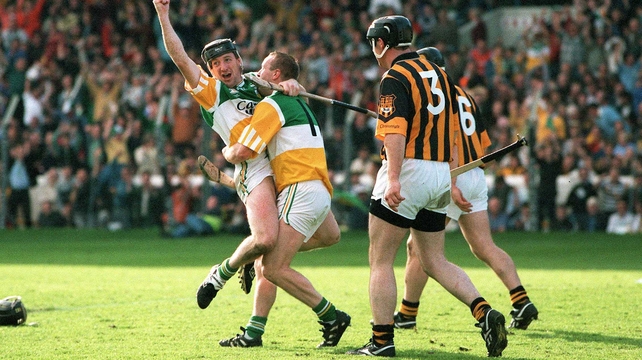 Whelehan's reign began with a comeback victory over Antrim in the Walsh Cup last Sunday and sets his side up with a quarter-final clash with Galway in Tullmore this coming Sunday.
"We're looking forward to the Galway game, it's another step up for them but at least they are on the back of a win.
"We have a lot of injuries from last year, a lot of long-term injuries, it's going to be the league before these lads come back to us and it's giving an opportunity to the younger guys to stake a claim in our squad."