Hawk-Eye admits 'human error' as Limerick appeal
Updated: Tuesday, 20 Aug 2013 11:25

| Comments
Hawk-Eye managing director Steve Carter has apologised for the high-profile error that the computer system made in Sunday's All-Ireland Minor Hurling Championship semi-final between Limerick and Galway, admitting the blunder occurred due to human error on the part of a Hawk-Eye employee.
The values for one of the high-performance cameras at the Hill 16-end posts had erroneously been calibrated for football, as opposed to hurling.
Barry Nash's first-minute point for Limerick didn't register as a score due to the slip-up.
The 3D visuals displaying the sliotar's position crossing the goalline were correct, but the technology used to calculate whether or not the sliotar would have touched the posts was using the values for the diameter of a football which skewed the official result. Hawk-Eye assured the GAA that the error will not occur again.
Galway progressed to the All-Ireland MHC final, but only after prevailing in extra-time.
The technology was not deployed in Clare's All-Ireland Senior Hurling Championship semi-final win over Limerick later in the day.
A statement released by Hawk-Eye read: "Hawk Eye is committed to maintaining its position as the premier score detection system in the world.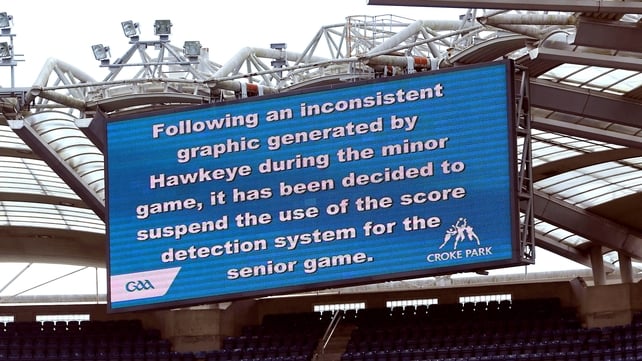 "During the game between Limerick and Galway at Croke Park on Sunday last, conflicting readings were displayed by the Hawk Eye system.
"This was due to an error in match day set up on the part of the Hawk Eye team.
"All of the settings were adjusted to cater for hurling, bar one value for the Hill 16 end posts, which was set for football.
"Steve Carter, the Managing Director of Hawk Eye Innovations, met with the representatives of the GAA at an urgent meeting this evening.
"He explained the cause of the malfunction and the operational steps being taken, under his personal supervision, by the Hawk Eye team to ensure there will be no repetition.
"Sony Hawk Eye wishes to apologise to the GAA and its supporters and to reassure them that the system will be fully reliable for all future games."
In the aftermath of Hawk-Eye's admission, the Limerick county board released a brief statement of their own, confirming that the county would be launching an appeal to the Central Competitions Control Committee.