Donegal 3-20 Roscommon 3-16
Updated: Saturday, 08 Jun 2013 17:15

| Comments
Fourteen-man Donegal won their first Nicky Rackard Cup title with a 3-20 to 3-16 win over Roscommon in a thrilling decider at Croke Park.
Sean McVeigh edged Donegal in front with a 29th-minute goal, but Fallon netted a free to give the Rossies a 2-10 to 1-10 interval lead.
Paddy Hannigan's goal was cancelled out by Fallon's second, and despite losing Ronan McDermott to a second booking, Donegal went in front with a Paul Sheridan goal.
Fallon's 2-09 tally was not enough to rescue Roscommon.
Cathal Kelly gave the Rossies a massive boost with an eighth-minute goal, displaying opportunism and clinical finishing in equal measure as he squeezed home his shot from a tight angle.
That score gave his side a 1-2 to 0-3 lead, Donegal having eased ahead through Ronan McDermott, Lee Henderson and Stephen Boyle.
Once former All-Ireland Poc Fada champion Gerry Fallon began to find the range, drilling over a string of long range frees, the Connacht men were moving sweetly.
Fallon's fifth score made it 1-7 to 0-5 at the end of the opening quarter, and the men from the north-west were struggling to get any momentum going.
The Roscommon full-back was winning a terrific personal duel with Paaddy Hannigan, one crucial intervention giving his colleagues a huge lift, while Ian Delaney also performed heroics to deny Henderson.
But the Ulster side persevered, and hit a purple patch with a 1-3 salvo which saw them take the lead.
Henderson arrowed over a couple of long range frees and, in the 29th minute, Sean McVeigh cut in from the left wing to smash home a brilliant individual goal for a two-points lead.
Roscommon turned the game back in their favour in the closing stages of the half, however, when Fallon blasted a 20m free to the net to send them in with a 2-10 to 1-10 lead.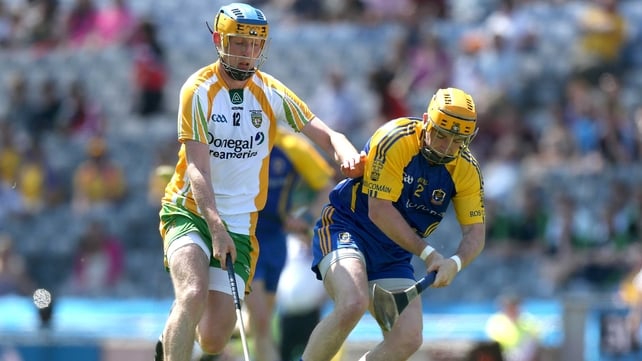 In a sensational start to the second half, Hannigan flicked home a second Donegal goal, but that was cancelled out less than a minute later when a long-range free from Fallon went all the way to the net.
The Ulster men suffered a further setback in the 38th minute when midfielder Ronan McDermott was sent off on a second yellow card, but they responded with courage and defiance to go level with superb scores from Henderson and Danny Cullen.
And, after Fallon had regained the lead for Roscommon, Ray Durack's men took the lead with a goal from substitute Paul Sheridan in the 48th minute.
A couple of spectacular long-range frees pushed Donegal into a five-points lead, before that man Fallon led another Roscommon flourish with two more frees.
O'Meara stood firm at the back as Donegal came again, and as the excitement reached fever pitch, the Donegal defence, with Jamesie Donnelly and Christopher McDermott excelling, kept their side's lead intact.
After soaking up a spell of intense pressure, they finished strongly, with Danny Cullen and Stephen Boyle hitting the clinching points.
Donegal: P Burns, M McGrath, J McGee, B Harrigan, C McDermott, J Donnelly, J Boyle (0-1), R McDermott (0-1), D Cullen (0-2), L Henderson (0-10, 7f), S McVeigh (1-1), E McDermott, C Mathewson (0-2), P Hannigan (1-1), S Boyle (0-2).
Subs: P Sheridan (1-0) for Mathewson, J Brown for McGee, K Campbell for E McDermott
Roscommon: P Dolan, S Curley, R O'Meara, I Delaney, S Melia, M Kelly, N Keenan, A Murphy, J Lawlor (0-1), Cormac Kelly, Gerry Fallon (2-9, 2-9f), Cathal Kelly (1-1), R Fallon (0-2), Gary Fallon (0-1), C Egan.
Subs: N Kilroy (0-1) for Egan, D Nolan for Murphy, C Dolan for Keenan, E Kenny (0-1) for Cormac Kelly
Referee: P Murphy (Carlow).