Cork 0-26 Tipperary 1-11
Updated: Saturday, 23 Feb 2013 23:18

| Comments
Patrick Horgan scored 13 points as Cork opened their Allianz Hurling League campaign with a 0-26 to 1-11 victory over Tipperary at Páirc Uí Rinn.
Cork scored 14 points in the first half with Horgan, Daniel Kearney and Christopher Joyce impressing.
Tipp improved in the second half wth substitutes Lar Corbett and Jason Forde doing well and Eoin Kelly grabbing a late goal. But the result was never in doubt with Paudie O'Sullivan and Luke O'Farrell among Cork's 11 scorers.
In front of 6,381 spectators, Jimmy Barry-Murphy's side produced a performance that their Munster rivals found difficult to live with for long periods.
Tipp were restricted to just two points in the first half, Noel McGrath scoring inside a minute and Johnny O'Dywer then registering in injury-time.
In between, the hosts put 14 unanswered scores together, their all-round play outstanding, and while the second half was not as much of a procession, Cork still ended with 26 points and 11 different scorers, Horgan leading the way with 13 points.
Cork's success was built on the endless effort of midfielders Daniel Kearney and Lorcán McLoughlin, both of whom were excellent, while the defensive performance was epitomised by Conor O'Sullivan and William Egan.
If Cork were to have any quibbles, it would be that they did not get a goal while Tipp did and that Stephen Moylan was the only starting forward apart from Horgan to get more than a point, but overall the Rebels will be delighted with the outcome.
Some of the first half play was wonderful, with the ball usage of the highest order and extremely hard work shown to win back possession and frustrate Tipp's efforts.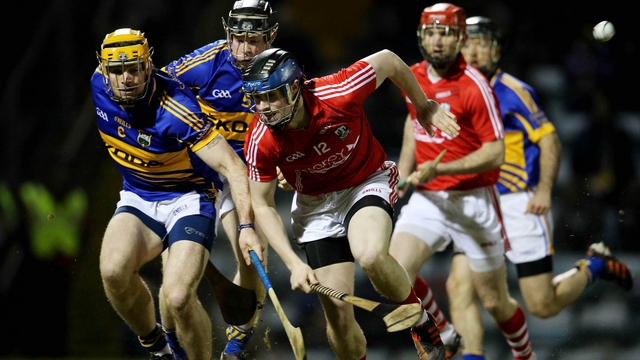 The visitors could not get going at all, as evidenced by their usage of three substitutes by the start of the second half, though when Horgan (0-02) and Kearney extended Cork's advantage to 0-17 to 0-02 soon after the restart, things looked very ominous.
To give Tipp credit, substitutes Forde, Corbett and Adrian Ryan all did well, and Forde's second point cut the gap to a comparatively small 11 points - 0-20 to 0-09 - as Cork tired following their first half exertions.
A full-blown comeback was never a prospect though, and Horgan continued to convert frees for Cork to ensure they kept the scoreboard ticking over.
Eoin Kelly, another Tipp sub, got a late goal but it was nothing more than window-dressing on the scoreboard.
CORK: A Nash; S O'Neill, S McDonnell, C O'Sullivan; S White, C Joyce (0-01), W Egan (0-01); D Kearney (0-03), L McLoughlin (0-01); C McCarthy (0-01), P O'Sullivan (0-01), C Lehane (0-01); S Moylan (0-02), L O'Farrell (0-01), P Horgan (0-13, 0-09f).
Subs used: T Kenny for Kearney (60 mins), M Walsh (0-01) for McLoughlin (63), A Mannix for O'Farrell (67).
TIPPERARY: B Cummins; P Stapleton, P Curran, C O'Brien; D Maher, Pádraic Maher, B Maher; S McGrath, J Ryan; N McGrath (0-03, 0-03f), J O'Dwyer (0-03), Patrick Maher; S Bourke, B O'Meara, S Callanan.
Subs used: A Ryan (0-01) for J Ryan (26 mins), L Corbett (0-02) for Callanan (32), J Forde (0-02) for Patrick Maher (half-time), E Kelly (1-00) for O'Meara (45), M Cahill for Stapleton (60).
Referee: Barry Kelly (Westmeath)