Kilkenny duo Henry Shefflin and Paul Murphy, and Galway's Joe Canning have all been nominated for the GAA GPA Hurler of the Year award.
The Galway pair of Johnny Coen and Niall Burke and Dublin's Danny Sutcliffe have been shortlisted for Young Hurler of the Year award.
Eight counties are represented on the list of 45 nominations for the All-Star team.
Galway have the most with 14 and All-Ireland champions Kilkenny have 12.
There are six players from Tipperary with four each from Cork and Waterford.
Nominees 2012 GAA GPA Hurling All-Stars sponsored by Opel
Goalkeepers: Anthony Nash (Cork), Nickie Quaid (Limerick), James Skehill (Galway).
Full-backs: Paul Murphy (Kilkenny), JJ Delaney (Kilkenny), Johnny Coen (Galway), Fergal Moore (Galway), Jackie Tyrell (Kilkenny), Richie McCarthy (Limerick), Michael Cahill (Tipperary), Kevin Hynes (Galway), Shane O'Neill (Cork).
Half-backs: Brian Hogan (Kilkenny), Brendan Bugler (Clare), Padraic Maher (Tipperary), David Collins (Galway), Michael Walsh (Waterford), Tony Óg Regan (Galway), Tommy Walsh (Kilkenny), Niall Donoghue (Galway), Kieran Joyce (Kilkenny).
Midfielders: Andy Smith (Galway), Kevin Moran (Waterford), Stephen Molumphy (Waterford), Pa Cronin (Cork), Iarla Tannian (Galway), Michael Fennelly (Kilkenny).
Half-forwards: Henry Shefflin (Kilkenny), Cyril Donnellan (Galway), Niall Burke (Galway), Patrick Bonnar Maher (Tipperary), TJ Reid (Kilkenny), Pa Bourke (Tipperary), Damien Hayes (Galway), Danny Sutcliffe (Dublin), Richie Power (Kilkenny).
Full-forwards: Eoin Larkin (Kilkenny), Joe Canning (Galway), Noel McGrath (Tipperary), Patrick Horgan (Cork), John Mullane (Waterford), Brian O'Meara (Tipperary), Richie Hogan (Kilkenny), John Conlon (Clare), David Burke (Galway).
Henry Shefflin is up for the main prize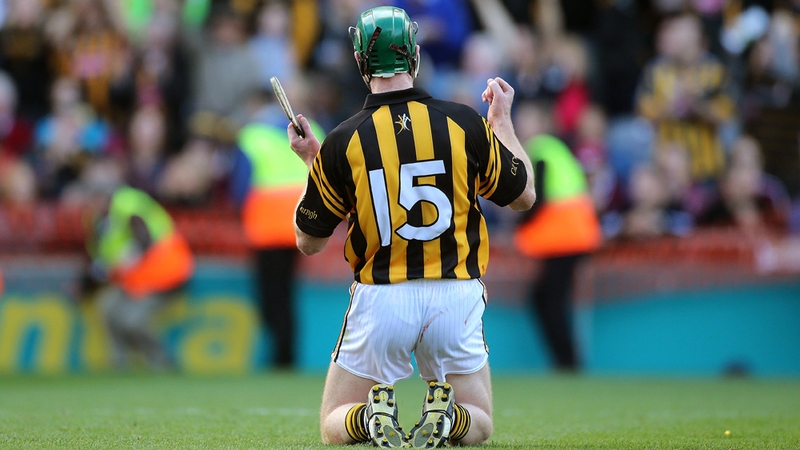 The county by county breakdown is as follows: Galway (14), Kilkenny (12), Tipperary (6), Cork (4), Waterford (4), Limerick (2), Clare (2), Dublin (1).
The final team of 15 players will be announced live on RTÉ television on Friday 26 October at the GAA/GPA All-Stars Awards ceremony sponsored by Opel.