Kilkenny manager Brian Cody is at the helm of arguably the greatest hurling team of all time but after his side blew away the threat of Tipperary with a stunning second-half display in Sunday's All-Ireland Hurling semi-final clash at Croke Park, he was typically understated and very much focused on the bigger prize ahead.
The game was finely poised at half-time, with Tipp a point ahead going into the break. But Kilkenny came out a different side and answered many of the questions which had hung over them since the Leinster final defeat to Galway.
"It's a very satisfying win," admitted Cody, speaking to RTÉ's Clare MacNamara.
"At half-time I think we were a point down and obviously a huge game in front of us and we settled well in the second half and obviously we got goals, which are crucial in a game like that, and we probably got very good goals as well.
"Very satisfying. But the prize for today is to get to the All-Ireland final and that's where we are, so it's a serious job ahead."
"We played very well in the second half. It can turn on nothing sometimes.
"You couldn't see that performance coming, really. But we had scored one goal and created another good goal chance in the first half, which we didn't take, and their goal, I would feel, was preventable.
"We were going pretty well in the first half but we certainly upped the gear in the second half and we did play very well for sure."
While the first half was one of the best and most fiercely competitive for some time, there were particular moments when tempers flared. Cody was quick to play it down.
"I wouldn't say it boiled over. It was just the usual bit of pushing and shoving and stuff like that. And that becomes exaggerated a small bit when two more fellas go in to push and shove. It's a great rivalry.
"In hurling it's the be-all and end-all: we're in the All-Ireland and Tipperary are gone now, so everything is at stake. And there was nothing crazy out there or anything like that.
"It was just good manly stuff."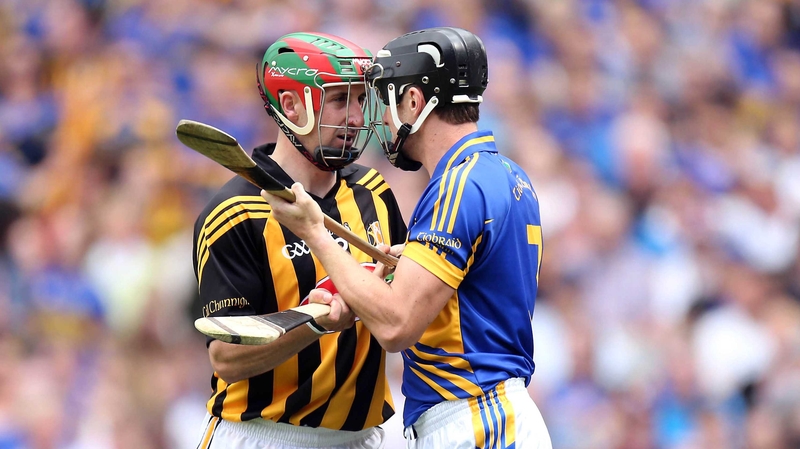 In the first half, Kilkenny lost the services of Michael Rice, who was struck on the hand by the hurl of Padraic Maher, and the midfielder faces a race against time to be fit for the final.
"Michael [Rice] is a huge player for us and he got a very, very bad finger injury. He went off and had to go to hospital with it so we're just hoping he'll be okay for the final. Cillian [Buckley] came in and played really well."
The All-Ireland final, which will take place on 9 September, will be a replay of the Leinster decider in which Galway recorded an historic victory over Kilkenny, keeping the country's most successful side scoreless for the first 18 minutes before running out 10-point winners.
There may be ground to be made up on Galway after that shock defeat but Cody is determined that his side will not relinquish the Liam McCarthy cup easily.
"Well we're not [going to give up the title easily]. That would be the intention, but the last day we played Galway there was only one team in it. They gave us a lesson, really. We were miles away, and they went on and followed that on with a great performance against Cork.
"I'm not going to start blowing them up and blowing us down or anything like that but it's a huge game ahead.
"The reality of it is that either team is capable of beating the other, so something terrific to look forward to in a few weeks."
Kilkenny have reached 13 of the last 15 All-Ireland finals but just getting there could never be enough for the man who has brought eight All-Irelands, 12 Leinster titles and five National League titles to his county.
"I don't know anything for sure about that (reaching 13 of the last 15 All-Ireland finals) but I'll look forward to this one, for sure. It's a fantastic time for any county to be in the All-Ireland final and we're thrilled to be there."