Kilkenny turned on the style at Portlaoise to crush Dublin 2-21 0-09 and set up a Leinster SHC final clash with Galway.
TJ Reid fired in the first goal on 17 minutes, and Richie Power added a second ten minutes later, while six Henry Shefflin frees helped the Cats to a commanding 2-10 to 0-06 interval lead.
Dublin managed just three points in the second half, with Paul Ryan (0-04) their top scorer, while Shefflin's 0-10 tally, all from frees, ensured Kilkenny's safe passage.
Henry Shefflin's return from injury was one of many encouraging aspects of a dominant afternoon for Brian Cody's side, his tally all coming from frees.
For Dublin, who were rescued from an even heavier defeat by three superb Gary Maguire saves, it's all eyes on Monday's Qualifiers draw.
Paul Ryan succeeded where many others struggled to cope with difficult conditions steering over two early Dublin points.
And a superb solo effort from Danny Sutcliffe had Dubs fans drooling as they went 0-03 to 0-01 ahead.
Paul Murphy and Jackie Tyrell had to display defensive steel to keep Liam Rushe and Ryan in check as the wind-assisted Metropolitans continued to press forward, but Kilkenny were able to create scores from limited attacking possession, with TJ Reid, Henry Shefflin and Richie Power on target to bring them level by the 13th minute.
And in the 17th minute, a devastating raid saw Reid take Power's return pass to smash home a superb goal.
JJ Delaney gave full-forward Rushe precious little room to manoeuvre, and the loss of Conal Keaney through injury delivered a further setback to Dublin's flagging attacking fortunes.
Kilkenny opened up the Dublin defence again in the 27th minute for a second goal, Colin Fennelly spotting Power in the clear, and the full-forward finished low past Gary Maguire for a nine-point lead.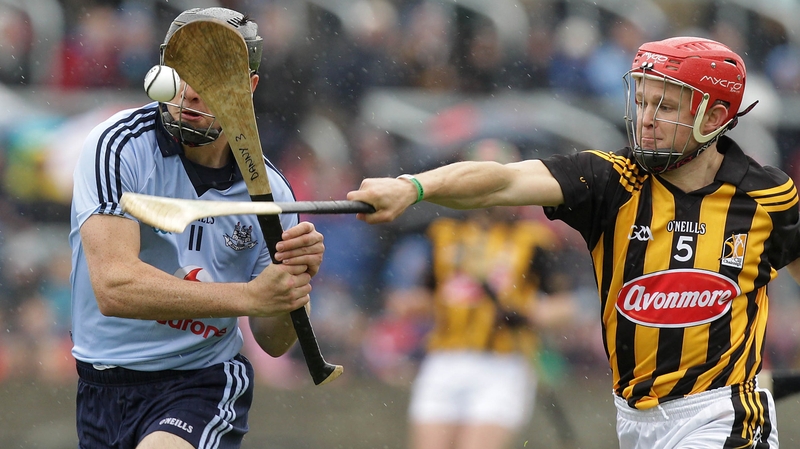 Brian Hogan, a rock at the centre of the Cats' defence, provided the platform as Shefflin swept over his sixth converted free for a commanding 2-10 to 0-6 interval lead.
The All-Ireland champions continued their relentless bombardment, adding further scores through Richie and Paddy Hogan, Shefflin and Power
Rushe's switch to midfield failed to spark a Dublin revival, and with Jackie Tyrell in vintage form in the Kilkenny defence, there was little sign that Anthony Daly's men had the capacity to turn the game around.
They needed heroics from All-Star goalkeeper Maguire, who made a terrific double save from Power and Hogan and later denied Shefflin with a spectacular stop.
Power tormented the Dublin defence from start to finish, his 1-03 tally telling only a small part of the story of his contribution, while Shefflin, Paddy Hogan and Eoin Larkin completed the demolition.
Dublin points from Alan McCrabbe and David O'Callaghan were almost irrelevant as they limped out of the Leinster Championship and into the Qualifiers.
Kilkenny scorers: R Power 1-3, TJ Reid 1-1, H Shefflin 0-10 (10f), P Hogan, E Larkin, R Hogan 0-2 each, A Fogarty 0-1.
Dublin scorers: P Ryan 0-4 (3f), D Sutcliffe, R O'Dwyer, D Treacy, A McCrabbe (f), D O'Callaghan 0-1 each.
Kilkenny: D Herity, P Murphy, JJ Delaney, J Tyrell, T Walsh, B Hogan, R Doyle, C Buckley, P Hogan, H Shefflin, TJ Reid, E Larkin, C Fennelly, R Power, R Hogan.
Subs: N Hickey for Delaney, A Fogarty for Buckley, M Ruth for Fennelly, K Joyce for Walsh.
Dublin: G Maguire, N Corcoran, P Kelly, T Brady, S Hiney, J Boland, M Carton, J McCaffrey, S Durkan, C McCormack, D Sutcliffe, C Keaney, P Ryan, L Rushe, R O'Dwyer.
Subs: D Treacy for Keaney, R Trainor for Corcoran, A McCrabbe for McCormack, R O'Carroll for Durkan, D O'Callaghan for Ryan
Referee: B Kelly (Offaly).
Attendance: 12,446