Kilkenny 3-30 Waterford 1-13
Updated: Monday, 08 Sep 2008 01:53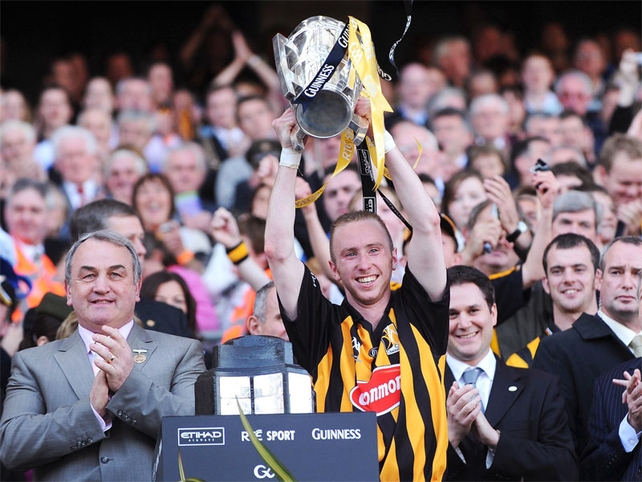 Waterford endured a nightmare afternoon at Croke Park as arguably the greatest Kilkenny team of all-time secured the Cats' first All-Ireland three-in-a-row since 1913.
Read Shane Murray's minute-by-minute text matchtracker.
In a disappointingly one-sided final, Brian Cody's side produced a near perfect 70 minutes to confirm themselves as hurling's kingpins once again.
The statistics speak for themselves. A 23-point winning margin, 3-24 from play, only two wides in the entire match and eight scorers in all with Eddie Brennan (2-04) and Henry Shefflin (0-08) leading the way.
During a fast-paced first half, a shell-shocked Waterford could only muster five frees from Eoin Kelly.
Kilkenny's half-back line succeeded in sucking the life out of the Déise's attack, starving them of possession with the Cats' forwards scoring at almost every opportunity.
Indeed, Kilkenny failed to register a wide until Martin Comerford, ironically their only starting forward not to score today, missed the target in the third minute of first half injury-time.
Brennan, at his clinical best, scored two goals in the 20th and 22nd minutes to push Kilkenny 12 points ahead.
With their manager Davy Fitzgerald looking on forlornly, Waterford were 2-16 to 0-05 adrift at half-time and only managed their first point from play in the 46th minute.
Four points from impressive substitute TJ Reid and Eoin Larkin's well-taken 47th-minute goal stretched Kilkenny's lead further.
And although John Mullane and free-taker Kelly, who nabbed a late goal, kept plugging away, this was an utter cakewalk and a demonstration that at this present time, Kilkenny are in a class of their own.
Ominously, Kilkenny won today's Minor final at Croke Park and the Cats, also winners in the Intermediate grade, could claim a unique All-Ireland quadruple by beating Tipperary in next weekend's Under-21 final.
For the Senior decider, both Kilkenny and Waterford selected unchanged teams, albeit with some positional switches forecast.
With four straight wins culminating in last month's shock semi-final defeat of Munster champions Tipperary, Fitzgerald had built up a fair deal of momentum in his first summer at the helm.
However Kilkenny, who had nine points to spare over Cork last time out, had a historic carrot dangling in front of them for this first final meeting between the neighbouring counties since 1963.
They were seeking to become only the second Kilkenny side in history to complete that much sought after three-in-a-row.
Indeed, before today, it had only been achieved on seven separate occasions with Cork (four times) and Tipperary (twice) doing it the most.
A Kilkenny win would net them their sixth All-Ireland title this decade and 31st in all, moving them one ahead of Cork on the all-time honours list.
Waterford, of course, were within reach of their own slice of history as they attempted to become the first team from the county to lift the Liam McCarthy Cup since 1959.
But any hopes they had of doing that were quickly diminished as Kilkenny started like a steam train and simply showed no mercy against a team that never got out of first gear.
Too many of Waterford's marquee names were marked absent as the Cats simply devoured their opponents in a stunning first half display.
Any question marks over their desire and hunger were quickly dispelled as they raced 0-10 to 0-04 ahead midway through the opening period.
Henry Shefflin pointed a free after 52 seconds to send them on their way, and while Eoin Kelly did likewise in the next phase, it soon became clear that Waterford would get no change in open play.
Kilkenny's defence, marshalled by the likes of Tommy Walsh and JJ Delaney, was watertight and in their meanest mood for some time.
Mullane, Dan Shanahan and Stephen Molumphy were kept out of the game as the Déise struggled and Shefflin exposed the defensive frailties of his marker Kevin Moran, the youngest player on the pitch.
Kilkenny's midfield duo of James 'Cha' Fitzpatrick and Derek Lyng, who roamed forward at will, dominated that sector and put their immediate opponents under serious pressure.
Eoin McGrath had a wide from a tight angle and that proved to be Waterford's only shot from play for some time as Kilkenny motored clear.
Team captain Fitzpatrick landed a fifth-minute point and with metronome precision, efforts from Eoin Larkin, Aidan Fogarty, Shefflin, Brennan and Lyng followed over the next quarter-of-an-hour.
Cody's charges were scoring with every shot, while Waterford lived off Kelly's frees. As well as the admirable shooting, there were some excellent fetches and catches from Lyng and Delaney to enthuse about.
Larkin, already a candidate for Hurler of the Year, was being allowed far too much space and in one such incident, the James Stephens clubman ripped through the Waterford defence before finding the unmarked Brennan who tapped home his first goal after 20 minutes.
Before Waterford could recover from that blow, Brennan had the sliotar nestled in the net once more. Barely seventy seconds after his first strike, the speedy corner-forward fired home goal number two.
Waterford goalkeeper Clinton Hennessy had pulled off a brilliant first-time save, thwarting the advancing Fogarty, but he was powerless to stop Brennan's follow-up.
Now suddenly 2-10 to 0-04 behind, Waterford needed a goal desperately and Shanahan, their chief goal-getter of last season, was having little joy at the Hill 16 end.
He was smothered out in the 24th minute as a goal chance looked on and then Kelly, aiming for the net, had a 21-yard free saved by Kilkenny stopper PJ Ryan.
Two Richie Power points boosted Kilkenny's tally to 2-12 before Kelly landed his fifth successful free, 30 minutes in.
There was no let-up from the Kilkenny forwards though as the half came to a close. Power had a shot scrambled away as he thundered towards Hennessy, but points from Fitzpatrick, Brennan, Power and Larkin saw the champions end the first 35 minutes on a real high.
Brennan's point from close to the right sideline, in the first minute of injury-time, was the best of the lot. It was a real team score as it began with a superb block by Michael Kavanagh on Mullane.
The ball was swept forward and Shefflin laid off for Brennan to swing over a delightful score. Unerring accuracy and Kilkenny hurling in a nutshell.
With his troops almost out for the count, Fitzgerald mixed things up for the second half bringing Jack Kennedy and Shane O'Sullivan into the fray.
There was also a plethora of positional switches with Tony Browne moving to centre-back, Ken McGrath going to centre-forward and Mullane and Shanahan also on the move.
Waterford were able to live with Kilkenny on the resumption. They were only outscored by 0-03 to 0-02 in the opening 11 minutes as Kelly (free) and Mullane found their range.
Unfortunately, Kilkenny mercilessly continued to pick off their points. Shefflin hit back-to-back frees, Lyng popped over another score and substitute TJ Reid, an Under-21 player with a serious future, also came of age.
On for the injured Comerford, he scored four points in the space of 12 minutes to further boost Kilkenny's tally and put the result beyond any doubt.
During that spell, Larkin scampered through the heart of the Waterford defence and blasted past Hennessy for Kilkenny's third goal and a 22-point difference.
Shanahan then again misfired as he honed in on a goal, although Mullane did mop up with a point.
Kelly tagged on another free but it was shooting practice for Kilkenny as Lyng, Fogarty, Shefflin and Reid belted over points from all angles - there was soon 26 points between the sides.
With a chunk of the Waterford fans in the 82,186 attendance leaving for home, there was a flat nature and eerie edge to the closing stages of the final.
The Déise salvaged some pride by scoring 1-03 without reply between the 66th and 69th minutes. Mullane rode a challenge before shooting over off his left, substitute Dave Bennett also pointed after linking with Mullane and Kelly scored with another free.
There was a poignant moment as Cody sent much-loved goalkeeper James McGarry on for a late run-out. McGarry's wife Vanessa was tragically killed in a car crash last summer and he got a rousing reception when coming onto the pitch.
But the Bennettsbridge net minder unfortunately erred in the 69th minute when he tried to stop a Kelly shot with his hurl and the ball deflected into the net for Waterford's only goal.
For the statisticians it was the first goal Kilkenny had conceded in this year's Championship but it mattered little in the scheme of things.
Nothing was going to take the gloss off Kilkenny's stellar performance. They rounded it off with points from goal scorers Larkin and Brennan and Cody could afford a smile when Fogarty scored from an acute angle in deepest injury-time.
So Kilkenny's unbeaten record in the Championship goes on. That is 14 games they have won since losing to Galway in that epic 2005 All-Ireland semi-final.
Eight All-Ireland finals for Cody and six wins (2000, 2002, 2003, 2006, 2007 and 2008). Richly deserved. No doubt he will go to bed tonight dreaming of emulating Cork's four-in-a-row heroics of 1944.
It is hard to know whether Waterford, on one of their best days, could have lived with the Cats in this sort of form.
Spare a thought for them, they have given much to the Hurling Championship over the last few years, and played some spellbinding stuff.
Retirements are expected, questions will be asked of Fitzgerald and his management staff but, frankly, no team on earth would have been able to stop Cody's class of 2008.

Kilkenny: PJ Ryan; M Kavanagh, N Hickey, J Tyrrell; T Walsh, B Hogan, JJ Delaney; J Fitzpatrick (capt) (0-02), D Lyng (0-03); M Comerford, R Power (0-02), E Larkin (1-04); E Brennan (2-04), H Shefflin (0-08, 5f, 0-01 '65'), A Fogarty (0-03).
Subs used: TJ Reid (0-04) for Comerford (43 mins), J McGarry for Ryan (61).
Waterford: C Hennessy; E Murphy, K McGrath, D Prendergast; A Kearney, T Browne, K Moran; M Walsh (capt), J Nagle; D Shanahan, S Prendergast, S Molumphy; E McGrath , E Kelly (1-09, 9f), J Mullane (0-03).
Subs used: J Kennedy for S Prendergast, S O'Sullivan for Nagle (both half-time), P Flynn for E McGrath (52), T Feeney for D Prendergast, D Bennett (0-01) for Shanahan (both 64).
Referee: Barry Kelly (Westmeath).