Tipperary 1-18 Waterford 1-20
Updated: Monday, 18 Aug 2008 00:28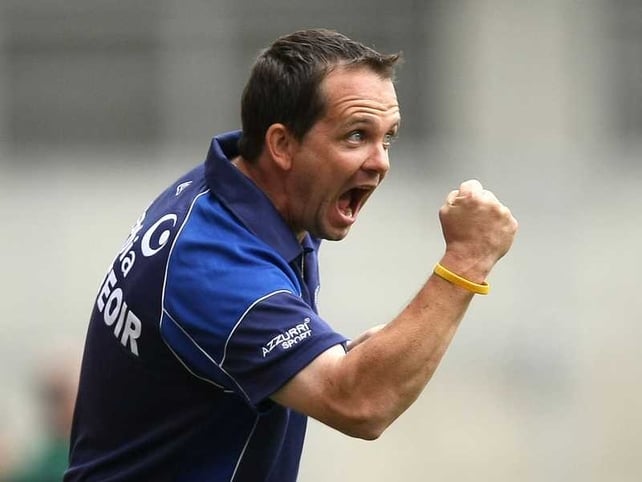 Tipperary's unbeaten record in 2008 was sensationally ended as Waterford qualified for their first All-Ireland SHC final since 1963.
Read Shane Murray's live text matchtracker.
There was sheer delight for the Deise as they celebrated their first win in six semi-finals since 1998.
Six points from Eoin Kelly helped Munster champions Tipp overcome a poor start and end the first half level (0-10 to 0-10) in front of 56,365 at Croke Park.
But despite leaking a Seamus Callinan goal, Waterford nudged ahead with their own Eoin Kelly (1-10) shooting them through to a showdown with champions Kilkenny on 7 September.
From losing in the first round of the Munster Championship to this, Waterford have been on some rollercoaster ride this summer.
New manager Davy Fitzgerald, himself a two-time All-Ireland winner with Clare in the 1990s, obviously gave Michael 'Brick' Walsh and his team-mates the extra belief needed to overcome this semi-final hoodoo.
Yet, as Fitzgerald would say himself, former Deise boss Justin McCarthy must also take some credit for today's victory and the work he did with the Waterford players over the guts of seven mostly successful years.
Tipperary have played some outstanding hurling this season and were deserving winners of the Waterford Crystal Cup, the National League Division 1 title and the Munster Championship crown.
Liam Sheedy's first season in charge could hardly have gone any better and the Premier County, with the calibre of the current panel and the youngsters coming through the system, should come back even stronger in 2009.
It could be said that the five-week gap between the Munster final and today's semi-final really hampered Tipp, particularly in the opening stages when they fell 0-06 to 0-00 behind.
And whereas Waterford have come into previous semi-finals as Munster champions and simply run out of steam - last year against Limerick a case in point - this time it was Tipp's turn to falter in the final stretch.
Fitzgerald's men showed the greater hunger and ability to score under the most intense pressure, with the sharp-shooting Kelly once again in awesome form.
Ahead for long periods of the second half, Tipp had built up a 1-17 to 1-15 lead before Eoin Kelly, Lar Corbett, Pat Kerwick and Micheal Webster hit a succession of late wides.
Waterford timed their run to perfection with Kelly firing over three late points, with captain Walsh and impressive substitute Jack Kennedy also chipping in with two crucial scores.
Tipp made one change to their Munster final-winning team, bringing Hugh Maloney in at centre-forward in place of the aforementioned Kerwick.
Waterford, who gained serious momentum with wins over Offaly and Wexford while Tipp were without a game, brought Aidan Kearney and Kevin Moran into their half-back line for today's encounter.
Tipp won the toss and elected to play in towards the Davin Stand end. There were immediate positional switches by Waterford - Ken McGrath moved in to centre-back with Declan Prendergast occupying the full-back berth.
However, all the action in the opening eight minutes was at the other end as Waterford's attackers made a whirlwind start.
Eoin McGrath won a free which Eoin Kelly pointed in the second minute, and then the all-action John Mullane got out in front of Eamon Buckley to send over a sizzling point off his left.
A second free from Kelly, a driven effort from Stephen Molumphy and two more crisply-struck points from Mullane and Eoin McGrath had Sheedy's men six points down after only nine minutes' play.
Mullane's second point was a top drawer score as he collected the ball off a sideline cut from Eoin Murphy and showed a clean pair of heels to Buckley before rifling over from a central position.
Tipp got up and running in the tenth minute when Mullinahone marksman Eoin Kelly tapped over a close range free.
And there were signs that the pre-match favourites were beginning to settle as the fit-again Conor O'Mahony landed a long range free and a great leap by Eoin Kelly won a free which he pointed himself.
The nippy Eoin McGrath ended a dry spell for the Deise as he sped away from Conor O'Brien and plundered his second point, midway through the first half.
But giving away frees within range of the posts was beginning to prove costly for Waterford as Tipp skipper Kelly showed off his impressive accuracy from placed balls.
A Tony Browne foul on Maloney allowed Kelly cut Waterford's lead to 0-07 to 0-04 and it got even better for Tipp when Shane McGrath, who was beginning to boss the midfield exchanges, chopped over a point after a surging run forward.
Waterford then got a brief glimpse of goal in the 22nd minute. Dan Shanahan stretched to try and divert the sliotar beyond Brendan Cummins but the Tipp goalkeeper came out strongly and smothered it.
There was an ugly incident just minutes later when Waterford defender Murphy was hit in the face by a high shoulder from Lar Corbett.
It took three minutes to patch a bloodied Murphy up and during that time Fitzgerald and the Waterford players let their feelings be known to referee Diarmuid Kirwan.
Nonetheless, there was hardly a bad stroke in the whole match save for a few incidents of 'handbags' during a tense second half.
Tipp continued to build momentum with Kelly landing his fourth free and Corbett, presented with a goal-scoring chance, frustratingly lost control of the ball as he bore down on Clinton Hennessy.
Nearing half-time, Waterford grabbed a much-needed point from Kelly (free) to end a 14-minute period for them without a score.
Kelly added two more points, including an effort from play, to boost the Deise's tally to 0-10 but Tipp were able to level the sides for the first and second time thanks to a late spurt.
Seamus Callinan, moved to centre-forward, used his pace and increased his influence with two well-taken points and Tipp's Eoin Kelly had the final say in the opening half with two more points, one from play and the other a cheap free which Aidan Kearney gave away.
Level at the break, at 0-10 apiece, neither side made a particularly composed start to the second half with the Tipp rearguard rightly annoyed by a wild pull by Mullane.
Kelly sent the Deise back in front with a 38th-minute free but wides from John O'Brien, Corbett, Jamie Nagle and Molumphy did little for either side's confidence.
The frustration for Waterford's inside forwards was obvious as both Nagle and Molumphy opted to shoot from distance when a through ball was the better option.
Tipp began to turn the tide again when James Woodlock's persistence led to a Shane Maher point and the returning Maloney was just crowded out when a goal looked on the cards.
By the 44th minute, Tipp had edged 0-13 to 0-11 ahead with Shane McGrath firing over a point, and Eoin Kelly followed up with an excellent point on the turn.
And although Micheal Webster was sent on to worry the Waterford full-back line, the Deise did not panic. Mullane pointed off his right after taking a clever low ball from Molumphy.
Fitzgerald also went the 'target man' route as he switched Shanahan in to full-forward and moved Eoin Kelly out to the left wing.
His Tipp namesake tagged on another pointed free, after a careless foul by Keaney on Callinan, to open up a two-point again.
And when Cummins brilliantly caught and cleared a point attempt from Seamus Prendergast close to his crossbar, there was a sense that this might be Tipp's day.
Nevertheless, showing great tenacity, Waterford gritted their teeth and simply came back for more. Shanahan won a free which Kelly pointed and Walsh supplied a huge score from his central station to level the sides for the fourth time (0-14 apiece).
The nip and tuck nature of the game continued with the influential McGrath and Corbett nipping in for two more points. Molumphy replied and then the fun really began.
On 56 minutes, Shanahan dropped a ball in towards the Tipp square and although Cummins parried the initial shot, Eoin Kelly followed up on the rebound to goal and fling Waterford 1-15 to 0-16 ahead.
Incredibly, less than a minute later, Tipperary were celebrating a goal of their own. The Waterford defence failed to clear their lines, Prendergast being the most guilty of the culprits, and Callinan was on hand to drive home past Hennessy.
A curling effort from substitute Kerwick produced a white flag soon after, as Tipp quickly restored that two-point buffer.
The final ten minutes saw nerves spread throughout the Tipperary team and they lost their scoring touch just when they needed it most.
Waterford's Kelly also fluffed his lines with a poor '65' but the Deise were back on terms at 1-17 apiece, by the 62nd minute, courtesy of points from Walsh and Kennedy.
Eoin McGrath then won a free which Kelly pointed to push Waterford ahead by a single point. It was never going to be enough, yet Tipp did little for their own cause when Corbett and Kerwick hit successive wides.
Scoring chances were still coming, however, and the Premier men should have scored a second goal in the 66th minute.
Callinan worked himself the chance but his rasping effort was well blocked by Hennessy and Webster's follow-up shot was deflected away for a '65'.
Composure was called for and when the usually reliable Eoin Kelly sent the resulting placed ball wide of the mark, the momentum was definitely back with Waterford.
Fitzgerald's men were winning more and more of the midfield exchanges, with both Walsh and Nagle heroic in that sense. Their team-mate Kelly took his tally to 1-09 with a long range free in the 69th minute.
There was yet more drama when Tipp had an injury-time goal disallowed for a square ball - Webster thought he had legitimately scored after swooping onto a sideline cut from Eamon Corcoran. However, Kirwan correctly ruled it out with a plethora of players in the square.
With time ticking away, Tipp really did needed that goal and although substitute Benny Dunne succeeded in closing the gap to a single point, a final score from Kelly, who clearly had a goal on his mind, was enough to earn Waterford that long-awaited place in the final.

Waterford: C Hennessy; E Murphy, K McGrath, D Prendergast; A Kearney, T Browne, K Moran; M Walsh (capt) (0-02), J Nagle; D Shanahan, S Prendergast, S Molumphy (0-02); E McGrath (0-02), E Kelly (1-10, 8f), J Mullane (0-03).
Subs used: J Kennedy (0-01) for S Prendergast (52 mins), P Flynn for Mullane (67), G Hurney for Nagle (69), S O'Sullivan for Shanahan (70+3).
Tipperary: B Cummins; E Buckley, P Curran, C O'Brien; E Corcoran, C O'Mahony (0-01, 1f), S Maher (0-01); J Woodlock, S McGrath (0-03); S Callinan (1-02), H Maloney, J O'Brien; E Kelly (capt) (0-08, 6f), S Butler, L Corbett (0-01).
Subs used: P Stapleton for Corcoran (42-48 mins, blood sub), M Webster for Butler (43), B Dunne (0-01) for O'Brien (49), P Kerwick (0-01) for Maloney (58), P Bourke for Woodlock (64).
Referee: Diarmuid Kirwan (Cork).