Dubs boss backs later start to the League after January opener
Updated: Sunday, 31 Jan 2016 11:51

| Comments
Dublin manager Jim Gavin says he'd be happy if the Allianz Football League didn't start until after St Patrick's Day.
The double All-Ireland winning manager watched his team cruise past Kerry in Saturday night's Division 1 opener, winning by 2-14 to 0-14 at Croke Park.
He was without a string of experienced players due to injuries and club commitments, though this didn't stop the Dubs producing a fluid display.
And Gavin was left to wonder why the League started with two days still left in January.
"Why we're playing the opening round of the National League in January is really beyond me, particularly with all the talk of the fixture restructuring," he said.
"It just doesn't make sense. We're making the season longer. It's taking away from players.
"They should probably be with the clubs at this time of year, not the county. It's difficult for all teams."
When asked when he would ideally like to see the League get underway, Gavin responded: "Any time after St Patrick's Day would do me fine.
"There's a lot going on with players in all counties at this time of year between Sigerson, Fitzgibbon.
"A lot of club teams are back now. We've got a pre-season tournament. The club championships are on which is a fantastic competition."
He continued: "The Ard Stiurthoir and Uachtaran have both said that there won't be any more fixtures added to the fixture list for inter-county football.
"That's how they have influence and decide how things are going, then that's fine - shorten the season and give the players back to the clubs and let them do their pre-season with the clubs and come back to the counties later in the season."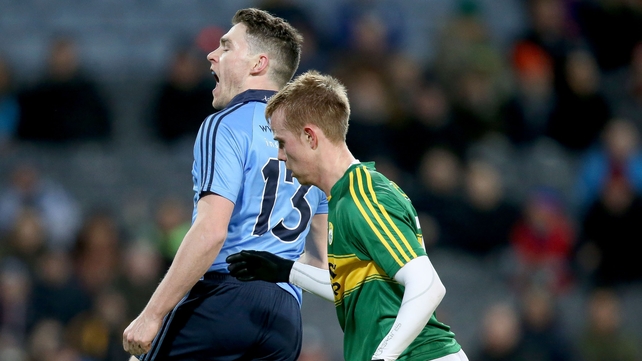 This is a hectic time for many elite players and Dublin play a challenge match on Sunday against the Dub Stars, a game which usually is held on New Year's Day, but which fell victim to the wet weather earlier this month.
And six days later they face a tough Division 1 test against Mayo in Castlebar, a repeat of last year's epic drawn and replayed All-Ireland semi-final.
"It just doesn't make sense. We're making the season longer. It's taking away from players." - Jim Gavin
Gavin says that he could have Kevin McManamon back for that game, though it's still far to early for Eoghan O'Gara.
O'Gara's 2015 season was ended with a serious knee injury and he is currently on the comeback trail.
"I think the back end of the league," said Gavin about his big full-forward's return.
"Eoghan's back on the pitch which is the most important thing and he's back in a pair of boots which is even more good news.
"Mayo is a game way too early for him, wouldn't like to circle a date in the calendar.
"It's really when he's ready and when the medical team think he's ready. But I would hope that we'll see him in the back end of the National League. "
Competition for places in the Dublin forwards is intense, with Saturday's man of the match Paddy Andrews, above, leading the way.