Longford manager Denis Connerton salutes 'big performance' in their O'Byrne Cup semi-final win over Dublin
Updated: Sunday, 17 Jan 2016 20:50

| Comments
Longford manager Denis Connerton was pleased with the strong finish his side produced as they upset Dublin at Pearse Park to reach the final of this year's O'Byrne Cup.
With ten minutes left, the Dubs had reduced Longford's lead to the bare minimum - 0-09 to 0-08 - and would have been expected to push on for victory. But it was the Connerton's side who finished the stronger, aided by a goal from the manager's son Liam, to seal a six-point win.
Reflecting on how they dealt with the Dublin challenge in the second period, Connerton snr told RTÉ Sport: "They really came at us strongly but we got a couple of breaks and picked off some great scores.
"Those scores were crucial for us because Dublin were building up a head of steam at that stage.
"We tried to break it up, we introduced fresh legs because they're hard to keep at bay when they get going."
As to the contribution played by his son, Connerton added: "There was no going back after Liam's goal, though you never know in football!
"Liam is a UCD student. He's played a lot of football at underage. He's had many injuries and come back from them.
"His latest injury was a fractured thumb. That's his first game back but he obviously hasn't forgotten where the back of the net is and that's very important for us in Longford."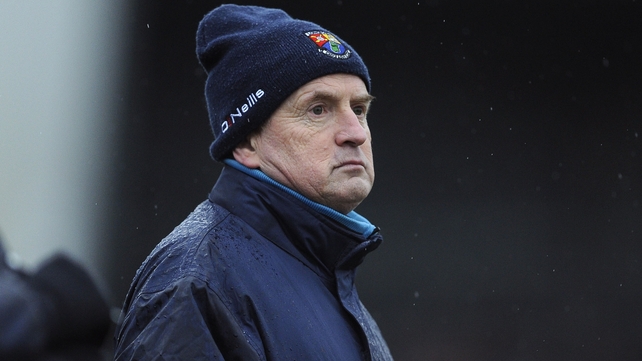 It may only be the O'Byrne Cup, but claiming a major scalp on your home patch is something that supporters will savour, according to the Longford boss.
"We're starved of success and so day like these are special. Dublin coming to Longford is great, to see the stadium reasonably full, it doesn't happen very often.
"The two previous O'Byrne Cup matches we played at home we would only have had roughly 150 people at each game.
"Traditionally, we're very difficult to beat here and have always given a good display in the majority of matches we play at Pearse Park.
"So that was a great boost and it [the victory] would have encouraged people to come back to games.
"The team put in a big performance so it was very satisfactory."
Longford now have a date with Meath in the O'Byrne decider next weekend. It will no doubt prove a useful exercise ahead of the start of their Division 3 campaign, with Connerton adding that the vibe is positive within the squad.
""The mood around the camp is very good. The young guys are very enthusiastic and working very hard," he explained.
"It's hard to keep them together midweek because of the distance some of them have to travel.
"We have guys working in Dundalk, Tipperary, Donegal so that is a difficulty for them and you have to be very committed to play down here.
"But so far so good and they're a lovely bunch to work with."