Kevin McStay: Dubs to prevail in 'game of the season'
Updated: Thursday, 28 Aug 2014 20:09

| Comments
By Kevin McStay
It must be the most anticipated football game this year. Ulster meets Leinster - the champions from the last two years going face-to-face.
The bookmakers insist there can only be one result and with Dublin priced at 1/10, will Donegal fans conclude it's a long journey to undertake just to be witnesses to a massacre? Hardly!
But in a two-horse race, especially at elite level sport, the underdog always has a chance of taking a sufficient bite out of the favourite's leg and in doing so can often fell him.
In many ways this game is between two of the most innovative teams of the past decade. Before their respective emergence from the race of also rans, both sides had plenty of doubters. Both had to change dramatically.
And while Dublin now claim the majority of the admiration stakes for their stylish and open brand of football, Donegal are only slightly less admired. It's been a big change from the days when both could only dream of being champions.
So, a defensive colossus, the soccer version of the most durable of Italian teams versus the Gaelic football model of the 70s Dutch side and total football. Who will blink first next Sunday?
I expect Dublin to beat Donegal eventually but it won't be simple. It will take their best performance of the season to win this penultimate tie and if by any chance the Dubs have allowed hype or complacency into their camp, it will be fatal.
That, of course, is unlikely as the city side prepare as if professionals and the mark of professionals is that they always prepare properly.
"It is the goals that propel the Dubs to a higher level and a reasonable metric here might conclude a Dublin goal is worth five points"
Jim Gavin's men must steel themselves for an attritional hour of football, one where they will be physically and mentally tested and if they endure that period of deep examination, then and only then, can they push for the winning line.
Dublin are certainly beatable – you will recall how badly they struggled to score from play in their last outing, going 30 minutes before they raised a white flag.
Of course, it is the goals that propel the Dubs to a higher level and a reasonable metric here might conclude a Dublin goal is worth five points to them in terms of energy, momentum and confidence. The fans react, the noise levels increase and the opposition can get caught up and be disorientated a little.
Donegal squeezed by Armagh by an unimpressive single point but will have used the three weeks since to forensically analyse the system of their opponents. I accept the Ulster side are not playing as well as they did in 2012 when they won Sam, but I will argue they have more talented players this time around.
Michael Murphy is the their talisman – Dublin don't have such a single influential player and rely on the crucial contribution of five or more key players. But the problem for Donegal is they only have one Michael Murphy and though they need to play him closer to goal they can't afford to do so. It's the main reason they will fall short in the end.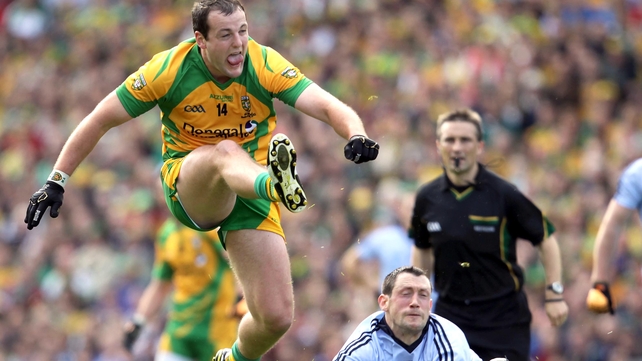 Donegal's key goal will be to keep Dublin goalless. But how do you achieve that against proven goal scorers like the two Brogans, Kevin McMenaman, Eoghan O'Gara and Diarmuid Connolly?
It's a big ask and if Donegal are unable to ensure a big zero in the goal column anything more than a single goal concession will mean Dublin will win easy enough.
To achieve that goal, you can expect total defence from McGuinness' men. They will think nothing of four banks of three across their defence from the midfield back and might even spend periods with all 14 outfield players behind the ball. Most likely they will concede the Dublin kick outs automatically and reverse to their defence on deep frees.
It won't be pretty but it will be intriguing. Last Sunday we got an amazing finish to the Mayo versus Kerry game and this week the same potential is there.
Remember the game we got back in 2011 when Donegal were trying to establish themselves and Dublin felt they were good enough to be champions? Three years on from that, much has changed and both sides have the confidence that being a champion team brings.
Donegal are not as good as 2012 and Dublin are better than they were last year. It all points to reigning All-Ireland champions at this stage and I can't disagree. But strap yourself in for an amazing spin around Croke Park, at speed, and into previously untravelled territory.This promises to be the game of the season.
If Donegal prevent Dublin from scoring goals they might sneak a win. If they concede one, they will lose by four or five points. If they concede more than one goal, the winning margin might be anything.

Watch Donegal v Dublin live on RTÉ Two television from 1445. Also live on RTÉ Player and worldwide on GAAGO.
Live radio coverage on RTÉ Radio 1 on Sunday Sport from 1400.