Dublin's Johnny Cooper has warned future opponents that "there's more" to come from the Dubs, as they continue their defence of All-Ireland football crown.
Jim Gavin's men were rampant in dispatching Meath for their fourth Leinster title in a row, and will face Monaghan in the All-Ireland quarter-final on Saturday.
Asked whether there was room for improvement from the side already huge favourites to lift the Sam Maguire trophy in September, Cooper told RTÉ Sport: "There's more [to come].
"There has to be more. We need to get more out of ourselves."
While Meath were utterly unable to deal with the level of play from Dublin in the Leinster final, Cooper indicated that the view within the camp would be that there were still things to work upon following the comprehensive win.
"The Meath performance, maybe from the onlookers' [points of view] looked pretty impressive, but internally we'd scrutinise our game, as we would with any other game, or any other win," he said.
Cooper said that Dublin would not be altering their approach for Monaghan. The challenge for their opponents, of course, will be to deal with that.
"We've just been sticking to the usual routine," he said.
"It's fairly simple. We practise the basics, and try to play as open and as expansive football as we can, and go at it from that point of view.
"Everyone sees the way we play, and that is the way we're going to play."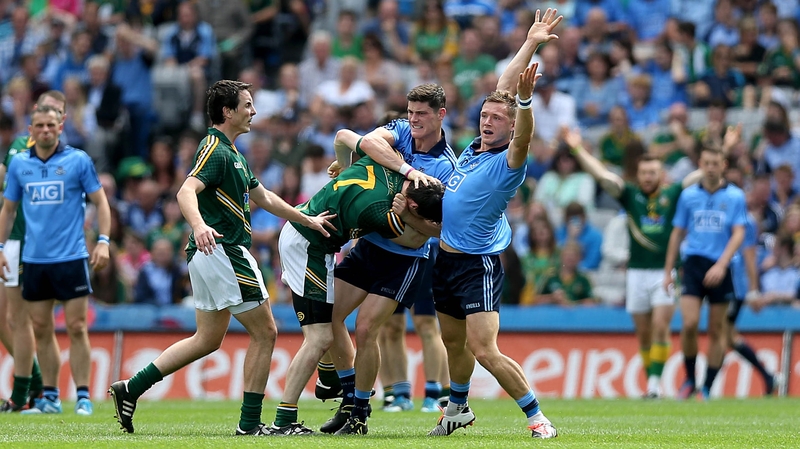 Throughout the season, Gavin has spoken repeatedly of the importance of the team over the individual, and it was also a theme on which Cooper touched, speaking about each player trying to push the rest of the squad to improve.
"There's certainly a hunger, and an ambition there not only to get a starting jersey, but certainly to push on to try to push the guys in the squad as well," he said.
He went on to say that "the privilege and the honour" of wearing a Dublin jersey was a driving force, and suggested those who featured in match-day panels were keenly aware of those with whom they trained who were not selected.
"As a collective we represent those guys who aren't lucky enough to get a jersey, and some who aren't lucky enough to start. So I think we recognise that from within the squad."
Dublin have been relentless in their play this year, with some suggesting that their biggest risk might be a degree of complacency.
Cooper was quick to dismiss any such notion, making clear that the Dubs knew they were now at the business end of the season.
"There's no safety net there anymore," he said. "It's knockout football now, and you have to go for it, or else we won't get there.
"We've learned from the older guys' experience certainly, after [winning the title in] 2011, and going into 2012, and they didn't manage to get over the line in the semi-final.
"So I think we're learning from the older guys, and they're teaching the younger guys, in terms of warding off that kind of scenario arising."
Listen to live commentary on Dublin v Monaghan on RTÉ Radio 1 from 6.00pm on Saturday, 9 August