James O'Donoghue: Kerry surge a response to doubters
Updated: Wednesday, 30 Jul 2014 14:35

| Comments
James O'Donoghue feels Kerry responded to those within and outside the Kingdom with the manner of their Munster final win over Cork.
Kerry were utterly dominant in seeing off the challenge of a toothless Cork side, and will now face Galway in the All-Ireland quarter-final in Croke Park on Sunday next.
O'Donoghue suggested the performance would have come as something of a surprise to those who had doubted this year's Kerry panel.
"You've a great chance against anyone. Especially if you're Kerry, like" - James O'Donoghue
"A lot of people kind of wrote us off and didn't think we were going to be maybe as good as we were," O'Donoghue told RTÉ Sport.
"We struggled against Clare, but we changed a few things around and did well against Cork. So maybe [we'll] change a few more things around for the quarter-final and [we can] hope to improve again."
"We know ourselves that we're a strong group. We work very hard, we're very tight with each other.
"If you work hard and you get a bit of luck on the day, I think, you've a great chance against anyone. Especially if you're Kerry, like."
He admitted that Kerry needed the win against Cork after a relatively inconsistent few months. The Kingdom failed to inspire in the Allianz League and struggled for long periods in their championship opener against Clare.
The manner as well as the fact of the win over perennial rivals Cork buoyed Kerry supporters as well as the team, O'Donoghue suggested.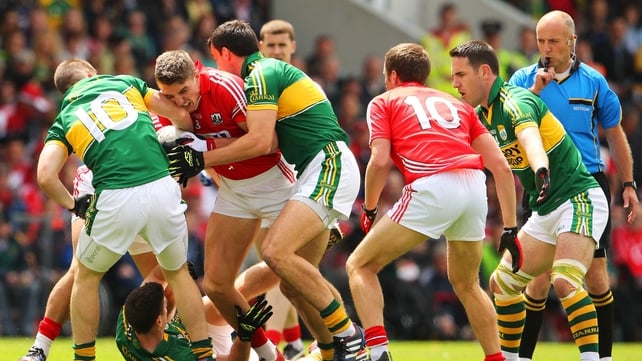 "We needed a win to get under the belt, for everyone," he said.
"It's been a bit of a tough journey for the last couple months. Even people down in Kerry maybe thought that 'This team isn't going to give us anything this year'.
"So, to win against Cork, get people's enthusiasm back up; it's important. Even that little word on the street, you know, of 'Well done lads', it's a bit of positivity, and I think that the young fellas really thrive on that."
O'Donoghue agreed that it "meant a lot" to wear the Kerry jersey, and said that confidence "came naturally" with representing the Kingdom.
"You're kind of expected to be confident, and to walk into Croke and be good, you know. So, the confidence is there naturally, it's just a matter of performance."
O'Donoghue feels that Kerry are in for a tough test against Galway and stresses that Alan Mulholland's side "have been coming now for a while".
However, he was keen that Kerry should concentrate on their own game rather than their opponents.
"We can't worry too much about who we're playing. We've got to worry about ourselves."
Watch live coverage of Kerry v Galway on RTÉ Two, via the RTÉ Player and worldwide on GAAGO.