Analysis: Uncertain times for familiar foes Cork and Kerry in Munster
Updated: Sunday, 06 Jul 2014 11:02

| Comments
By Kevin McStay
The safety net of the qualifiers has removed much of the edge from modern championship games and the Munster final next Sunday is no different.
Of course both teams will strive mightily to win the day – one imagines Cork will view their final outing at home in Páirc Uí Chaoimh as a chance to close this chapter with a local win. But Kerry will have their own motivations – they always have.
Indeed, an interview earlier this week with the Kerry manager, the impressive Eamonn Fitzmaurice, revealed they had their sights set on a place in this year's All-Ireland final.
My first reaction was to wonder how anybody thought this was newsworthy – sure that's been their target now for well over a century.
My surprise with the piece was Eamonn's reluctance to commit to winning the All-Ireland outright. Kerry supporters don't see an appearance in a final as reflective of an outstanding season – no, if you travel that far there is only one result allowed: win the damn thing.
But back to the qualifiers for a moment. This year there has been a change in the draw with teams designated as 'A' or 'B' side of the qualifier route. It is a random selection but a very important draw resulted. The losing Munster finalists will be designated as an 'A' side and will face the 3A winners which will eventually emerge from this weekend's games.
Those teams are: Limerick/Antrim, Tipperary/Longford, Wicklow/Sligo and Wexford/Laois. The more difficult opponents lie on the 'B' side of the draw so already, before a ball is kicked next Sunday, a fair degree of comfort exists for the losing team. These matters are important and are considered.
"Kerry supporters don't see an appearance in a final as reflective of an outstanding season"
Most observers see it as a 50-50 game but the bookmakers, men who drive around in flashy cars because they rarely get things wrong, have Cork down as favourites. No doubt their odds are shorter because of the home advantage but at 4/6 there is no real value to be had. Kerry are a bit more attractive at 8/5 but the value bet might well be the draw at 8/1.
My first ever Kerry-Cork clash was in 2010 in Killarney in a Munster semi-final and it was a marvellous experience. The weather was terrific and Fitzgerald Stadium was jammed.
The game was fast and furious and while Cork led at half-time by a couple of points, Kerry fought back to draw level. It was the fourth draw in the previous five years and perhaps as good a reason as any to place a few bob on the 8/1 result quoted above.
We all reconvened a week later in Cork and this time around Kerry won, but only after extra-time.
Kerry have announced their team and the headlines are they welcome back Johnny Buckley and James O'Donoghue from injury in place of David Moran and Darran O'Sullivan, with Aidan O'Mahony and Donnchadh Walsh also coming into the team at the expense of Peter Crowley and Michael Geaney.
A quick glance at their selection tells us much has changed in recent years and those marvellous players from throughout the noughties have packed up and gone.
No Diarmuid Murphy, Tom O'Sullivan, Tomás Ó Sé, Éamonn Fitzmaurice, Mike McCarthy, Darragh Ó Sé, Tadhg Kennelly, Tommy Walsh or Paul Galvin. All changed and the current team simply fails to frighten opponents any more.
But they have potential and, of course, a Munster final means they are in the last 12 in the country and thus will expect to reach the All-Ireland quarter-finals at a minimum. And their hope then would be that the team gains momentum and confidence to have a shot at the title.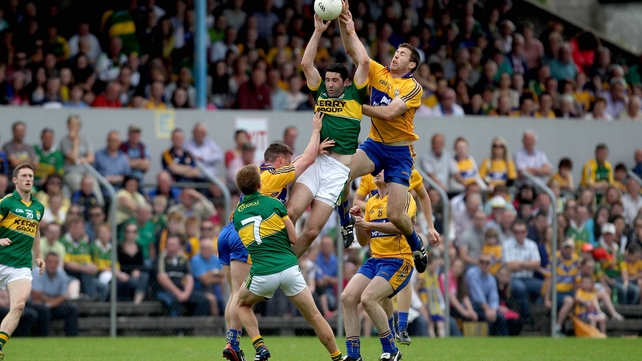 The full-back line looks strong – Marc Ó Sé and Shane Enright are tight markers with plenty of pace. Aidan O'Mahony at full-back remains unproven so I can see possibilities for Cork there, especially if some high ball can be driven into the large rectangle.
From there on though, Kerry are very ordinary until you get to the full-forward line where the trio of Paul Geaney, Declan O'Sullivan and James O'Donoghue will cause any defence problems. All three are superb ball players and score heavily when the chances are presented.
They have an outstanding free-taker in Bryan Sheehan and word from the Kingdom is he is going really well and will contribute from open play as well.
Their midfield will have to gain the upper hand if Kerry are to get plenty of ball inside and so there is a big responsibility on the shoulders of Anthony Maher and Johnny Buckley. Both are good footballers but will need to stamp their authority on a Munster final. Until they do, the jury remains out.
After the fright they received against Tipperary and some below-par performances, it was to be expected that Cork would make some changes. As I expected, Aidan Walsh starts as does Damian Cahalane and Eoin Cadogan.
Cork are a little like Kerry just now – not really sure what they have and how good they can be. Doubts remain about their midfield – reason enough to start Walsh. After a decent start to the league they fell away badly and when I saw them against Mayo in Round 5 in Castlebar, they were dreadful.
Defensively, they can still turn to the splendid Michael Shields. Eoin Cadogan brings the physical edge a Munster championship game demands.
Fintan Goold is trying to establish himself as an inter-county midfielder, but while he has plenty of work to do in that department, there is potential in this key area for Cork.
Up front, Cork have serious talent, but will they perform?
Colm O'Neill, Daniel Goulding, Paul Kerrigan, and Mark Collins are all brilliant footballers, but need to make a name for themselves on this new Cork team and Cork supporters will look to them to do so this Sunday.
So, more questions than answers I'm afraid and almost impossible to separate winners from losers. I suppose that's why the bookies have given the nod to the home team.
I'm not as convinced and am inclined to put my money on a Kerry win. They know that little bit more about themselves, have worked really hard these past few months and look like a squad of players that will benefit enormously from one big display and one big victory.
Glory for Kerry, then, but expect to see Cork in the All-Ireland series too.
Watch live TV coverage Munster SFC final Cork v Kerry, throw-in 2.00pm.