Darran O'Sullivan insists Dublin clash 'not a revenge thing'
Updated: Wednesday, 28 Aug 2013 19:04

| Comments
Darran O'Sullivan has hailed a "brilliant" year under the Kerry management team ahead of Sunday's All-Ireland Football Championship semi-final with Dublin in Croke Park.
The Kingdom reached this stage by winning the Munster Championship and seeing off Cavan in the quarter-finals under Eamonn Fitzmaurice and his backroom team.
O'Sullivan told RTÉ: "It has got more and more professional and Eamonn has brought that up to a new level this year with his management team. They all bring their own qualities to it.
"There has been no stone unturned this year and it has been brilliant. Every area has been looked at. In fairness to him and his management team, they are on top of everything.
"Everyone does video-analysis but that has been brought up to a new level in terms of what you look at.
"The fitness is at a new level, we have Cian O'Neill with us and he is an expert and qualified in that. It tests body fat and all those kind of things so there is no sneaky ones any more."
"We wouldn't have been happy with how we played in the second half against Cork or Cavan" - Darran O'Sullivan
Kerry have been inconsistent in their matches so far, opening up significant leads in the last two matches before hanging on for victories.
O'Sullivan knows that Kerry will have to find a much more balanced display if they are to progress to a final against Mayo.
He argued: "The only way to describe it is a bit stop-start. We played well in periods and not so well in other periods. We had a very good first half against Cork. The second half was poor. We played okay in the first half against Cavan and again a poor second half.
"We are hoping we can have a more complete performance against the Dubs in the semi-final.
"We just took our foot off the medal and it is hard to get momentum back when you ease off. We learned it the hard way and we know we can't do that against the Dubs. We are hoping that the things we have worked on in the last few weeks will improve us.
"We are our biggest critic down here. We have a lot of experience in the team but we wouldn't have been happy with how we played in the second half against Cork or Cavan. We know we have to improve that because we will not get away with it against a team like Dublin."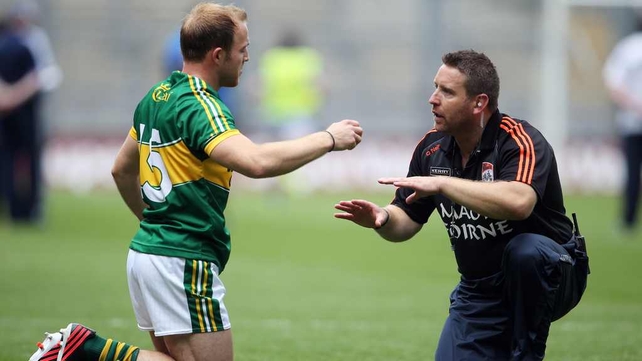 Kerry's previous meeting with Dublin in the Championship was the 2011 final defeat where they lost by a single point, a heart-break that O'Sullivan ranks as of the worst moments of his career.
But the Glenbeigh-Glencar man is adamant this weekend is not a revenge meeting for the Munster side.
"It is very different. It is not really a revenge thing," he insisted.
"Obviously you want to get one over on them because they beat you in an All-Ireland final. At the end of the day they won that game, they beat us fair and square and they have the medal for it.
"We're not going to change the history of that game. It is about playing this game on its merits. They are one of the top teams in the country so we know we're up against it."